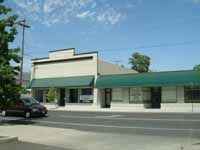 Property Description:
Southeast quarter of the southeast quarter of Section 20, township 7, section 36.
Lots 6 and 7 in Block 19. Vol. A of plats at page 1, Walla Walla County, Washington.
Title History:
Washington Territory was created in 1853. The new legislature created Walla Walla County in 1854 which stretched from the crest of the Cascade Mountains to the crest of the Rocky Mountains in the present states of Washington, Idaho and Montana. In 1855 an Indian council was held on the banks of Mill Creek at the present site of Walla Walla to purchase land from the Indians. The Yakimas, Cayuses and Walla Wallas were dissatisfied with the treaties and war followed. Missionaries, former French-Canadian employees of the Hudson Bay Company Trading Post at Wallula, and soldiers at Fort Walla Walla were the primary European occupants of the area prior to 1859 when it was opened for settlement. All of the land in this area was acquired from the Cayuse and Walla Walla Indian tribes by the U.S. Government in a treaty signed on June 9, 1855 in Walla Walla, and ratified on March 8, 1859 by President James Buchanan.
Walla Walla was originally laid out by County Surveyor H. H. Case in 1859, even before its formal incorporation as a city in 1862, as a one-quarter mile square with its eastern side centered on the point where Main Street crossed Mill Creek (at roughly the point where it does now).  The City of Walla Walla received  a Trustee Townsite from the U. S. Government which consisted of 80 acres. It was issued on July 20, 1869 by the Vancouver, W.T. District Land Office. This property at 209-221 South Second is close to the southeast corner of the original Walla Walla plat filed on September 25, 1866. Lots 6 and 7 are each 60 feet wide on Birch Street and run 120 feet from Birch Street north to the alley.  Prior to land records being kept in Walla Walla Alfred and Catherine S. Slocum purchased the entirety of lots 6 and 7. They gave a Quit Claim Deed to the firm of Harris and Marks on July 8, 1863 for all of lots 6 and 7 for $775.
These two lots have been split into a north half and a south half  since 1864. On August 13, 1864 Samuel Marks and Isaac and Anna Harris sold the north half of lots 6 and 7 (60' x 120') to J. L. and Rachel J. Teel. On May 18, 1872 Joseph and Rachel Teel and seventeen Teal relatives sold this parcel (plus the north half of lot 8) to John Alheit for $400. On September 9, 1879 John and Rose Alheit sold the north half of lots 6 and 7 to Elizabeth Debus for $1200.  Henry Debus was a "Merchant Tailor, Next door to Ennis' Butcher Shop" on Main Street in 1880. On February 21, 1903 Elizabeth and Henry Debus sold this property back to Rose Alheit for $2900. At the same time Harris and Marks sold the north half of this property on August 13, 1864  Samuel Marks and Isaac and Anna Harris sold the south half of lots 6 and 7 (60' x 120') on the original plat of the City of Walla Walla, Washington Territory, to P. H. Krebs for $150. On February 17, 1866 (filed on February 4, 1873) the City of Walla Walla, Washington Territory issued a Warranty Deed to P. H. Krebs for $10 "for land at the Corporation limits of the City." George F. Thomas was mayor at the time. On September 30, 1875 Harry and Fanny A. Krebs sold the south half of lots 6 and 7 ("60' x 120' from the alley to the fence") to John Alheit for $1000. There is a picture of John Alheit as an official of the Walla Walla Fruit Fair on page 173 of Bob Bennett's  Walla Walla, Portrait of a Western Town 1804-1899. Alheit and his family were to own this property for the next 111 years. Mr. Alheit died on June 19, 1901 and his wife Rose Alheit was appointed executrix.  From 1903 to the present the north and south halves of this property have had the same ownership. On June 21, 1910 the City of Walla Walla passed Ordinance No. 1469 which vacated a strip of land 20 feet wide on the north side of Birch Street between Second and Colville (then called East) Streets. Eugene Tausick was mayor. Rose Alheit died on January 9, 1927. John Alheit and Lelia Alheit Garfield were appointed as executors. On July 24, 1955 John Alheit died and Lillian Schwarz was appointed executrix. Lelia Alheit Garfield was a widow when she lived across Birch Street in the Washington Apartments in 1957. She died in 1973. There was no local listing for her son at this time. On May 1, 1986 Harry S. Garfield sold all of this property (both north and south halves of Lots 6 and 7, Block 19) to Earl Stam for a stated amount of $10. Earl Stam gave Harry S. Garfield a Deed of Trust (mortgage) for $115,000. On May 29, 1988 H. S. and M. Eileen Garfield signed a Quit Claim Deed giving Earl Stam clear title to this property. By 1995 Earl Stam was living in Spokane. He sold lots 6 and 7 to Gary R. and Linda J. Wasemiller for $280,000. Gary then established this as his separate property d.b.a. Wasemiller Properties. On May 30, 2003. Wasemiller Properties sold to Nannette D. Goyer in exchange for another property. Dr. Goyer transferred all of Lot 6 and 7, Block 19 to Chameleon Properties, LLC  on August 11, 2004. Dr. Goyer is a dentist who has operated Inland Family Dentistry in Walla Walla since October 28, 2002.
Occupant History:
The first Walla Walla City Directory in 1880 listed John Alheit as a baker with a residence on this property at the corner of Second and Birch. He and members of his family continued to live at 215 S. Second until 1946.  He ran a bakery and grocery at 27 E. Main until his death in 1901. His sons George, John and Charles all worked in the bakery at various times. By 1902 Charles was a baker at the Washington Grocery and Bakery at 25 E. Main, Son John was a stockman and sister Leila was a seamstress. John Jr. also was the proprietor of  the Portland-Palace Restaurant at 10 1/2 Third as well as the Electric Fuel and Chop Mill. Later he was active in Mosgrove and Alheit Real Estate and Insurance. George followed his father's footsteps as a baker at the Portland Restaurant, City Bakery, Jacob Lamb and the Model Bakery. The Alheit Building was located at 23 1/2 E. Main Street until 1935. After the death of John Alheit, Sr. in 1901 his wife continued to live at #215 until 1924. She died in 1927. Son John continued to make his home at 215 S. Second through 1946. He and his wife Belle then moved to the other end of this block at Birch and First until his death in 1955.
In 1904 Frank Loehr worked as a tinner at Drumhellers. In 1910 Loehr and Flanders operated a sheet metal works at 29 South Palouse. In 1916 Loehr and Flanders moved their sheet metal work shop to 213 South Second. In 1920 the business was renamed Loehr and Son Sheet Metal Works. Frank Loehr was joined by his son Claude in the business. They lived at 417 W. Elm Street.  Their city directory listing included "Sheet Metal Works, Galvanized, Black and Corrugated Sheets, Tin and Tern Plates, Sheet Copper, Zinc, Solder, Roofing and Siding, Agts. for Green Colonial Furnaces." The 1927-1928 White's Rural Directory for Walla Walla County listed Frank Loehr as owning 124 acres. Claude E. and June Loehr lived at RFD 4 in 1931.
In 1931 the Walla Walla City Directory printed the first street index for local properties. At that time the only numbers on this property were #213 and #215. Loehr and Son Sheet Metal Works was listed at #213 from 1931 to 1952.  In 1953 the Sheet Metal Works was listed at #209. The building entrances were probably renumbered due to other new addresses on this block. The Sheet Metal Works continued to operate at #209 until 1973. Martin Roofing  was also listed at this address between 1951 and 1961.
Between 1933 and 1950 there was a 213 1/2 address here that included two different barbers and a gun shop. After the sheet metal shop was listed at #209 the Bayer's Gun Shop was listed at #213, operated by Albert O. Bayer. The gun shop continued to be operated here until 1974. Number 209 was occupied by Davis-Kaser Warehouse (a furniture store at Second and Poplar Streets) in 1974 and 1975. From 1976-1981 #209 was occupied by the Salvation Army Thrift Store. Thereafter it was sometimes vacant but occupied briefly by the Power Keg, Earl's School and Hair Design, Walla Walla Mental Health and Older Adult Services. After the gun shop closed in #213 it was occupied by ABC Taxi (1980-1981), A Head of Times (1982-1989), Costume Creations (1991-1992), and the Karate Center (1995-1996).
The first listings for #215 was John Alheit's residence in 1883. However the first directory in 1880 gave his address as Second and Birch, undoubtedly the same location. His widow continued to live there until 1924. His son John listed 215 S. Second as his residence until 1946. It was also his real estate office in 1931. In 1937-1941 several  other persons were also listed as residents at #215.
The first Sanborn fire map in 1888 showed the footprint of  two dwellings numbered 209 and 215 with a small structure in the corner of the lot at the alley labeled "tailor" (possibly the shop of Henry Debus, the tailor who owned the north half of this property from 1879 to 1903). The tailor shop did not appear after 1889. The footprints of the two residences remained the same until 1905 when the one at 215 (corner of Second and Birch) was significantly improved.
After Mr. Alheit's real estate office closed in 1946 #215 was occupied by Howard E. Hume Business Machines (1951-1956), Walla Walla Physical Therapy and Massage, Oskar Fluglestad, (1958-1959), Mode Beauty Shoppe (1960-1966), Walla Walla Camera Repair and Photo Service (1971-1983), G & G Uniform Boutique (1984-1987), Body Toning (1989-1990), Ideal Image (1991) and then listed as vacate until 1994, after which it was not listed.
The space at #217 was first listed for one year in 1951 as the Lindbeck Agency Insurance and in 1953 as the Sunshine Insurance Agency. In 1959 the Philco Bendix Laundromat opened in #217 and operated as The Laundry Center through 1976. It was followed in 1978-1979 by the Plantation Plant Shoppe, in 1981 by the Panderia Gonzalez Bakery, and Dominoe's Pizza from 1984 at least through 1997 (last year of city directories).
The first entry in the city directory for #219 is for Carl's Shurfine Market in 1948 and 1949. From 1950 to 1956 the Second Avenue Market, owned by Carl G. Frank, was operating at #221. The space at #219 was occupied by Surbeck Shoe Service  from 1953 to 1972. At that time it became the City Cobbler in 1973 and South Second Shoe Repair from 1974 to 1978. Number 219 was vacant from 1979 to 1983 after which it was not listed. Following the grocery store #221 was vacant from 1957 to 1962 when the Coin-Op Dry Cleaning Center operated for two years. In 1964 it became the Second and Birch Economy Cleaners which operated through 1982. Bock's General Store operated at #221 between 1983 and 1985. From 1988 until the end of city directories in 1997 Jeneal of Walla Walla was listed at #221.
Construction of the Building:
The Walla Walla County Assessor's Office records list a building date of 1930 which the following evidence proves incorrect. From 1880 to 1905 the fire maps show that two dwellings occupied this property, one at #209, the other at #215. On April 8, 1916 Rose Alheit got a building permit for a store building at 213 South Second with an estimated cost of $1800. In this same year the Loehr and Son Sheet Metal Works opened here. It is reasonable to assume this replaced the residence at 209.  Number 215 continued to be occupied by John Alheit as a residence through 1946, as well as by others from 1937-1941.
The evidence for when the present three flat-roofed buildings attached on the south side of the sheet metal shop might have been built is based on occupants. Structurally, there appears to be two buildings in the middle of this block which have matching brick exteriors. The building on the corner of Second and Birch is stucco. Between the office ceiling and the flat roof of the center buildings there is still visible a  "Carl's" sign on the north side of the stucco building. Carl's Surfine Market was located at #219 starting in 1948. Therefore, it is reasonable to assume that  the stucco building on the corner of the lot was built in circa 1948.  The brick-front buildings in the middle were probably added circa 1950. The oldest building  on this lot is adjacent to the alley (#209-213) and has a false front and appears to have a tin facade under the aluminum siding. It was clearly built in 1916.
References:
Bennett, Robert A., Walla Walla  Portrait of a Western Town 1804-1899, Pioneer Press,  Walla Walla, 1982.
Building Permits: Whitman College Penrose Library Archives.
Gilbert, Frank T.; Historic Sketches of Walla Walla, Whitman and Garfield Counties, Washington Territory, and Umatilla County, Oregon, 1882.
Lyman, Professor W. D., An Illustrated History of Walla Walla County  1901.
Sanborn Fire Maps: 1884-1905 (with updates until 1950).
Walla Walla City Directories: 1880-1997 (various publishers–not all years).
White's Rural Director for Walla Walla County, 1927-1928
Whitman College Archives.
Mary E. Meeker ; Walla Walla 2020 Research Service PO Box 1222, Walla Walla WA 99362 November, 2006
http://ww2020.net/wp-content/uploads/209_S_Second.jpg
150
200
Mary Meeker
http://ww2020.net/wp-content/uploads/2011/12/ww2020_logo.png
Mary Meeker
2006-11-01 20:59:43
2017-02-05 12:22:03
History of 209-221 South Second Avenue, Walla Walla, WA - Alheit Buildings