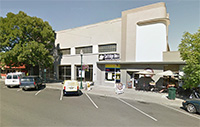 Property Description:
Lot 7 and 8 of Block 2 of Cain's Addition to the City of Walla Walla, Walla Walla County, Washington.
Title History:
Washington Territory was created in 1853. The new legislature created Walla Walla County in 1854 which stretched from the crest of the Cascade Mountains to the crest of the Rocky Mountains in present states of Washington, Idaho and Montana. In 1855 an Indian council was held on the banks of Mill Creek at the present site of Walla Walla to purchase land from the Indians. The Yakimas, the Cayuses and Walla Wallas were dissatisfied with the treaties and prepared for war which followed. Missionaries, former French-Canadian employees of the Hudson Bay Company Trading Post at Wallula, and soldiers at Fort Walla Walla were the primary European occupants of the area prior to 1859 when it was opened for settlement. All of the land in this area was acquired from the Cayuse and Walla Walla Indian tribes by the U.S. Government in a treaty signed on June 9, 1855 in Walla Walla, and ratified on March 8, 1859 by President James Buchanan.
Walla Walla was originally laid out by County Surveyor H.H. Case in 1859, even before its formal incorporation as a city in 1862, as a one-quarter mile square with its eastern side centered on the point where Main Street crossed Mill Creek (at roughly the point where it does now).  The City of Walla Walla received  a Trustee Townsite from the U. S. government which consisted of 80 acres. It was issued on July 20, 1869 by the Vancouver, W.T. District Land Office.
This property is part of the oldest U.S. Patent in Walla Walla. On September 10, 1861 Andrew J. Cain and Cornelius Kelly filed a patent on 160 acres under the Script Warrant Act of 1855 northeast of the original City of Walla Walla town site. During 1862, A. J. Cain surveyed Cain's Addition to the City (this survey was rerecorded on May 11, 1865, following a fire which destroyed most of the county's earlier records).
A. J. Cain was an early financier of The Walla Walla Statesman newspaper; in 1868 he was elected on the Democratic ticket as prosecuting attorney of Walla Walla County. He later moved to Dayton and in September 1874 began publication of the Dayton News, a weekly Democratic newspaper. He became known as the "Father of Columbia County" as a result of his leading role in the formation of that county.
On July 8, 1862 A. J. and Emma R. Cain sold Lots 1-10 of Block 2 and Lots 1-3, 9-10 of Block 3 of Cain's Addition to Richard W. Heath, Samuel H. Green and Henry H. Allen for $787. On September 21, 1870 Heath, Green and Allen sold Lots 1-3 and 8-10 of Block 2 to Henry M. Chase for $500.  On March 25, 1879 Henry Chase sold lots 8, 9, 10, 3, and the west half of 2 on Block 2 to Mary H. Coffin.  She leased her property to Oregon and Washington Territory Railway Company which on November 12, 1890 signed a lease with G. W. Hunt, president of the railroad and Walla Walla resident, for 20 depots he had constructed in Walla Walla County adjacent to railroad right-of-ways. Following a U. S. District Court in which Farmers Loan and Trust sued the Oregon and Washington Territory Railway Company for nonpayment of an 1887 mortgage and bonds a Master's Deed was given on October 1, 1892 to Charles B. Wright of Philadelphia. On November 16, 1892 Mary H. Coffin (unmarried) signed a Quit Claim Deed for her property to Charles B. Wright (widower). Mr. Wright then signed a deed to the Washington and Columbia River Railway Company ("Dr. Baker's railroad") for $7,175,000. Two years later Mr. Wright gave a warranty deed to Dr. Baker's railroad for $39,104.17 which included 26 pages of legal descriptions.
On April 26, 1868 Heath, Green and Allen sold lots 6 and 7 of Block 2 to H. H. Bailey for $132.  On January 25, 1869 H. H. Bailey sold these same two lots to J. N. Fall for $350. On January 27, 1873 John N. and S. E. Fall sold Lots 6 and 7 to William A. Green and John N. Fall, partners in Green and Fall, for $300. On January 16, 1880 William A. Green died and this property passed to James A. and Mary J. Jacobs. On June 11, 1883 they sold this property to Samuel Jacobs for $2600. On October 5, 1887 Samuel and Elizabeth Jacobs sold these 2 lots to Rosella Boyd for $1600. On May 11, 1889 Rosella and Jacob M. Boyd (Dr. J. M. Boyd had one of 16 telephones in Walla Walla in 1884) sold this property to Charles Henry for $7200. On May 15, 1889 Charles and Lydia Henry sold it to G. W. Hunt for $5600. On November 1, 1890 George W. and Leonora Hunt sold it to Levi Ankeny for $5000. Levi Ankeny was president of First National Bank of Walla Walla starting in 1878. He became a U. S. Senator in 1903. On October 5, 1900 Levi and Jennie Ankeny sold this property, excluding two small buildings (occupied by George McKinney, Photographer, and D. J. Hughes, grocer) to be removed on request, to Washington and Columbia River Railway Company for $4000,  bringing the ownership of Lots 7 & 8 back together.
On June 18, 1907 the Washington and Columbia River Railway Company sold this property to the Northern Pacific Railway Company for a stated amount of $1. Numerous leases, mortgages, liens and court cases were recorded in the next 100 years. However title to the property was transferred only three times. Northern Pacific became Burlington Northern Railway Co. who signed a Quit Claim Deed on December 12, 1988 for a railroad easement with the Glacier Park Company. On June 3, 1991 Glacier Park Company sold this property to Marlin E and Nancy M. Cornelius. Marlin Cornelius died and Nancy Cornelius is the current owner.
Occupant History:
The structures on this block are somewhat difficult to associate with a given lot because much of the block was owned by the same people for most of the years (excepting 1873-1894). In order to create a more complete picture of this block the occupant history is broader than the title history to include structures adjacent to the building on lots 7 and 8. Various street addresses have been associated with this two-story building over the years spanning from #207 to #221.
Sanborn fire maps in 1884, 1888, 1889 and 1890 show two dwellings on the Spokane Street side of this block (plus an assortment of sheds). The railroad right of way first appears on the 1889 map. The 1894 map shows a passenger depot on the Main Street side of tracks and a freight depot on the Rose Street side. On the 1905 map the two dwellings on Spokane Street are gone and the freight depot has been significantly expanded. The Main Street passenger depot appeared to be the same in 1905 as the one on the 1894 map (see picture in Bennett Vol. II, page 80). In 1905 there were two tracks plus a spur track to the Walla Walla Produce Company packing house on the corner of Main and Spokane Streets. The Spokane and Rose Street corner of this block was occupied by a railroad ice house. In 1914 the Northern Pacific Railway built a new depot at North Second and Pine Streets. The freight depot continued to occupy the north side of this block until 1917.
Harold Dahlen came to Walla Walla in 1909 with five Ford cars and the franchise for the area. He encountered a lot of skepticism in conservative Walla Walla, which preferred large autos like the Franklin. In 1916 Henry Ford revolutionized the manufacturing of cars with mass production techniques and cut the prices of his cars by two-thirds. By 1917 Harold Dahlen and his brother Herbert had sold 3500 Ford cars around this area. The Dahlen Auto Company was located at 10 E. Poplar in 1912 and at 221 E. Alder in 1914. From 1917-1922 the Dahlen Auto Company was located at 209-227 East Main in a building which they constructed in 1917, which can be seen in Bennett, vol. II, page 205. The  current #227 address is situated on Lot 9,  which is not a part of this report. The Dahlen Auto Company was also the distributor for Ford tractors and Firestone tires.
From 1923-1925 Foster-Thomas Auto Company operated here, selling Fords and Lincolns. In 1926 the dealership was known as A. C. Thomas Inc. In 1933 the Maughan Motor Company was located at 209 E. Main (and the Hurdstrom and Sweesy gas station was at 227 East Main to the east of this two-story building). Maughan Motor Co. provided Dodge and Plymouth sales and service. (Hurdstrom and Sweesy were gone in 1935 to be replaced at 227 E. Main by Rieker and Company fruit packers until 1948.) In 1948 Maugham was replaced by Fred Becker Motors auto dealers at 215 E. Main and Fred Becker Motors Service Station at 201 E. Main. They were still the dealer for Dodge and Plymouth cars. The service station was gone after 1956 but the Becker Motors dealership continued at 215 E. Main through 1958. In 1961 this two-story building was briefly occupied by Moore Buick Company.
The changing addresses on this block indicate multiple uses of this two-story building and the one story building adjacent to it on the east side. In 1962 #215 became Garden City Furniture, #221  became Blue Mountain TV Cable Company and #225 was occupied by Cassell Organ Studio until 1971 when the Inland Empire Auto Club and AAA became long term tenants in #227. Garden City Furniture added Garden City Carpet Center at #207 in 1972. In 1975 Garden City Furniture (Dale Jacobsen) moved to 123 W. Alder while Garden City Carpet Center (Ajay Mathison and Spud Stevens) continued at 207 E. Main through 1989. This address was vacant in 1990. In 1995 Blue Mountain Humane Society Thrift Store first occupied #207.
The Blue Mountain TV Cable Co. occupied #221 from 1962-1973, followed by Teleprompter Cable TV from 1974-1980. Channel 13 KBLE and Printography Communications Inc. were at #221 in 1982, followed by Outrageous Taco and the Sound Post music store in 1984-1994.
Construction of the Building:
The Walla Walla County Assessor's Office gives a construction date of 1930 for this building which is incorrect. In January and July of 1917 there were two liens filed against the Dahlen Auto Company by B. M Huntington,  architect,  and Taylor and Wassell,  contractors, for unpaid labor and materials on the "Ford garage being constructed on lots 3, 4, 7, 8, 9 and 10 of Block 2 of Cain's Addition." Therefore, the present two-story building on Lots 7 & 8 with its auto ramp up to the second floor was constructed by Harold and Herbert Dahlen in 1917.
References:
Bennett, Robert A., Walla Walla  Portrait of a Western Town 1804-1899, Pioneer Press,  Walla Walla, 1980.
Bennett, Robert A., Walla Walla  A Town Built to be a City 1900-1919, Pioneer Press,  Walla Walla, 1982.
Lyman, Professor W.D., An Illustrated History of Walla Walla County  1901.
Sanborn Fire Maps: 1884-1905 (with updates until 1950).
Walla Walla City Directories: 1880-present (various publishers–not all years).
Whitman College Archives.
Mary E. Meeker ; Walla Walla 2020 Research Service PO Box 1222, Walla Walla WA 99362 June, 2006
http://ww2020.net/wp-content/uploads/207_E_Main1.jpg
127
200
Mary Meeker
http://ww2020.net/wp-content/uploads/2011/12/ww2020_logo.png
Mary Meeker
2006-06-01 20:54:56
2017-02-05 12:22:04
History of 207-221 East Main Street, Walla Walla, WA - Dahlen Auto Company Building