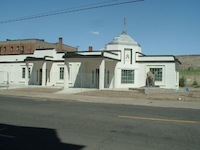 Property Description:
Parcel 28164:
Beginning at the southwest corner of the northwest quarter of the southeast quarter of Section 20 in Township 7 north of Range 36 East of the Willamette Meridian, and running thence north 33º50´ west 12.09 feet to the point in the north line of the alley, which point is the TRUE POINT OF BEGINNING of the property herein described; from said true point of beginning; continue north 33º 50´ west, 160.60 feet, more or less, to a point in the centerline of Mill Creek; thence south 38º 44´ west, along the centerline of Mill Creek, 186.97 feet to a point in the easterly line of Colville Street; thence south 52º53´ east, along the easterly line of Colville Street, 14.78 feet; thence south 29º 50´ east, along the easterly line of Colville Street, 78.53 feet to a point in the north line of the alley; thence north 60º 10´ east, along the north line of the alley 179.55 feet to the true point of beginning.
Parcel 28165:
Beginning at the point of intersection of the northerly line of Alder Street with the easterly line of Colville Street in the City of Walla Walla, and running thence north 60º 10´ east, along the northerly line of Alder Street, 135.5 feet, more or less, to a point in said northerly line of Alder Street 184.05 feet westerly, measured along said northerly line of Alder Street from the point of its intersection with the westerly line of Spokane Street; thence north 29º 50´ west 110 feet; thence north 60º 10´ east 0.55 feet; thence north 29º 50´ west 10 feet to the southerly line of the alley; thence south 60º 10´ west, along the southerly line of said alley, to the easterly line of Colville Street; thence south 29º 50´ east, along said easterly line of Colville Street, a distance of 120 feet to the point of beginning.
Title History:
Washington Territory was created in 1853. The new legislature created Walla Walla County in 1854 which stretched from the crest of the Cascade Mountains to the crest of the Rocky Mountains in present states of Washington, Idaho and Montana. In 1855 an Indian council was held on the banks of Mill Creek at the present site of Walla Walla to purchase land from the Indians. The Yakimas and Walla Wallas were unhappy with the treaties and prepared for war which followed. Missionaries, former French-Canadian employees of the Hudson Bay Company trading post at Wallula, and soldiers at Fort Walla Walla were the primary European occupants of the area prior to 1859 when it was opened for settlement. All of the land in this area was acquired from the Cayuse and Walla Walla Indian tribes by the U.S. Government in a treaty signed on June 9, 1855 in Walla Walla, and ratified on March 8, 1859 by President James Buchanan.
Walla Walla was originally laid out by surveyor H.H. Chase in 1859, even before its formal incorporation as a city in 1862, as a one-quarter mile square oriented N-S, E-W and with its eastern side centered on the point where Main Street crossed Mill Creek (at roughly the point where it does now). To this original area, additional parcels were annexed from time to time, usually named after the land owner of record at the time the additions were made.
Both of the parcels on this property are a part of the original Walla Walla City (purchased on July 20, 1869  from the United States Government, under  the Trustee Town Site Act passed in 1844) The property lies between Mill Creek and Alder Street and was not cut through by South Colville Street (and bridge) until 1920. On  April 24, 1877 the City of Walla Walla conveyed title to this property to Viola Cantrell, William Cantrell, Anna Cantrell Miners and the heirs of Thomas Cantrell. On June 14, 1882 these heirs of Thomas Cantrell sold to Adolph Schwarz a parcel on "Alder Street 20 feet west of SE corner of Block H north to Mill Creek 160 feet and then east to East boundary of Block H and then south of Alder Street and west to the point of beginning" for $2650. Adolph Schwarz was born in Germany in 1853, emigrated to New York in 1869 and arrived in Walla Walla in 1877. He established a pool and billiard hall in 1880, married Miss Lulu Stahl in 1894 and they had four children, Lillian E., Ruth, Adolph and Catherine.
On November 20, 1885 Adolph Schwarz (unmarried) transferred a part of this property to Diedrich Bischoff for $200 (perhaps only as security on a loan). On April 6, 1901 Diedrich and Katharina Bischoff transferred the property back to Mary Louisa Schwarz, wife of Adolph Schwarz. In 1904 and 1905 the property owners were assessed fees to help pay for the embankment of Mill Creek, the paving of Spokane Street and the paving of Alder Street from East Street (approximately South Colville) to Park Street. On December 31, 1921 Adolph and Lulu (Mary Louise) Schwarz signed a lease with Union Oil. On May 20, 1930 the Schwarzs signed a 6 year lease with J. Milo Marcy for a 120' by 70' portion of the property facing Alder Street. On July 9, 1930 Adolph Schwarz died. His heirs signed an agreement on May 8, 1931 to jointly retain this property as an investment.  The Union Oil lease was renewed on January 1, 1935. On April 30, 1937 Lulu Schwarz died. On November 22, 1940 the Schwarz heirs signed a party wall agreement with Sam Ferris which disclaimed an interest in 6.5 inches of property on the eastern side of this property. On June 30, 1957, Adolph and Lulu Schwarz's daughter Lillian E. Schwarz died. The remaining heirs signed another lease with Union Oil on June 26, 1957. On March 3, 1978 Catherine Schwarz Wheeler gave this property to her sons F. Norman Adams and Robert S. Adams. On November 26, 1980 Robert Stahl Adams gave an undivided 1/4 interest in the property to F. Norman Adams. On March 1, 1982 Robert Adams resigned as a trustee. On July 30, 1993 F. Norman Adams conveyed an undivided 1/2 of the property to Leila Adams.  The last entry in the title records on March 17, 2004 was an Order Restructuring Ownership of Real Property.
The title histories on both these parcels are nearly identical. They differ only in the leases that were specific to one of the properties, with the exception of a transaction on the parcel that included a portion of Mill Creek. On July 3, 1958 John G. and Martha V. Kelly, Arthur and Laura Carey, and Norman Miller Kelly signed a quit claim deed to Catherine C. Adams, A. H. Schwarz and the Lillian E. Schwarz Trust to adjust their common property boundary down the Mill Creek channel.
Occupant History:
The earliest city directory was published in 1881 and did not list anyone named Cantrell, Bischoff or Schwarz. However by 1883 Adolph Schwarz was living with Diedrich Bischoff at 131 East Alder in a dwelling that probably was on this property before it was divided by the future Colville Street. The earliest available fire map is from 1884. At that time there were three dwellings in this area designated 78, 77, and 76. Probably at least one of them was where Colville Street now runs. On the southwest corner of Alder and East Street (approximately where Colville Street now runs) across Alder Street from this property was located the large Glasford's Planing Mill Sash and Door (leased by Whitehouse Crimmins and Co. in 1890) with their lumber yard across East Street.  It is not clear if East Street and Colville Street (south of Alder) are in the same location so it is hard to precisely place Colville Street (with two bends in it) when it was connected between Main and Alder Streets in 1920. These dwellings continued to appear on fire maps in 1888 and 1889 but appear to be more substantial than before.  East of the dwellings on this property at that time was a small building listed as a liquor warehouse at 205 1/4. In 1889 the numbers 76, 77, 78 were shown along with the numbers 201 and 205 East Alder but the buildings are the same as previously. The 1889 city directory listed Adolph Schwarz as operating a saloon at 120-122 West Main Street. By 1890 and 1894  the dwellings on the fire maps were designated only as 201 and 205. The 1893 city directory listed Adolph Schwarz as living at 205 East Alder; Mr. Bischoff still lived at 131 East Alder. The 1894 fire map also showed a Soda Works at "A" and a Beer Bottling at "B" surrounding the old liquor warehouse at 205 1/4.
In 1902 Adolph Schwarz still lived in the house at 205 E. Alder. He also continued to run the Schwarz Saloon in his building at 120-122 W. Main Street and the Fountain Saloon at 31 E. Main Street. He continued to live in the house on this property until he moved to the Stahl/Schwarz family home at 362 South Second in 1910. In 1905 A and B locations on the fire map were designated 207 and 209 and the buildings had been expanded at the rear to include a beer refrigerator. Behind this building there was a structure designated only as 205 1/3, plus a hen yard and a storage shed near the creek. In 1905 there was still one residence designated 205/201 plus a residence west of it at 78/137. By this time Adolph Schwarz was Vice President of the Stahl Brewing and Malting Company on South Second Street. The Beer and Soda Water Bottling Works was located at 209 E. Alder from 1905 through 1930 (when it moved across Alder Street to 212). The Walla Walla Candy Company (future Bur Bee Company) was located at 207 E. Alder until 1915. The business that followed  in that location could not be located, since there was no reverse street directory until 1931.
In 1912 Adolph and Lulu Schwarz were still operating the Fountain Saloon at 31 E. Main. By 1918 they sold "soft drinks." Thereafter it was just called The Fountain. The Alder/Colville  property was impacted in 1919 by the construction of the A. M. Jensen department store at Main and Colville Streets, on the condition that the city construct a bridge and complete the block of Colville Street between Main and Alder Streets. By 1921 Adolph and Lulu Schwarz still lived at 362 South Second with the city directory listing their children Adolph Jr. and Lillian (clerk at Martin's Jewelers) at the same address. The Fouts Auto Repair and Machine Shop opened at 209 East Alder in this year. 1923 was the first listing for a Union Oil Service Station at the corner of Colville and Alder Streets. Frankland Car Sales was also listed at Colville and Alder but it could not be determined on which corner of the intersection. In 1926 Adolph Jr. went to work as an auto mechanic at Fouts Auto Repair. He and his sisters Lillian and Catherine still lived at the family home on South Second. In 1926 there was no listing for the Frankland Sales but the auto repair shop at 207 was now called C. R. Fouts Auto Dealer and Repairs. In 1927 Adolph Jr. and Lois Schwarz lived at 701 Catherine Street. The service station at 201 East Alder  was called Jamieson and Clayton Service Station in 1926-1927. It became Marcy's Lubrication Station in 1929.  Adolph Sr. died in 1930, which was the year that the Edgewater Pavilion dance hall opened at 15 South Colville Street, with Dean Richmond as manager. The Edgewater Pavilion continued in operation through 1946 but was gone by 1948 (there was no 1947 directory). In 1931 203 E. Alder was vacant and Marcy's Lubricating Station was listed at 205 E. Alder Street. The Lathrop Battery Shop was located at 207 E. Alder and Parris and Roberts Auto Repairs was at 209 E. Alder. In 1933 Troyer and Schwarz Auto Repairs was opened at 209 E. Alder by Adolph Schwarz (Jr.) and Ed Troyer. Lulu Schwarz died in 1937. The Edgewater Pavilion (John Hill, manager), J. Milo Marcy's Service Station and Troyer and Schwarz continued to occupy this property. Adolph Jr. and Lois moved from Catherine Street to 1005 East Alder this year. By 1939 Adolph (Jr.) and Lillian lived at 362 South Second.  By 1946 Adolph (Jr.) and Katherine Schwarz lived at 362 South Second with Lillian Schwarz and Mrs. Catherine Schwarz. Troyer and Schwarz had added Harley Davidson motorcycles to their business by this time. Mrs. Anna M. Miller was manager of the Edgewater Pavilion then. By 1948 the Edgewater Pavilion was no longer listed on Colville Street. The next time this address appeared in the city directory was 1953 as the Burger Barn with Joseph F. Gascon, Jr. as the owner and manager. It continued in business through 1957.
Lillian E. Schwarz died in 1957. In 1958 Marcy's station became Duncan's Union Service. By 1961 it was called Al's Union Service and the Walla Walla National Bank was located at 25 Colville Street. In 1962 the bank was operated by ONB of Spokane and the service station was Vern's Union Service. These occupants continued in these locations through 1970 (Schwarz's name was dropped from Troyer Repair Shop in 1969). Jackson's Sporting Goods operated at 205 East Alder from 1971 through 1974, at which time P and E Scorpion Sales operated there until 1977 with Daniel "Pete" Job as the owner. Adolph and Katherine Schwarz continued to live at 363 South Second until his death in 1976. Katherine remained in residence there until 1981 when she moved to 1604 Sunset Drive and the family home on Second Street was no longer listed in the city directory. Wet and Wild Water Sports operated at 205 East Alder from 1978 to 1983.  In 1979 the business at 209 East Alder was Argo Auto and Truck Service with Louis Argo. He continued in this location as Argo Transmission Specialist until the present when he moved across the street. He also operated Argo's Luxury Limousine Service at 205 East Alder in 1997.
Construction of the Buildings:
Some dwellings occupied this property prior to 1884. More substantial houses were located here in 1893 when Adolph Schwarz first lived here until 1910. The liquor warehouse, and bottling works were shown on the 1894 fire map. The candy company had been added to the west side of the bottling works by 1905.
The existing service station was built in 1922 by the Union Oil Company who had signed a lease with Schwarz on December 31, 1921 . They received a building permit from the city on May 16, 1922 for a "new oiling station" costing $3000. Union Oil Company hired architects to design gas stations of distinctive styles, some of which still exist and are being preserved.  This followed the construction of this block of Colville Street in 1920. The building's construction includes apparently hand-made blocks (larger than standard bricks, perhaps recycled from an earlier time) each with a handprint where a worker had picked them up prior to firing.
The Edgewater Pavilion operated at 15 South Colville between 1929 and 1946 but no building permit could be found. The present building at that location was built as bank in 1960 and now houses a pharmacy. The Walla Walla County Assessor's Office lists a construction date for this building of 1958.
The existing concrete building with a brick face at 209 East Alder received a city permit for construction of a "new garage" costing $3500 on August 8, 1932.  Troyer and Schwarz Auto Repair opened in this new building in 1933.  The Walla Walla County Assessor's Office lists a construction date for 209 East Alder of 1920.
References:
Andres, Penny, Walla Walla Her Historic Homes, 1991.
Bennett, Robert A., Walla Walla  Portrait of a Western Town 1804-1899, Pioneer Press,  Walla Walla, 1980.
Bennett, Robert A., Walla Walla  A Town Built to be a City 1900-1919, Pioneer Press,  Walla Walla, 1982.
Building Permits: Whitman College Penrose Library Archives.
Lyman, Professor W.D., An Illustrated History of Walla Walla County  1901.
Lyman, Professor W.D., Lyman's History of Old Walla Walla County, Vol. 1-2, 1918.
Sanborn Fire Maps: 1884-1905 (with updates until 1954).
Walla Walla City Directories: 1880-1997 (various publishers–not all years).
Whitman College Archives.
Mary E. Meeker ; Walla Walla 2020 Research Service PO Box 1222, Walla Walla WA 99362 August, 2005
http://ww2020.net/wp-content/uploads/205_E_Alder.jpg
150
200
Mary Meeker
http://ww2020.net/wp-content/uploads/2011/12/ww2020_logo.png
Mary Meeker
2005-08-01 20:49:35
2017-02-05 12:22:07
History of 205, 207, 209 East Alder Street and 25 South Colville Street, Walla Walla, WA - Schwarz Buildings