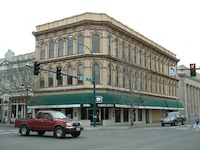 Property Description:
Beginning at the Northwest corner of Lot 5 in Block 13 of the Original City of Walla Walla, according to the official plat thereof of record in the office of the Auditor of Walla Walla County, Washington, in Book A of Plats at Page 1, and running thence Easterly and along the Southerly line of Main Street in said City a distance of 42 feet; thence Southerly, at right angles to said Southerly line of Main Street, a distance of 120 feet to the Northerly line of the alley in said Block 13; thence Westerly along the Northerly line of said alley a distance of 42 feet to the Easterly line of Second Avenue South (formerly Second Street); thence Northerly and along the Easterly line of said Second Avenue South, a distance of 120 feet to THE POINT OF BEGINNING.
SUBJECT TO AND TOGETHER WITH the benefits and burdens of party wall agreement dated November 3, 1925 and recorded November 19, 1925 under Walla Walla Auditor's File No. 154618 at Volume 169 of Deeds at page 333, records of Walla Walla County.
Situated in the City and County of Walla Walla, State of Washington.
Title History:
Washington Territory was created in 1853. The new legislature created Walla Walla County in 1854 which stretched from the crest of the Cascade Mountains to the crest of the Rocky Mountains in present states of Washington, Idaho and Montana. In 1855 an Indian council was held on the banks of Mill Creek at the present site of Walla Walla to purchase land from the Indians. The Yakima's, Cayuse and Walla Wallas were dissatisfied with the treaties and prepared for war which followed. Missionaries, former French-Canadian employees of the Hudson Bay Company Trading Post at Wallula, and soldiers at Fort Walla Walla were the primary European occupants of the area prior to 1859 when it was opened for settlement. All of the land in this area was acquired from the Cayuse and Walla Walla Indian tribes by the U.S. Government in a treaty signed on June 9, 1855 in Walla Walla, and ratified on March 8, 1859 by President James Buchanan.
Walla Walla was originally laid out by County Surveyor H. H. Case in 1859, even before its formal incorporation as a city in 1862, as a one-quarter mile square with its eastern side centered on the point where Main Street crossed Mill Creek (at roughly the point where it does now). The City of Walla Walla received a Trustee Town site from the U. S. government which consisted of 80 acres. It was issued on July 20, 1869 by the Vancouver, Washington Territory, District Land Office.
This property has been at the heart of downtown Walla Walla since its beginning in 1859 even before it was surveyed in 1860. Lot 5, block 13 was originally split into an eastern 12' x 120' and a western 30' x 120' portion. The ownership of the 12' eastern portion of this property in the Original City was transferred 15 times (probably sometimes to mortgage holders) in the first 16 years, often with cryptic legal descriptions. On November 30, 1859 I. T. Reese bought it from Edward Evertz. Reese operated a store in a "large split board square front building" here at that time. On July 13, 1860 I. T. Reese sold this portion of lot 5, block 13 starting "about 30 feet commencing one foot above house now occupied by I. T. Reese on Main Street to the corner of the lot" to L. C. Kinney. In 1862 Stephen Buckley and Michael Phelan gave a deed to Patrick Maloney and Herman Kurry for $600 "containing 12 feet starting 1 foot from house occupied by Mayer & Co. store and building occupied by J. C. Creswell." On March 27, 1862 Maloney transferred his half interest in this property (12' x 120') to Kurry for $200. Kurry then took out a mortgage for $300 with A. and M. C. Seitel. Seitel transferred his mortgage to the banker A. H. Reynolds for $500 on this property "bounded on the northeast by the saloon of J. J. McCraith." The City of Walla Walla recorded the deed on the 12' x 120' portion of this property to A. Seitel on March 3, 1866. On March 6, 1869 A. and M. C. Seitel gave a deed to Oswald Brechtel for $1000 "adjoining William Stephens on the west and J. H. Day on the east" for the 12' x 120' portion of this property. On February 3, 1870 Oswald and Catharine Brechtel sold the 12' x 120" portion of this property which was 30' from the NW corner of Block 13 for $1250 to William Stephens.
A plat for the city including this property was filed on July 5, 1867.
On March 29, 1864 Mayer and Company sold 30 front feet of lot 5 block 13 to L. Mayer and Company for $2250. This deed was signed by Alex Mayer and Jos. Dannenbaum. On February 19, 1866 the City of Walla Walla gave a deed to the SW 1/2 of lot 5, block 13 (30' x 120') to Samuel and Rachel Loupe and Joseph and Adele Dannenbaum but it was not filed until April 9, 1869. Samuel and Rachel Loupe and Joseph and Adele Dannenbaum gave a deed to Emmanuel Max Frank on the SW 1/2 of lot 5, block 13 for $1800 on July 27, 1867. Mr. Frank then appointed Loupe and Dannenbaum as his attorneys-in-fact to take possession and control of his tracts including this one. On April 6, 1868 E. M. Frank, by his attorneys Loup and Dannenbaum, sold this property to William Stephens to include the SW 1/2 of lot 5, block 13 (30' x 120"). Stephens operated Dorsey S. Baker's mercantile business in 1859 on the southwest corner of Second and Main prior to Baker moving to Walla Walla from Portland in 1860.
On December 28, 1875 William Stephens sold this entire property (42' x 120') to Paine Bros. and Moore for $7000. This was from the NW corner of lot 5, block 13 extending east 42 feet to the center of the brick wall of J. H. Day Drug Store and south to the alley. On April 4, 1878 Miles C. and Mary E. Moore signed a quit claim deed for "$1" for their undivided 1/3 interest in this property (and others) to Frank W. and John G. Paine. William Stephens quit claimed his interest in the business in 1891. In 1898 a 5 year lease was recorded with Pacific Express Co for the basement and first floor, to include steam heat.
Frank W. Paine was a man described by historian W. D. Lyman as a "capitalist whose name is inseparably interwoven with the history of the city and the state. No account of Walla Walla's development would be complete without extended reference to him." Brothers, Frank W. and John G. Paine came to Walla Walla in 1861. After a futile attempt at gold mining they earned substantial money by selling clothing in the gold fields. With this money they bought into Stephens store. Two years later they purchased the Baker-Boyer store in partnership with Miles C. Moore, Dorsey Baker's brother-in-law. This firm became know as Paine Bros. and Moore and sold farm implements at the location of the present Baker-Boyer Bank. Frank and his wife Ida raised a family at 318 Chase Street. Frank was elected to the city council in 1878, elected director of schools from 1889 to 1906 and appointed the first superintendent for the state penitentiary in 1887. John never married and managed the Paine Bros. business interests, including stores in Waitsburg and Dayton plus Small's Opera House in 1893. The brothers were listed as "capitalists" with an office at 5 South Second.
On February 4, 1919 Frank W. and Ida B. Paine and John G. Paine (a bachelor) sold this property to Farmers Savings Bank of Walla Walla, including a party wall agreement with A. H. Reynolds and a mortgage to John Ankeny for $40,000. The sale did not include the "vault at 5 South Second" which belonged to the Walla Walla Safety Deposit and Trust. On March 17, 1928 Farmers and Merchants Bank (Harry Lasater, president) sold this building to Union Bank and Trust, excepting the vault of Walla Walla Safety Deposit and Trust. The party wall agreement was with the Eubanks Building, known today as the Reynolds-Day building. On February 21, 1934 the Union Bank and Trust quit claimed their interest in this building to Mark A. and Mary York. On the same date the Yorks sold the building to Consolidated Securities Co. On September 15, 1944 Consolidated Securities (Harry Lasater, president) sold the building to Seattle First National Bank for $75,000. On January 10, 1947 Seattle First National Bank sold the building to Globe Building Company, including a 3 year lease to Margaret Bade, widow. The sale included the proviso that the building would not be used as a bank for 10 years. On December 23, 1946 an Agreement for Merger was signed between Globe Building Co. (Charles S. Clise, president) and Broadway Management Corp. On April 23, 1951 the Globe liquidation trustee, James T. Hillman, gave a Trustee's Conveyance and Bill of Sale to Charles F. Clise, et al. excepting the 5 vault doors on the first floor. On February 2, 1952 Charles F. and Rosalind Clise signed a quit claim deed to Union Realty Inc. (excepting the 5 vault doors on the first floor) for $121,000. A chattel mortgage from Marion G. Dunkley to Union Realty Inc. was made on March 14, 1958 for $3000 for furnishings of the Ellis Hotel on floors 2 and 3 of this building. On March 25, 1963 Alfred H. Clise and O. S. Rasmussen, liquidation trustee for Union Realty signed a quit claim deed to Scott Buildings, Inc. (excepting the 5 vault doors on the first floor). One month later Clise and Rasmussen signed a quit claim deed with Scott Building, including the 4 vault doors on the first floor and basement. On April 29, 1963 Scott Building Inc. sold to Northwest Historical Medals, Inc. (Clise and Rasmussen) for $40,000. Many mortgages later Northwest Medals Inc. signed a Real Estate Contract on May 17, 1979 with Transformation Inc. for $180,000. A lease was signed in 1980 which included a list of furnishings for the second floor (8-10 beds, dressers, refrigerators, etc.). On September 30, 1981 Transformations Inc. sold to Capital Savings and Loan for $220,000. On November 26, 1986 Capital Savings Bank sold this building to Sterling Savings Association.
Occupant History:
This was a very significant building when it was constructed by one of Walla Walla's leading citizens in 1879. Its size and brick construction attracted a lot of attention in a town that had suffered a major fire in 1865. Its location at the heart of downtown destined it to play a major role in the development of Walla Walla. For 90 out of its 127 year history it has been home to one of Walla Walla's banking institutions. Levi Ankeny operated his First National Bank here starting in 1879 for the next 38 years. Union Bank was in this building for 20 years and Sterling Bank has been here for the last 19 years (as well as Seattle First National Bank and Capital Savings Bank).
The 1884 fire map shows the building entrance and stairway to the upper floors in the middle of the building on Second Street. The storefronts designated #36 and #35 (south end of the main floor) were saloons. There was an office to the left (north) of the entrance at #37. The First National Bank was on the corner of the main floor, with drugs, books and candy at #39 Main Street. Offices were on the second and third floors.
The 1888 and 1889 Sanborn maps showed that the drug and book store at #39 had been replaced by an office. First National Bank was still in its long-term location in the corner space. The office at #37 Second Street was Richard Bogel and Irwin Sewell's Barber and Baths shop. The space at #36 was an insurance office. The Senate Billiard Parlor, owned by George Reed and Harry Poland, was still at #35. A business college occupied the upper floor(s).
The 1890 fire map indicated the only change from the prior year was that the billiard parlor had been replaced by the Pacific Express Office .
By the 1905 fire map the street numbers had been changed to #2 and #4 on Main Street, #3, #3 1/2 (entrance stairway), #5, #7, #7 1/2 on South Second Street. All were offices, in addition to First National Bank on the corner. The second floor had offices, and the third floor was the residence of John G. Paine (through 1915).
Walla Walla city directories began in 1880 but did not have a reverse street index until 1931. Not all years are available, but the following occupants were located in this building at these times.
Corner of 2 East Main and 5 Second Avenue:
1881-1917 First National Bank, Levi Ankeny, President, A. H. Reynolds, Vice President
1920-1933 Union Bank and Trust: George Kellough, John Ankeny, A. H. Reynolds, Harry Lasater
2 East Main Street:
1934-1937 Union Bank and Trust
1939-1946 Seattle First National Bank
1948 vacant
1949-1958 Anita Shops, women's clothing
1959-1960 Jolie Apparel Shops
1961-1964 vacant
1965-1968 King's Shoes
1969-1971 Cinderella Shop
1972-1973 Gannon's Shoes
1974 vacant
1975-1982 1-2-3 Print N Press
1983-1986 Capital Savings
1987-2006 Sterling Savings
3 1/2 South Second (2 1/2 East Main Street): Paine Building second floor
1879-1939 offices (dental, grain, insurance, photo, dressmaker, baths, etc.)
…1912… J. J. Spencer & G. T. Gregory Real Estate Loans and Insurance, rooms 3-8
1941-1987 Ellis Hotel/Apartments (7-27 rooms, including third floor some years)
3 1/2 South Second (2 1/2 East Main Street): Paine Building third floor
1881-1915 John G. Paine residence, 3rd floor
1921-1939 Pollyanna Hotel, Mrs. Gertrude B. Hollister, owner
1 South Second Avenue
1965-1967 Pacific Northwest Co.
1968- 1969 vacant
1970 Jen Development
1971-1972 Intermountain Securities
1973-1974 Cornerstone Financial Services
1975 Russ Bergevin Brokerage
1976-1989 Christian Science Reading Room
1994-1997 Copier Specialists
5 South Second Avenue
1881-1917 First National Bank, Levi Ankeny, President, A. H. Reynolds, Vice President
1920-1933 Union Bank and Trust: George Kellough, John Ankeny, A. H. Reynolds, Harry Lasater
1935-1960 Wilson and Wilson Insurance, Hal Carlin Real Estate, Burroughs Adding Machines, Kellough and Mayfield Insurance and Real Estate,
1961-1963 vacant
1964-1997 Northwest Historic Medals/Northwest Medals
7 South Second Avenue
1935-1952 Walla Walla Grain Growers
1953-1954 vacant
1956-1957 Blue Mountain Memorial Gardens, Inc.
1958-1959 vacant
1960 Northern Life Insurance Co.
1961-1963 vacant
1964 Walla Walla Coins
1965-1967 vacant
1968-1973 W. H. Foster, Inc.
1974-1975 Triple P Products
1976-1982 Russ Bergevin, Brokerage
Construction of the Building:
This building has been very noteworthy for its size, ornamentation and prominent corner location in the heart of Walla Walla (on the old Nez Pierce Trail) for 127 years. Its history parallels that of the town itself and its original owners were central to the development of Walla Walla. Its importance to the fledgling town was documented by newspaper stories from its conception. The Walla Walla Union published the following brief items regarding this building:
January 1, 1876: Mr. William Stephens had sold his property "adjoining Dr. Day's Drug Store, covered by the wooden buildings, lately occupied by Russell and McLane and the one now occupied by Dr. Bingham. It is the intention of Paine Brothers and Moore to build a brick building."
(January 1, 1876: Walla Walla Statesman reported that "Mr. Frank Paine started for the states on last Wednesday via San Francisco. He intends returning in the spring." He was married in the Presbyterian church on Capitol Hill on April 3, 1876 in Washington D. C.)
February 16, 1878: Paine Brothers and Moore dissolved their firm due to the retirement of Mr. Miles C. Moore. Business will be conducted in the future by the Paine Brothers.
March 9, 1878: Paine Brothers purchased Abbott Stable property on Second Street in the rear of their Main Street property to be used for a store house and sales depot for agriculture implements. They are studying plans for a 2 or 3 story building on the site of the present wooden structures on Main Street.
May 11, 1878: Paine Brothers tore down Abbott Stables to build as 1 story building on Second Street for a machinery store.
May 18, 1878: Lot occupied so many years by Abbott Stables and Corral is being graded. Will erect agricultural warehouse, 60' x 120", possibly of brick.
August 3, 1878: Teamsters hauling the cellar rock for Paine Brothers 3-story brick building. Preparation of foundations will begin soon. Tenants notified to find other quarters.
August 24, 1878: "Old shed warehouse on the back part of Paine Brothers lot torn down. Store on Main street, built in 1859, has been sold to William Stephens and moved to the corner of Alder and First and fitted up as a store. John Bryant is going to dig the cellar and Paine Brothers will have a splendid 3-story building built. The third story will be fitted up for use of secret societies, the second story for offices, and the ground floor for business houses."
September 7, 1878: Commenced–a force of men and teams have been busy during the past week digging the dirt and hauling it away to make the cellar for the Paine Brothers brick building. Cellar will be 120 feet long by an average width of 40 feet and 8 feet deep. Bricks being hauled while the stone for its foundations walls are already on the ground.
October 5, 1878: Contract Let–Paine Brothers let contract for brick work on new three story building to Messrs. Lennon and Henderson, newcomers. They are to have the brick work done by November 18. They commenced work on Wednesday and will drive as rapidly as possible.
October 5, 1878: Fine Safe–During the week Paine Bros. received a 5,500 pound safe with patent air tight coin and paper vault. It has 3 pair of double doors besides the extra heavy door to the coin vault. It is a very handsome safe.
October 5, 1878: Cellar walls completed on Paine Brothers Building.
October 12, 1878: Most of the windows and door casings, and the iron columns for the first story of the Paine Brothers' new building are in position nd the masons are busy laying the brick between them.
November 9, 1878: Building–Masons finished walls of the second story. Carpenters putting in floor "joice" on the third floor. Outside walls are to be stuccoed. It will be the handsomest building out of Portland.
December 7, 1878: Masons are finishing the fire walls and carpenters busy with the roof. Even in the unfinished state the structure is the finest appearing and most imposing building in the city.
December 14, 1878: The splendid fire proof brick building that the bricklayers have just finished on the corner of Main and Second cost $25,000 approximately.
December 27, 1878: The windows are being put in. As soon as they are all in place fires will be started and the plastering will be vigorously prosecuted by the contractors.
February 1879: The plasters are getting read to give the building a coat of stucco work.
March 29, 1879: Contractors Murray and Parsons have commenced to stucco the Paine Brothers Building. The wood cornices are nearly completed. Doors and most of the iron work of the vault for the First National Bank of Walla Walla have been received. The brick work will be commenced upon the receipt of lime.
Therefore, we have excellent evidence to confirm that the construction date of the Paine Brothers Building was 1879, rather than 1910 as stated in the assessor office records. Further documentation includes the footprint of this building on all fire maps starting in 1884, as well as it being shown on the 1884 Panoramic View of The City of Walla Walla, W. T. 1884 (see Bennett vol. I, p. 127). Bennett also has a good picture (p.98) of the building prior to Main Street being paved.
References:
Bennett, Robert A., Walla Walla Portrait of a Western Town 1804-1899, Pioneer Press, Walla Walla, 1980.
Bennett, Robert A., Walla Walla A Town Built to be a City 1900-1919, Pioneer Press, Walla Walla, 1982.
Lyman, Professor W.D., An Illustrated History of Walla Walla County 1901.
Paine Brothers Building notes on history from Sterling Bank.
Sanborn Fire Maps: 1884-1905 (with updates until 1950).
Walla Walla City Directories: 1880-present (various publishers–not all years).
Walla Walla Union, Vol. 9-10, 1877-1879
Whitman College Archives.
Mary E. Meeker dawame@bmi; Walla Walla 2020 Research Service PO Box 1222, Walla Walla WA 99362 April, 2006
http://ww2020.net/wp-content/uploads/2_E_Main.jpg
150
200
Mary Meeker
http://ww2020.net/wp-content/uploads/2011/12/ww2020_logo.png
Mary Meeker
2006-04-01 18:11:21
2017-02-05 12:22:04
History of 2 East Main Street & 1-7 South Second Avenue, Walla Walla, WA - Paine Building