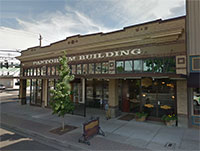 Property Description (abbreviated):
North 68 feet 8 inches of Lot 8, Block 1 of the Original City of Walla Walla, according to the official plat thereof of record in the office of the Auditor of Walla Walla County, Washington, in Book "A" of plats at Page 1.
Title History:
Washington Territory was created in 1853. The new legislature created Walla Walla County in 1854 which stretched from the crest of the Cascade Mountains to the crest of the Rocky Mountains in present states of Washington, Idaho and Montana. In 1855 an Indian council was held on the banks of Mill Creek at the present site of Walla Walla to purchase land from the Indians. The Yakimas and Walla Wallas were dissatisfied with the treaties and prepared for war which followed. Missionaries, former French-Canadian employees of the Hudson Bay Company Trading Post at Wallula, and soldiers at Fort Walla Walla were the primary European occupants of the area prior to 1859 when it was opened for settlement. All of the land in this area was acquired from the Cayuse and Walla Walla Indian tribes by the U.S. Government in a treaty signed on June 9, 1855 in Walla Walla, and ratified on March 8, 1859 by President James Buchanan.
Walla Walla was originally laid out by County Surveyor H.H. Case in 1859, even before its formal incorporation as a city in 1862, as a one-quarter mile square with its eastern side centered on the point where Main Street crossed Mill Creek (at roughly the point where it does now). Mr. Case's survey included this property.  The City of Walla Walla received  a Trustee Town site from the U. S. government which consisted of 80 acres. It was issued on July 20, 1869 by the  District Land Office in Vancouver, W.T. .  The first legal transaction on this property recorded in Walla Walla was a Quit Claim Deed from I. T. and Martha A. Reese to A. Kyger for $1000 on May 23, 1865. This sale included lots 8 and 9 of Block 1 "except what had been previously sold to J. H. Lasater by Kyger and Reese" on January 17, 1865. On March 14, 1866 the City of Walla Walla provided a title to A. Kyger for Lots 7, 8 and 9 excepting the Mill Creek channel for a fee of $25. Kyger and Reese operated one of the oldest businesses in Walla Walla on the northeast corner of Second and Main, across the creek on this same block. They received the first $800 in gold from Oro Fino which started the Idaho gold rush in 1861.
On July 15, 1868 A. and Lucinda M. Kyger gave a deed for this property to P. B. Chamberlain for $400. On January 21, 1869 P. B. and Alice E. Chamberlain signed a warranty deed in favor of the Trustees of the First Congregational Church for $5. The trustees at this time were John B. Stowell, Robert Thompson and George Somerindyke.
Professor Lyman cited P. B. Chamberlain as one of four "worthy and powerful preachers who stand out beyond all others in the minds of pioneers" in Walla Walla's early history, along with Cushing Eells, John Flinn and J. H, Wilbur.  Reverend P. B. Chamberlain came to Walla Walla in 1864 and was described as a "man of tremendous energy and iron will. His electric oratory swayed pioneer audiences …as few men in Walla Walla ever have." On his arrival here, he constructed a Congregational Church at his own expense for $2000 on the north side of Mill Creek at Second Street and Rose Streets. Mr. and Mrs. Chamberlain also opened a school in their building due to the lack of schools in Walla Walla at that time. Soon Rev. Chamberlain became involved in the building of Whitman Seminary. It was dedicated on October 13, 1866 and two days later it formally opened with P. B. Chamberlain as principal with thirty-six students. In July of 1868 the Congregational Church, at this location, burned but the community immediately took steps to rebuild it at a cost of $5000. The new building was dedicated on October 25, 1868, complete with furniture, organ and a 50 foot steeple and bell.
On June 19, 1909 the Trustees of First Congregational Church, W. A. Bratton, W. D. Lyman, T. P. Gose, J. C. Hurspool, Henry Osterman and Jay Williams, gave a mortgage for the church to J. C. and Annie Scott for $10,000. Scott gave an undivided 1/2 interest in this mortgage to MacNaughton, Raymond and Lawrence, of Portland, Oregon.  From that transaction E. F. Lawrence and H. E. Raymond each  obtained undivided 1/6th interests in the mortgage on the church. On May 9, 1919 J. C. and Annie Scott transferred their interest in this property to Jones-Scott Company, following the sale of the property to Robert Wentsch and John Stoller on April 1, 1919 for $17,000.
On February 24, 1921 Robert and Clara Wentsch and John and Lydia Stoller filed suit against the unknown heirs of Andrew J. and Emma Cain and Thomas and Catherine Tierney to quiet title for this property. Lydia Stoller died on March 30, 1924 and John Stoller was appointed the executor of her estate. On January 15, 1943 John Stoller, widower, and Robert and Clara Wentsch gave a warranty deed for this property to Harvey F. and Anna Barbara Stoller, Edwin A. and Amy Stoller, Harold J. and Bernice Stoller, Arnold E. and Ada Stoller and Bernice G. and Clarence Dipple for a stated amount of $10. On March 5, 1968 the Stollers and Dipples signed a 20 year lease at no rent with the City of Walla Walla to build a ramp and deck for off-street parking east of their building and on top of Mill Creek. On April 3, 1975 Clarence and Bernice Dipple gave a quit claim deed for $10 to the Stoller families for the Dipple interest in this property. On September 5, 1979 the four Stoller partners signed a quit claim deed to themselves d.b.a. Rellots. There were numerous transactions within the extended Stoller family over the years. On May 28, 2004 Barbara Thom, James N. Stoller and Jerry E. Stoller filed suit against John Stoller because the owners could not agree on disposition of this property. On September 21, 2005 Barbara Thom, Bernice E. Stoller, James N. Stoller, Jerry E. Stoller, John L. Stoller and Stephen O. Stoller, acting as Trustees for the Stoller Trust signed a warranty deed for this property to James and Brenda Harold.
Occupant History:
The First Congregational Church occupied this property from 1864 until 1900 when they moved to their present location at Alder and Poplar.  The 1905 fire map shows a vacant church here. The earliest city directory in 1881 listed the First Congregational Church at Second and Rose with P. B. Chamberlain, pastor. No record could be located of any occupants of the property from 1900 until 1919 when Stoller and Wentsch bought the property to construct a new building for The Pantorium Cleaners. They had started their cleaning business in 1918 across the street at 7 North Second Street. In addition to the cleaners many small businesses occupied parts of this building over the years. For example, in 1931 Metz Cafe, Sam Paul's Shoe Shines, Eggers Photography Studio, Walla Walla Shoe Hospital, Nelson and Nelson Chiropractors and Ebbert's Barber Shop all were located  between Mill Creek and the Pantorium Cleaners. A typewriter and music store and Goldie's Beauty Salon were added the next year. John Stoller and Robert Wentsch's successors operated the Pantorium Cleaners in this location until after 1988.
Construction of the Building:
The office of the Walla Walla County Tax Assessor does not list a construction date for this building. and no building permit could be found. The Stoller and Wentsch families purchased the property in 1919 and constructed the present building in 1922, according to building plans dated that year, after quieting title to one of the oldest properties in Walla Walla. The present owners are very fortunate to have those original building plans that show how this 83 year old building looked at its inception.
References:
Bennett, Robert A., Walla Walla  Portrait of a Western Town 1804-1899, Pioneer Press,  Walla Walla, 1980.
Bennett, Robert A., Walla Walla  A Town Built to be a City 1900-1919, Pioneer Press,  Walla Walla, 1982.
Building Permits: Whitman College Penrose Library Archives.
Gilbert, Frank T.; Historic Sketches of Walla Walla, Whitman and Garfield Counties, Washington Territory, and Umatilla County, Oregon, 1882.
Lyman, Professor W.D., Lyman's History of Old Walla Walla County, Vol. 1-2, 1918.
Lyman, Professor W.D., An Illustrated History of Walla Walla County  1901.
Sanborn Fire Maps: 1884-1905 (with updates until 1950).
Walla Walla City Directories: 1880-present (various publishers–not all years).
Whitman College Archives.
Mary E. Meeker Walla Walla 2020 Research Service PO Box 1222, Walla Walla WA 99362 December, 2005
http://ww2020.net/wp-content/uploads/18_N_Second.jpg
151
200
Mary Meeker
http://ww2020.net/wp-content/uploads/2011/12/ww2020_logo.png
Mary Meeker
2005-12-01 16:34:43
2017-02-05 12:22:06
History of 18-30 North Second Avenue, Walla Walla, WA - Pantorium Building