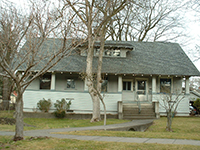 Legal Description:
Beginning at the southwesterly corner of Lot 1 in Block M of Foster's Addition to the city of Walla Walla, according to the official plat thereof of record in the office of the auditor of Walla Walla County, Washington and running thence north 29º 50´ west, along the  westerly line of said lot 1, and along the westerly line of lot 2 in Block M of Roberts Addition to the city of Walla Walla, a distance of 172.40 feet, more or less, to the northwesterly corner of said Lot 2, thence north 60 degrees, 10 feet East, along the northerly line of said lot 2, a distance of 100 feet; thence south 29 degrees 50 feet east, parallel to the westerly line of Catherine St., to a point in the northerly line of Thorne Ave., thence westerly along the northerly line of Thorne Ave. to the point of beginning.
Together with an easement for a roadway ten feet in width, being five on either side of a line drawn parallel to and distant 20 feet westerly, when measured at right angles from the easterly line of Lot 2, in Block M, of Foster's Addition aforesaid, and running thence northerly from the point where said parallel line intersects with the southerly line of said Lot 2, a distance of 120 feet.
Title History:
The land that comprises the City of Walla Walla was acquired from the Cayuse and Walla Walla Indian tribes by the U.S. Government in a treaty signed on June 9, 1855 in Walla Walla and ratified on March 8, 1859 by President James Buchanan.   Walla Walla was originally laid out by surveyor H.H. Case in 1859, even before its formal incorporation as a city in 1862, as a one-quarter mile square oriented N-S, E-W with its eastern side centered on the point where Main Street crossed Mill Creek (at roughly the point where it does now).  To this original area, additional parcels were annexed from time to time, usually using the name of the land owner of record at the time the additions were made.  145 Thorne was originally in the very large section of land south of Main St. known as Roberts Addition, but as of 1905 the legal description placed it in Foster's Addition, named for Maud Foster who developed this part of Thorne St.   155 Thorne, just east of 145, remains in Roberts Addition.  These two houses share the driveway.
A.B. Roberts came to Walla Walla from Portland in 1859.  He purchased a claim to a large section of land south of Main St. where besides doing real estate development, he raised fruit trees, having brought the first grafted fruit trees to the Walla Walla area. Roberts seems to have overextended himself in his purchase of property, as the first available document for this address was for a Sheriff's Deed filed on November 22, 1876 resulting from an action against Roberts by David Harrer. The stated price at the Sheriff's sale was $49 which is what Franklin Goodwin then paid for Lots 1 and 2 in Block M of Roberts Addition.  On November 3, 1879 Goodwin sold that parcel to Ida Andrews and J.C. Andrews for $250.  On May 12, 1880 the Andrews sold the parcel to William Vawter and Rachel A. Vawter for an undisclosed amount. In the 1881 City Directory, Vawter is listed as a farmer residing on Chase Street. On May 14, 1881 the Vawters sold the property for $400 to B.L. Baker, a single man, who was listed as a teller at Baker Boyer Bank.  On October 31, 1881 Baker sold the parcel to Thomas R. Tannat and Elizabeth F. Tannat for $500.  Tannat is listed in the 1881 City Directory as "general agent Oregon Improvement Co." and residing on "Catherine St., south of Whitman."  On May 15, 1888 the Tannats sold Lots 1 and 2 to Frank J. Parker and Martha J. Parker for $350.  In the 1883 City Directory, Parker is listed as publisher and proprietor of the Walla Walla Statesman. The  Parkers, who resided at 109 Fourth St., owned the lots until November 19, 1904 when they sold the parcel to Flora A. Dice and Amos K. Dice,  who lived nearby at 524 Catherine. In the 1900-01 City Directory Amos Dice's business is listed as "Amos K. Dice, Real Estate, Fire and Accident Insurance, Notary Public, Secretary Inter State Bldg. Loan and Trust Association of Walla Walla."  His office address was 5 S. 2nd.  An "Agreement for Deed" was filed by the Dices on October 27, 1905 to E.L. Brunton and Isabella Brunton for Lot 1 in Block M of Foster's Addition. This is the first transaction that changes the description of the location of the lot from Roberts Addition to Foster Addition.  In early 1900's City Directories, E.L. Brunton is listed as "Postmaster, 16 S. 2nd, residence 23 W. Birch." A deed from the Dices to the Bruntons was recorded a year later on October 24, 1906 reciting a price of $900.
A Plat Map for this area contains a street dedication which states that as of May 8, 1905, a portion of Foster's Addition to the City of Walla , which included "pieces" from Catherine to First on Thorn (note later spelling was "Thorne") was declared to be a Walla Walla street.
E.L. Brunton and Isabella Brunton sold Lots 1 and 2 of Foster's Addition to S.E. King and Ethel F. King on October 17, 1908. There was no amount given.  This is in fact a three parcel very deep lot.  Besides the parcel on which the house sits and its backyard, an additional _ acre parcel sits in the middle of the large block that extends from Thorne to Whitman and from Catherine to First. A building permit was issued to the Kings on April 2, 1909 for a "frame cottage" to be built by the firm known as Bailey and Lambert. The estimated cost was given as $3000, a higher price than was typical for other permits that year, indicating that this would be a larger house than most.  S.E. King was listed as "Lawyer and Notary Public" with an office at 27_  W. Main.  The Kings previous residence was 804 N. Main. They resided at 145 Thorne until S.E. King's death in 1946.
An Executor's Deed filed by H.G. King and E.W. King on January 6, 1947 granted the property to G.W. Smith and Mabel V. Smith for $6750.  George Smith is listed as a rancher in City Directories until 1965 when he was listed as a "retired farmer."  A Special Warranty Deed was filed by Seattle-First National Bank, executor under the Last Will and Testament of George W. Smith, following Smith's death in order to settle his estate. On November 8, 1973 Fred J. Miklancic and Marla Miklancic purchased the house for $34,000.
In the 1974 City Directory Fred J. Miklancic, a geologist with the Corps of Engineers and Marla Miklancic, a substitute teacher at School District 140 and later a teacher at Sharpstein School, are listed as residing at 145 Thorne. A Quit Claim Deed was filed by Marla Miklancic to Fred Miklancic on March 29, 2001 to clear title "pursuant to a dissolution."  In April of 2001 Miklancic filed a Quit Claim deed "to create community property to himself and Sherri J. Miklancic."  On October 23, 2006  Fred T. Miklancic and Sherri J. Miklancic sold 145 Thorne, which included all three parcels of land to Janice Ingham for $485,000.
Construction of the House:
The construction date of 1920 listed by the Walla Walla County Assessor's Office is incorrect.  A building permit was issued on April 2, 1909 to E.F. King, wife of S.E. King.  The permit was for a "Frame Cottage" with an estimated cost of $3000.  The builders were Bailey and Lambert, listed in City Directories as John A. Bailey and Charles B. Lambert, Architects and Contractors, 430 Drumheller Building. The April date would mean that the house could easily be finished in 1909, which is the construction date that should be used. $3000 was quite a high sum for a house in 1909, indicating a large house (there are at least five bedrooms in this home).
This house is a fine example of a large American Craftsman Bungalow, inside and out.  The interior features a large amount of dark wood (that is currently being lightened) throughout the house.  This includes beams in the living room and dining room ceilings, all doors and the trim around them, and an extensive use of wood in the dining room for built-ins and trim. The exterior is simple with a large front porch and an upstairs dormer which visually breaks the expansive roof which has exposed beams that extend to the roof's edge. The front porch supports are made of wood with sloping sides.  This style became very popular in the early 1900's when many houses in this area were built.  Its origin is the Arts and Crafts movement which began in England in the workshop of William Morris and was then carried on in the U.S. by Gustav Stickley, among others. Stickley wrote this about the abundant use of wood: "…no other treatment of the walls gives such a sense of friendliness, mellowness and permanence as does a generous quantity of woodwork."  William Morris' intention was to design houses and furniture that would be affordable and also harmonious with nature.
Resources used for this report:
American Bungalow, Number 51, fall 2006
A Field Guide to American Houses by Virginia and Lee McAlester
Penrose Library Northwest Archives files, Whitman College
Pioneer Title Company documents for 145 Thorne
Sanborn Fire Maps 1894-1938
Walla Walla City Directories 1880-2000
Walla Walla County Assessor's records
Walla Walla County Vault's Grantor/Grantee records and plat maps
Walla Walla Public Library Northwest History room and city directories
A visit to the house during its renovation
Katherine Weingart Walla Walla 2020 Historical Research P.O. Box 1222 Walla Walla WA 99362 January 2007
http://ww2020.net/wp-content/uploads/145_Thorne.jpg
150
200
Katherine Weingart
http://ww2020.net/wp-content/uploads/2011/12/ww2020_logo.png
Katherine Weingart
2007-01-01 18:07:35
2017-02-05 12:28:01
History of 145 Thorne Street, Walla Walla, WA