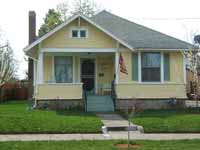 Legal Description
The North 140 feet of the East 52 feet of Lot 2 in Block 7 of the amended plat of Green's Annex, as recorded in Volume C of Plats at Page 32. Situated in Walla Walla County, State of Washington.
Title History
The land that comprises the City of Walla Walla was acquired from the Cayuse and Walla Walla Indian tribes by the U.S. Government in a treaty signed on July 9, 1855 in Walla Walla and ratified on March 8, 1859 by President James Buchanan. Walla Walla was originally laid out by surveyor H.H. Chase in 1859, even before its formal incorporation as a city in 1862, as a one-quarter mile square oriented N-S, E-W with its eastern side centered on the point where Main Street crossed Mill Creek (at roughly the point where it does now). To this original area, additional parcels were annexed from time to time, usually with the name of the land owner of record at the time the additions were made. 1418 Walla Walla Avenue is in Green's Annex, adjacent to Green's Park Addition, named for William O. and Mary F. Green (Green Park School bears their name). The original parcel, Green's Park Addition, was purchased from John Haley in 1867 and covered 19 ½ acres north of Isaacs St. to Melrose bordered on the west side by Clinton St. With the addition of Green's Annex, these properties were extended to the east to Wellington St. The documents of record for 1418 Walla Walla Ave. mention only Mary F. Green, by then a widow, who following the death of her husband continued to be very active in real estate development.
The first recorded transaction for 1418 Walla Walla Avenue was the sale of Lot 2 in Block 7 of Green's Annex on September 20, 1907 for $500 by Mary F. Green, a widow, to Bert M. Huntington, contractor and builder, who resided nearby at 418 Bellevue. William Godbould (note that the spelling of his name changes to Godbold circa 1912) purchased Lot 2 in Block 7 for $400 in November of 1911 from Huntington, who was the contractor for the construction of the house. On October 27, 1911 a building permit for $1500 was issued to William Godbold for a dwelling at 1418 Walla Walla Ave. Building permit records in the Whitman College archives indicate that Huntington built many houses in the early 1900's including 1418, as well as 1417 Walla Walla Avenue in 1916. In the 1908 City Directory, Godbould is listed as a laborer, residing at 918 W. Willow; in the 1909-10 directory, he resides at 447 S. 4th and is a cement contractor, obviously specializing in sidewalks because his name appears on many sidewalks, particularly in the center section of Walla Walla. In the 1910-11 directory Godbold is living at 440 S. 8th and in the 1911-12 directory his address is 1404 Walla Walla Ave. In the 1912-13 directory he is living at 1424 Walla Walla Ave. These addresses (1404 and 1424) do not exist today and could be errors, or could indicate that renumbering of houses occurred. The address is a rural delivery area (route 4) in 1918 indicating that it was on the edge of town. Beth Godbold, a student, then a physician's assistant, and then a teacher resided with her father. Godbold seems to have been widowed in the early 1900's, remarried in 1914 and then in 1918 divorced Clara L.Godbold. Beth must have been his daughter from his first marriage. He gave up the cement business according to the 1920 City Directory and was listed as the jailer at the County Jail that year, which is also the year he died. No address was given for him in the 1920 listing.
On December 9, 1919, Godbold, then an unmarried man, sold 1418 Walla Walla Ave. to C. Oscar and Minnie M. Mock for $2000. Mock is listed as a farmer in city directories and moved to Pleasant, RD 6 in 1923. On September 6, 1923, the Mocks sold the house to Robert O. and Ivy M. Lowery. Of interest is a 1923 Assignment of Contract document to Charles and Madeline Emigh, listed as a traveling agent for Walla Walla Creamery (the Emigh family now has the Antique Mall at Shady Lawn at that location), which lists the price of the contract as $2461 plus $51 of unpaid taxes. Lowery was a salesman at the Book Nook (in what is now the Die Brucke building), then for Modern Clothing, the Bendix Music Shop and Pacific Power and Light. In 1937 the Lowerys moved to 135 Thorne, having sold 1418 Walla Walla Ave. to Otho L. and Doris F. McLean.
No selling price is given but the McLeans took out a mortgage of $2500. Otho McLean was bookkeeper and office manager for Bjorkland and Carson Appliance store, then accountant and assistant comptroller for Pacific Supply Co-op. The McLeans moved to 1306 Dakota in 1950. On January 19, 1950 the house was bought by Frances (Frank) A. and Ada E. Launsbach. Again, no sales price is given but the Launsbachs executed a mortgage of $6500. Frank Launsbach worked at the Union-Bulletin, eventually becoming the circulation manager and retiring in 1964. A daughter, Betty, is listed as a clerk at Montgomery Wards, then secretary at Pacific Co-op.
On March 1, 1966 the Launsbachs sold to Lewis A. and Mary Thompson for $12,975. Lewis Thompson is listed as being employed at the Washington State Penitentiary. In the 1975 City Directory they are listed as residing at Rt. 5, Electric Ave. On October 10, 1974, the Thompsons sold the house to David and Ann Hatley for $17,900. David Hatley was a correctional officer at Washington State Penitentiary. On May 24, 1977, Mike Wilson and Diane Strand, single persons who eventually married, purchased the house for $25,900. Mike was employed by Walla Walla Electric and Diane was a clerk at Safeway. Diane Strand died in 1981.
On May 3, 1983 Wendy R. Cole purchased the house for $42,000. She was listed as a financial worker at the Department of Social and Health Services in the 1984 City Directory, after which the term "unlisted" is given for 1418 Walla Walla Ave. from 1985-89 in City Directories. The house then appears to have been a rental for about five years in the early 90's. A Quit Claim Deed to create separate property was given by John Deardorff to Wendy Cole-Deardorff on November 10, 1995, who on the same day sold the house to Waylon L. and Cherish Y. Gladden for $84, 900. On September 19, 2002 Jeffery C. Bickle and Edwiges Q. Bickle purchased the house for $115,000.
Jeffery Bickle is an Adult Probation and Parole officer for Walla Walla County.
Construction of the House
The Assessor's Office construction date of 1906 does not appear to be accurate. In September 1907 Mary Green sold the lot to Bert Huntington for $500, indicating no house was then on the property.   On October 27, 1911 a building permit for $1500 was issued to William Godbold for a dwelling at 1418 Walla Walla Avenue. The builder was Bert M. Huntington, who sold the lot to Godbold for $400 at about the same time, further indicating the property was bare land when Godbold received it. William and Beth (his daughter) Godbold, are listed as living at this address in the 1911-12 City Directory, which would have been published in 1912. Because it was near the end of the building season in 1911 when the building permit was issued, this researcher concludes that the house was probably completed and first occupied in 1912, which is the date that should be used for this home.
The Sanborn Fire Map (1923 Additional Sheet) indicates that at one time there was a 1418 ½ Walla Walla Avenue near where the garage is today. There was no information available about that structure in available records. Two additions have apparently been made to the house. On January 1, 1916 a building permit for an addition costing $250 was issued to Godbold. Current owner Jeffery Bickle has also found a 1934 newspaper stuffed into an area that appears to be another addition on the back of the house, which may indicate the date of that construction.
Research Sources:
Pioneer Title Company documents for this property
Sanborn Fire Maps
Walla Walla City Directories
Penrose Library Northwest Archives, Whitman College
Bennett, Robert A. Walla Walla: A Town Built to be a City, 1900-1919, Pioneer Press, 1982
Walla Walla County Assessor's Office
  Katherine Weingart Walla Walla 2020 Research Service P.O. Box 1222 Walla Walla WA 99362 August 2004
http://ww2020.net/wp-content/uploads/1418_WallaWalla.jpg
150
200
Katherine Weingart
http://ww2020.net/wp-content/uploads/2011/12/ww2020_logo.png
Katherine Weingart
2004-08-01 18:51:17
2017-02-05 12:29:03
History of 1418 Walla Walla Avenue, Walla Walla, WA