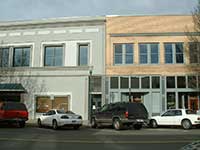 Property Description: 
Beginning at a point in the Northerly line of Main Street in the City of Walla Walla, State of Washington, which point is 152.75 feet Easterly, measured along said Northerly line of Main Street, from the Easterly line of Third Avenue North (formerly Third Street) in said City; thence North 60º10´ East, along said Northerly line of Main Street, a distance of 44.25 feet; thence North 29º50´ West 120 feet to the Southerly line of the alley in Block Two (2) of the Original City of Walla Walla; thence South 60º10´ West, along the Southerly line of said alley, a distance of 44.25 feet; thence South 29º50´East 120.00 feet to the point of beginning
Title History:
Washington Territory was created in 1853. The new legislature created Walla Walla County in 1854 which stretched from the crest of the Cascade Mountains to the crest of the Rocky Mountains in the present states of Washington, Idaho and Montana. In 1855 a treaty council was held on the banks of Mill Creek at the present site of Walla Walla to purchase land from the Indians. The Yakimas, Cayuses and Walla Wallas were dissatisfied with the treaties and war followed. Missionaries, former French-Canadian employees of the Hudson Bay Company trading post at Wallula, and soldiers at the military Fort Walla Walla were the primary European occupants of the area prior to 1859 when it was opened for settlement. All of the land in this area was acquired from the Cayuse and Walla Walla Indian tribes by the U.S. Government in a treaty signed on June 9, 1855 in Walla Walla, and ratified on March 8, 1859 by President James Buchanan.
Walla Walla was originally laid out by County Surveyor H. H. Case in 1859, before its formal incorporation as a city in 1862, as a one-quarter mile square with its eastern side centered on the point where Main Street crossed Mill Creek (at roughly the point where it does now).  The City of Walla Walla received  a Trustee Townsite from the U. S. Government which consisted of 80 acres issued on July 20, 1869 by the Vancouver, W.T. District Land Office.   Main Street originally followed the old Nez Perce Indian Trail. Consequently the streets leading off of it were at right angles to it, and were not in a north-south orientation. This was corrected as the city moved eastward which gave Walla Walla its peculiar street pattern with the three street intersection at Palouse, Boyer and Main Streets. To the original plat, additional parcels were annexed from time to time, usually bearing the name of the land owner of record at the time the additions were made.
The first title records in the Walla Walla Land Office on this property were recorded in 1862. This preceded the earliest surviving plat of Walla Walla which was filed and recored on July 5, 1867. Therefore legal descriptions were complicated and changed frequently. This property has been divided in the past into parcels of 16 feet, 20.5 feet and 11.5 feet wide, totaling the current width of 44.25 front feet. Between 1862 and 1878 there were 23 transactions that involved D. S. Baldwin, Samuel Baldwin, E. B. Whitman, E. P. Whitman, and/or James Van Dyke. Mr. E. B. Whitman was the first elected mayor of Walla Walla in 1862 and a business partner with the Baldwin brothers in their merchandizing business and with Mr. Van Dyke in a livery stable, as well as insurance and real estate businesses.
Some of these early parcels were described as 185 feet 6 inches from the corner of Main and Third Street. Others were described as 149 feet from Third Street, 128 feet 3 inches from Third Street, 165 feet from Third Street, and 149 feet from the corner of the block on Second Street, with many non-rectangular measurements going north to or across Mill Creek (i.e. "11 feet, 6 inches back to the Mill Creek meander"). Baldwin and Whitman were both the first listed owners and the last owners prior to a Sheriff's Deed in 1878 to Daniel and Margaret Stewart for $1475. Old deeds were difficult to distinguish from loans and mortgages. The Stewarts sold 16 front feet to John F. Boyer in 1881. On November 5, 1883 E. B. and Maria G. Whitman and D. S. Baldwin signed a Quit Claim Deed to Andrew J. Cross for $1. for the western 16 feet of this lot. At this time John F. and Sarah E. Boyer sold this 16 feet to Andrew J. Cross for $3200. On November 15, 1883 A. J. and Alice B. Cross sold for $5000 to H. L. Rees and M. H. Paxton. On April 8, 1884 James Van Dyke signed a Quit Claim Deed to A. J. Cross, presumable to clear title. In 1885 Harry L. and Felicia G. Rees transferred their interest in the property for $1000 to M. H. Paxton including a mortgage from Rees and Paxton to John Dooley (Dooly) and William Kirkman. John Dooley and William Kirkman  ran cattle and had a meat market across Main Street from this building.
 In 1887 Matthew and Edith Paxton gave a deed to Jon Ronan for $4700. In 1890 Thomas Ronan (unmarried) sold a parcel with frontage of 11 feet 6 inches to John Dooley for $1. In 1933 Frances B. Allen (Dooley) in her separate right, transferred a parcel 44.25 feet wide to Baker Boyer's Bracken Dooley Trust. Alberta Dooley quit claimed her interest in 1938 to Robert E. Allen, executor for France B. Allen, deceased. In 1941 Robert Allen, surviving spouse of Frances B. Allen, deceased, conveyed to her sons Ed (J. E.) and Clarence (W. C.) Dooley. In 1943 J. E. and Myrtle L. Dooley sold an undivided half of the 44.25 x 120 feet property valued at $12,500 to Elizabeth Jones Harris, husband of Lester Brooks Harris. In 1949 Elizabeth J. Phillips (formerly Harris) and W. C. Dooley gave a lease on a storeroom at 14 W. Main. In 1956 W. C. Dooley et al signed a Party Wall agreement with James C. Nelson et al. In 1964 Elizabeth J. Phillips and W. C. Dooley signed a lease with Zaring Insurance. In 1977 another lease was signed by Elizabeth J. Phillips and the estate of W. C. Dooley with Zaring Insurance at 14 West Main. In 2003 Martha Jayne French (undivided half interest) and Merlin Phillips and Nancy Phillips Ramstadt for the Estate of Elizabeth Jones Phillips sold this 44.25 feet by 120 feet property (152.75 feet from Third Street) to DLJ Properties LLC for $211,500.
Occupant History:
The complications of legal descriptions were exceeded only by the confusions of early addresses.  In the first Walla Walla City Directory in 1880 there were no addresses beyond "north side of Main Street between Second and Third". Ads for this side of this block in 1880 included Saddlery Establishment, Thos. Quinn, proprietor; Montana Restaurant, Mrs. M. McGeary, proprietor, board and lodgings $6/week; Stott & Feldman, Crockery, Glass and Chinaware; George Savage, practical watchmaker and jeweler; Hewey Taylor, wines, liquors and cigars; "Tex" Arberry's "Tempest Saloon"; Walla Walla Candy Company, Thos. Taylor, prop., candy, ice cream, oysters and cigars; Sample Rooms, Ed Jurdan, prop., liquor and cigars; Horatio O'Brien, Havana cigars and variety; John B. Lewis, books, stationary and fancy goods; W. O'Donnell, general hardware; Schwabacher Bros. General Merchandise.
Addresses for this block appeared in the 1881 city directory in the following ads :
#2 Main Street was Doheny and Marum (at the corner of Second and Main);
#4 Saddlery Establishment;  plus upstairs in the Quinn Building attorneys S. G. Harper, W. G. Langford and C. B. and Wm. Upton
#6 Tex Arberry's saloon (Quinn Bldg);
 #8 Walla Walla Candy Company;
#10 George Savage watchmaker;
#12 Bank Exchange, M. Ames, prop., wine, liquor, cigars;
#16 Sample Rooms;
#18 John B. Lewis, books and fancy goods;
#20 Stott and Feldman;
#22 Wm. O'Donnell Hardware
In 1884  two candy stores, a barber shop the Express Insurance Company, a jewelry store and a stationary store were here. In 1888 the stationary store had been replaced by a saloon and the jewelry story was replaced by a barber & baths. In1889 insurance and cigar stores had replaced barber and candy stores. In 1890 the saloon and barber shop had been damaged by fire.
In 1894 the fire map shows new construction of two story buildings, presumably the present ones. The building at #14-16 apparently was owned from 1890 until 2003 by Dooley and Phillips families
Construction of the Building:
The Main Street view of  8, 14, and 16 all have a similar facade. However, from the back of these buildings #14-16 appear to be a separate building with a slightly different roof line and window/door pattern in the old bricks. The rear view of this building matches the window and door pattern of the Valley Vision building on the west side. In 1881 the two-story O'Donnell Hardware (west end of Valley Vision) and the two-story Thomas Quinn Building were present in a lithograph but all the buildings in between were one-story wooden structures. The same is true on the 1889 birds eye map of Walla Walla. However, the 1894 Sanborn Fire Map shows all the present buildings in this block. There is nothing in the title records to indicate which year between 1890 and 1894 they might have been constructed. John Dooley owned this property at the time this building was constructed. There were no building permits at that time. The tax assessor does not state a building date. John Dooley should be listed as having built the present building, circa 1892.
References:
Ancestry.com
Bennett, Robert A., Walla Walla  Portrait of a Western Town 1804-1899, Pioneer Press,  Walla Walla, 1980.
Building Permits: Whitman College Penrose Library Archives.
Lyman, Professor W.D., An Illustrated History of Walla Walla County  1901.
Sanborn Fire Maps: 1884-1905 (with updates until 1950).
Walla Walla City Directories: 1880-present (various publishers–not all years).
Whitman College Archives.
Mary E. Meeker
;
Walla Walla 2020 Research Service
PO Box 1222, Walla Walla WA 99362
July, 2012
http://ww2020.net/wp-content/uploads/14_16_W_Main.jpg
150
200
Mary Meeker
http://ww2020.net/wp-content/uploads/2011/12/ww2020_logo.png
Mary Meeker
2012-07-01 17:55:25
2017-02-05 12:17:44
History of 14-16 West Main Street, Walla Walla, WA