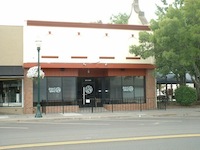 Property Description:
Abbreviated: A parcel 85 feet deep x 34.84 feet wide 67 feet west of the SW corner of Main and Spokane Streets  in Walla Walla, Washington (NE 1/4 of the SW 1/4 of Section 20, Township 7, Range 36 EWM). See attached full legal description.
Title History:
Walla Walla was originally laid out by surveyor H.H. Chase in 1859, even before its formal incorporation as a city in 1862, as a one-quarter mile square oriented N-S, E-W and with its eastern side centered on the point where Main Street crossed Mill Creek (at roughly the point where it does now). To this original area, additional parcels were annexed from time to time, usually named after the land owner of record at the time the additions were made.
During 1862, A. J. Cain surveyed Cain's Addition to the City (this survey was rerecorded on May 11, 1865, following a disastrous fire which destroyed most of the county's earlier records). Cain's Addition was adjacent to this property, which was often referred to as Cain's homestead. There were many early legal transactions involving the Cains. The first entry in the title company file on this property was on February 13,1862 when the Cains mortgaged their property to A. H. Reynolds on a $1000 note at 36% interest.  On March 1, 1864  A. H. Reynolds acquired this and adjacent property by way of a Sheriff's Deed for $1560. On March 15, 1864 he sold this property (plus 18 other parcels) to Emma R. Cain for $100. Dorsey S. Baker, early day banker, gained a financial interest in the property both by sheriff's sale (1867) and by deed  from the Cains(1871). Dr. Baker died on July 5, 1888 and thereafter his interests were represented by his estate trustees.
Almos H. Reynolds was born in New York state in 1808 and learned the millwright trade from his father. He came west to California in 1850 and to Walla Walla in 1859 where he lived until his death in 1889. He was held "in highest esteem" as one of Walla Walla's leading citizens. He was associated with Dr. J. H. Day  in establishing the first banking business in Walla Walla (see Reynolds-Day Building near Second and Main Streets) which led to the founding of the  First National Bank. In 1861 he married Lettice J. Clark nee Millican who was the widow of Ransom Clark, who had come to Oregon with Fremont in 1843. Lettice and Almos had two sons Harry A. and Allen H. who both became prominent Walla Wallans.
A. J. Cain was an early financier of the Walla Walla Union newspaper; in 1868 he was elected on the Democratic ticket as prosecuting attorney of Walla Walla County. He later moved to Dayton and in September 1874 began publication of the Dayton News, a weekly Democratic newspaper. He became known as the "Father of Columbia County" as a result of his leading role in the formation of that county.
Dorsey S. Baker was founder of Walla Walla's Baker Boyer Bank and builder of the first railroad in the valley. In 1862, Baker was on the city council and some years later was a Walla Walla County Commissioner. He was an early supporter of Whitman Seminary, donating four acres of land for that institution.
The Baker Estate conveyed a deed for this property to Alexander Jay Anderson, Sr. on September 22, 1888 for $3423.33 . Dr. Anderson was the first president of Whitman College and resided at 404 E. Main Street at this time. Dr. Anderson had received his education as a teacher at Knox College in Galesburg, Illinois. There he met Louisa Phelps who also was a teacher. When they came west they first settled in Forest Grove, Oregon where he ran the prep school for Pacific University. He received his PhD (hon.) from Pacific University  and his wife received her M.S. degree (hon.) from the University of Washington. Both the Andersons and several of their sons taught at University of Washington and Whitman College.  Their son George Page was in the first graduating class from Whitman in 1886 (Bennett, Vol. 1, page 118-119). Daughter Helen was part of "the Whitman College tennis crowd" in 1891 (Bennett, Vol. I, page 154). Their son Louis was a long-term professor of Greek and Latin at Whitman who married Dorsey Baker's daughter Mabel. They subsequently built Anderson House (now Baker Faculty Center) on the edge of the campus. Louisa Anderson died in 1889, leaving her interest in this property to three of their five children, George P., Oliver P. and Helen H. Anderson. They each signed Quit Claim Deeds that same year to return their interests in the property to their father. In 1893 A. J. Anderson signed a Quit Claim Deed naming his only daughter, Helen, as the owner. She returned her interest to her father in 1894. Dr. Anderson had retired from the presidency of Whitman College in 1891, exhausted from the work of creating a new college and the loss of his wife. He returned to Seattle where he had been president of the University of Washington from 1877-1882. He supported himself by tutoring students since this was prior to the availability of a retirement benefit from any of his jobs. He died there in 1903.
On January 18, 1898 a Sheriff's Deed against A. J. Anderson Sr. and the Mitchell, Lewis Staver Company was recorded to C.A. Leighton for $50, as the stated "whole price." Mr. Leighton is not listed in any City Directory from this time. Just prior to this action, on December 3, 1897 C. A. Leighton's sale of his interest in the property to Charles H. and Ella F. Willey was recorded for a quoted price of $1. The Willeys are not listed in any City Directory at this time. Mr. and Mrs. Willey sold this property to Joseph Tachi on April 25, 1902 for $1. Joseph Tachi came to Walla Walla in 1882 from Milan, Italy, only the third or fourth Italian to arrive here. He had $.25 when he arrived and worked very hard to "win a fortune out of market truck gardening by his own hands." He and J. P. Kent owned "several valuable city business locations and suburban property rated to be worth $130,000." (Bennett, Vol. II, page 142-3).
On August 13, 1908 Mr. Tachi sold this property to Harry A. and Bertha C. Reynolds.  Harry was the son of A. H. Reynolds, the 1864 owner of the property. Harry was a farmer and secretary of the Walla Walla Roller Mill Co. on south Park at Yellowhawk Creek. He owned the  property at Spokane and Main Streets for 21 years before selling to John C. and Elizabeth Lyman on March 6, 1929 for $10. This deed was subject to a $30,000 mortgage in favor of Harry A. Reynolds payable in 10 years as well as a lease dated October 31,1925 between H. A. Reynolds and Diettrich Brothers which was to expire on October 31,1930. John was a physician in practice with Dr. E. L. Whitney in 1929. They lived at 548 University Street. Ten days after its purchase Dr. Lyman sold the property to the Enterprise Land Company (Bradley Young, president.) for $10. On January 14, 1930 it was sold to the Continental Land Company for $1. Bertha C. Reynolds must have had an ownership interest in the Continental Land Company because her death on November 12, 1931 was recorded in the chain of title for this property.
On February 15, 1952 the Continental Land Company sold this property to William F. and Bernice C. Rhoades (husband and wife) and F. Hazen and Mignon Y. Rhoades (husband and wife) for $29,500. On the same date they executed a Party Wall Agreement between the Rhoades and the property adjacent on the east which was also owned by Continental Land Company. In 1956 a Claim of Lien was filed against "William F. and F. Hazen Rhoades,  husband and wife," (sic) for $488.31 by the Empire Glass Company of Spokane. This lien was released on November 7, 1956. Bernice C. Rhoades died on April 27, 1961. William F. Rhoades died on August 25, 1983. Mignon Y. Rhoades died on August 12, 1987.  On April 15, 1991 the trustees for William F. Rhoades estate, Rose L. Rhoades, F. Hazen Rhoades and Brian W. Smith signed a deed for this property to F. Hazen Rhoades. On May 28, 1993 F. Hazen Rhoades sold the property to Patricia Gregg.
Occupants:
On the 1884-1889 Sanborn Fire Maps this property is occupied by Tierney's Feed Yard (Bennett, Vol. 1, p.69). From 1890 to 1894 Staver and Walker Agricultural Implements warehouse was located on this site. They were agricultural implement dealers based in Seattle and Portland. The 1890 city directory has an 8 page catalog of items for sale by this firm. They are sometimes referred to as Mitchell, Lewis and Staver in the legal documents.  By 1898 this property was occupied by a feed yard and straw shed. The 1905 fire map shows a blacksmith/wagon shop on the corner of Main and a "proposed"  Spokane Street with a harness shop and corral to the west of it.  In 1904-05 Tom Lee's Chinese laundry and drying yard were located in the northwest corner of the corral.
In 1909 the Malcolm McLean Grocery Company moved from the NE corner of Main and Colville Streets to the SW corner of Main and Spokane Streets where they had a thriving business that was considered the largest grocery store in Walla Walla at that time (Bennett, Vol. II, page 112-113). They employed 24 people and used 5-7 delivery wagons which were converted to trucks between 1910 and 1915. The business continued under this name until 1929-1931 . However 1925 was the last year it was owned by Mr. McLean. He sold the business to the Diettrich Brothers in 1925 and they operated it under the McLean name until 1931. The Diettrich brothers operated another grocery store at 14 East Main starting in 1921 and used their own name at 124-128 East Main starting in 1931 until 1933.  They sold out to Safeway who occupied 124-128 E. Main in 1935 and 1936. In 1937 Safeway reduced its space to occupy only 126-128 E. Main until 1950. In 1937  Robert's 5,10& 25 Cent Store occupied 124 E. Main. By 1939 it was vacant. The Rhoades Music Store occupied #124 from 1941 through 1957, purchasing the building in 1952 . It was vacant in 1958. Wade's Clothing opened here in 1959 until 1979, with Jim Stevenson, president. Thereafter the building was vacant for two years until the Apollo Family Fun opened in 1982. Jim Holmes was the owner of this business which operated until 1986. In 1987 Slackers, Scott Smith, owner-manager was located here followed by Family Fun Center, Brian Biglow, owner for 1988 and 1989. The building was vacant in 1990 and 1991 until Jim Sanders opened Pete's Ski and Sports in 1992 until the present.
Construction of the Building:
It is often difficult to determine who built what and when with a property that has such a long commercial history. City directories did not have a street index until 1931. Prior to that the primary ways of locating buildings are by looking at old fire maps or panoramic maps in local histories, or by reading the classified business section of the pre-1931 city directories in hopes of seeing the address in question. The latter method located the McLean Grocery Company on this site. The file at the Assessor's Office  claims a building date of 1925. However, the building permit file in the Whitman College Archives shows that Harry Reynolds took out a permit on June 16, 1909 to build a brick building at Spokane and Main Streets for $12,000. This probably included all of the property at current addresses of 124, 126 and 128 East Main Street.  The builder was Bailey and Lambert. Since H. A.  Reynolds owned this property at this time and his blacksmith tenant next door moved to a different location in 1909 we can confidently say that the first substantial building was constructed at this location at that time. The picture of the Malcolm McLean Grocery Company delivery cars in 1915 probably shows this building in the background (Bennett, Vol. II, page 113). Subsequent remodeling  and subdividing the building can only be inferred from the occupants listed in city directories after 1932.
References:
Bennett, Robert A., Walla Walla  A Town Built to be a City 1804-1899, Pioneer Press,  Walla Walla, 1980.
Bennett, Robert A., Walla Walla  A Town Built to be a City 1900-1919, Pioneer Press,  Walla Walla, 1982.
Building permits: Whitman College Penrose Library, Larry Dodd, Archivist
Edwards, G. Thomas. "Pioneer President." Pacific Northwest Quarterly, April, 1988, p. 65.
Gilbert, Frank T.; Historical Sketches Walla Walla County, Whitman County and Garfield County, Washington Territory, 1882.
Lyman, Professor W.D., An Illustrated History of Walla Walla County  1901
Sanborn Fire Maps: 1884-1905 (with updates until 1950)
Walla Walla City Directories: 1880-present (various publishers–not all years)
Mary E. Meeker Walla Walla 2020 Research Service PO Box 1222, Walla Walla WA 99362 April, 2002
http://ww2020.net/wp-content/uploads/124_E_Main.jpg
150
200
Mary Meeker
http://ww2020.net/wp-content/uploads/2011/12/ww2020_logo.png
Mary Meeker
2002-04-01 17:51:39
2017-02-05 12:24:02
History of 124 East Main Street, Walla Walla, WA