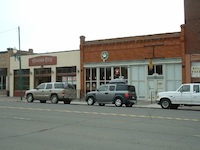 Property Description:
Lot 4 and the easterly 20 feet of Lot 5 of Block 15 of the original City of Walla Walla, Washington, according to the official plat thereof of record in the office of the Auditor of said County of Walla Walla, more particularly described as follows:
Beginning at the northeasterly corner of Lot 4 of Block 15 of the original City of Walla Walla, Washington, according to the official plat thereof, and running thence 60º10' west along the southerly line of Alder Street, a distance of 80 feet; thence south 29º50' east 120 feet to a point in the northerly line of said alley, a distance of 80 feet; thence north 29º50' west,  along the easterly line of said Lot 4, a distance of 120 feet to the point of beginning.
Title History:
Washington Territory was created in 1853. The new legislature created Walla Walla County in 1854 which stretched from the crest of the Cascade Mountains to the crest of the Rocky Mountains in the present states of Washington, Idaho and Montana. In 1855 an Indian council was held on the banks of Mill Creek at the present site of Walla Walla to purchase land from the Indians. The Yakimas, Cayuses and Walla Wallas were dissatisfied with the treaties and war followed. Missionaries, former French-Canadian employees of the Hudson Bay Company Trading Post at Wallula, and soldiers at Fort Walla Walla were the primary European occupants of the area prior to 1859 when it was opened for settlement. All of the land in this area was acquired from the Cayuse and Walla Walla Indian tribes by the U.S. Government in a treaty signed on June 9, 1855 in Walla Walla, and ratified on March 8, 1859 by President James Buchanan.
Walla Walla was originally laid out by County Surveyor H.H. Case in 1859, even before its formal incorporation as a city in 1862, as a one-quarter mile square with its eastern side centered on the point where Main Street crossed Mill Creek (at roughly the point where it does now).  The City of Walla Walla received  a Trustee Townsite from the U. S. government which consisted of 80 acres issued on July 20, 1869 by the Vancouver, W.T. District Land Office.
The first legal action recorded in Walla Walla on this property was a deed dated February 5, 1866 from Edwin L. James to David S. Baldwin for $1650 on Lot 4 and 5 of Block 15 (120 feet by 120 feet). On March 12, 1866 the City of Walla Walla, Washington Territory gave David Baldwin a Warranty Deed for these two lots for $20. On April 11, 1866 Edwin L. and Emma James signed a Quit Claim Deed to David S. Baldwin. The property was platted as a part of the original city on July 5, 1867. On February 28, 1877 David S. Baldwin gave a Deed of Trust to Julius C. Baldwin which included a contract between D. S. Baldwin and The Reverend Lemuel H. Wells agreeing to provide clothing, boarding and education of David Baldwin's children at St. Paul's School, which was then located nearby on Poplar Streets between Second and Third Streets. On July 22, 1881 Julius C. and Minnie Baldwin and D. S. Baldwin gave a deed to J. B. Lewis which included the maintenance of D. S. Baldwin's minor children, a $1200 payment to Baker Bank and $25 a month to D. S. Baldwin. Following a law suit in First Judicial District  of Washington Territory John B. Lewis sold these two lots back to Julius C. Baldwin for $3500 on November 15, 1884. On March 29, 1890 Julius C. and Ellen D. Baldwin sold Lots 4 and 5 to R. M. McCalley and Edward McDonnell.  R. M. McCalley died on March 9, 1891 and Mary A. McCalley was appointed executrix of his estate. On October 1, 1900 Mary A. McCalley (unmarried) signed a Quit Claim Deed giving the McCalley interest in these two lots to Edward McDonnell. On August 12, 1901 Edward and Sarah A. McDonnell sold Lot 4 and the east 20 feet of Lot 5, Block 15, to Joseph Tachi for $3700. On December 9, 1901 Joseph and Antonia Tachi sold the current property to Catherine Stahl for $6000. Mrs. Stahl signed a Party Wall Agreement with John McFeely on January 27, 1903 when Mr. McFeely started construction on  the west side of this property. Mrs. Stahl's agreement stated that she would pay for her half of the party wall when she constructed a building on this property.  Mrs. Stahl died on April 16, 1908. Lulu Schwarz and Frank H. Stahl were executors of her estate.  All subsequent entries in the legal record have involved Catherine Stahl's descendants including Wilhemina Stahl, Ernest Stahl,  Catherine Schwarz Wheeler, F. Norman and Leila Adams,  Robert S. Adams, Henry Schwarz and John D. Schwarz. This property has remained in this family for 106 years.
Owner/Occupant History:
John B. Lewis was owner of Lots 4 and 5 on this block from 1881 to 1884. He was a book and stationery dealer in 1880 and a bartender at the Palace Saloon in 1889. He boarded at the Italian Restaurant. The earliest available local fire map was 1888. At that time a dwelling sat in the middle of the two lots owned then by Julius C. Baldwin. The first city directory listing for Julius Baldwin was in 1893 when he lived at 519 N. Fifth. Julius was foreman of the news department at the Walla Walla Union newspaper. R. M. McCalley (co-owner 1890-1900) lived at and ran Standard Mills at Ninth and Rose Streets. His co-owner of this property, Edward McDonnell, was a farmer who lived at 353 Maple Street.
Joseph Tachi was one of the first Italians to settle in Walla Walla in 1882. He came from Milan, Italy by way of San Francisco, arriving with 25 cents in his pocket. He was known for his hard work and shrewd decision making. He bought this property in August of 1901 for $3700. He sold it four months later for $6000,  a pattern he repeated numerous times.
Catherine Stahl was the widow of John Stahl. He had purchased the City Brewery on South Second in 1870 and erected a brick brewery in the same location in 1880. He died in 1884 but his widow continued to run the business which flourished under her capable management. She purchased this property in 1901 but had not yet constructed a contiguous building on this property in 1903 when she signed a party wall agreement with John McFeely when he started building next door. The main occupant of this block in 1905 was the Star Brewery/Betz Brewing and Malting Co. at Third and Alder Streets.
The subsequent history of buildings on this property is complicated by the changing street numbers as the various businesses located here reused these spaces. There are two distinct buildings. The brick building on the west end of this property is assumed to be the older building and the one referred to in early city directories as 123 West Alder. The newer building on the east side was originally identified as 119 and 121 West Alder but at some time these addresses were dropped and 123 West Alder is currently used on this second building. The following occupant history is based on old city directories which identify the address, but not necessarily the location.
The 1905 Sanborn Fire Map showed the footprint of the Walla Walla Athletic Club with a bowling alley and gymnasium, plus billiards and saloon at 123 West Alder with an 8 foot space between the athletic club and Mr. McFeely's saloon, horseshoeing, blacksmith and wagon shop. East of this was a saloon with card room in the rear of the second floor. In 1907 the Garden City Feed Mill was located at 123 West Alder. L. J. Beirwagen was the proprietor of the mill which sold flour, hay, grain, feed and steam rolled barley. It was a good location for a feed store since Mr. McFeely had a blacksmith behind his hotel where he shod horses. The building still present on the southwest corner of this block at Fourth and Poplar Streets was a livery stable built in 1905. Apparently this location was the retail department for the Garden City Feed Mill (Milling Co.) located at 11th Street and Rees Avenue. In 1911 they also built a substantial brick warehouse at an unknown location. Garden City Feed (and Seed) operated in this location for 56 years until 1963. Ludwig V. Bierwagen was owner/manager from 1908 until 1939. He and his wife Ida lived at 555 Juniper, then Fern and Vine Streets,  and 116  West Chestnut. In 1961 James S. Shearer purchased the business and operated it until 1963.
In 1966 and 1967 Kunsthalle (Art Hall) was located at 123 West Alder and owned by Mark Hopkins. Dale Jacobsen started Garden City Furniture here in 1975-1977. Barry Van Patten operated Van Patten's Carpet Country here in 1979. From 1983 to 1987 Russ Kroum and Bill Watson operated  the Body Design Health Center (and Hawaiian Tan) here. In 1988 the 123 Pawn Shop opened at 123 W. Alder and continued here through 2000 when the last city directory was published.
1931 was the first reverse city directory in which you could look up an address without knowing a business name. At that time 121 West Alder was occupied by Edgar Patrick, real estate. He had been in this location since 1923. In 1935-37 Franz Bernard, barber and Virgie B. Markham, restaurant were located here. In 1939 the OK Rubber Welders tire repair was here. In 1941 the Walla Walla Bottling Works moved to 119-121 West Alder from Adolph Schwarz's building on East Alder between Colville and Spokane Streets. By 1946 it was named Pepsi-Cola Bottling Company and occupied this location through 1974. This address did not appear in any city directory after 1975.
The first time the address at 1925 West Alder appeared in a city directory was 1979. At that time Del Henry was manager of the Business System Designs until 1983. In 1980-1981 he was joined by Ken Kuhlman's K&E Accounting Service. Western Financial Services shared this space in 1981-1982. Stephen Canady's Computer Business System and H. R. Magnuson, C. P. A. were here from 1982-1986. In 1987 Tom Wynia's Investment World and Catie Walker's Rosebud and Company occupied this space. From 1990 Kathy McMichael's Rose Bears Kathleen operated here until 1995. Al Gonzalez's A-1 Taxi was here from 1997 at least until the end of the city directories in 2000. In 1997 an address for 125 1/2 West Alder first appeared in the city directory. Ken Prusia's Victoria's Studio Photography was here in 1997. In 1999 Squire Broel opened Broel Studio here.
Construction of the Building:
Building permits are in tact beginning in September 1907 to 1939. No building permit to Stahl, Schwarz or Garden City Feed appears for this location. However, a permit was issued on March 2, 1909 for an iron factory building costing $15,000 at 11th Street and Rees Avenue. This was apparently the mill for which 125 West Alder was the retail department, as described in a 1924 ad.
The Walla Walla County Assessor's  Office lists a construction date of 1910 which is not supported by this evidence. None of the current  buildings were here in 1903 when Catherine Stahl signed the party wall agreement with John McFeely. The Walla Walla Athletic Club and bowling alley building was here in 1905. However,  the fire map shows an 8 foot strip between the bowling alley and Mr. McFeely's property. Therefore, it seems reasonable to assume that the present brick building attached by a party wall to the McFeely Hotel was built in 1906 as the location of the new Garden City Feed Mill which opened in 1907. The brick details support a date from this time. The building on the east side of the brick building appears to be more recent construction. The address for 121 West Alder was first located in the 1923 city directory. It is difficult to know if this building existed there prior to this time. Therefore, it is only possible to state that this newer building has existed since 1923.
References:
Archive, Whitman College Penrose Library
Bennett, Robert A., Walla Walla  Portrait of a Western Town 1804-1899, Pioneer Press, Walla Walla, 1980
Bennett, Robert A., Walla Walla  A Town Built to be a City 1900-1919, Pioneer Press,  Walla Walla, 1982
Building permits: Whitman College Penrose Library (1907-1939)
Gilbert, Frank T.; Historic Sketches of Walla Walla, Whitman and Garfield Counties, Washington Lyman, Professor W.D., An Illustrated History of Walla Walla County  1901
Lyman, Professor W.D., Lyman's History of Old Walla Walla County, Vol. 1-2, 1918.
Ogle's Standard Atlas of Walla Walla County, 1909
Sanborn Fire Maps: 1884, 1888, 1889, 1890, 1894, 1905 (with updates until 1950)
Walla Walla City Directories: 1880-present (various publishers–not all years)
Walla Walla County Assessor's Office: files + online   (http://wallawallawa.taxsifter.com/taxsifter/T-Parcelsearch.asp)
Walla Walla County Auditor's Office: Grantor-Grantee Indices
U. S. Census records
Mary E. Meeker ; Walla Walla 2020 Research Service PO Box 1222, Walla Walla WA 99362 December, 2007
http://ww2020.net/wp-content/uploads/123_W_Alder.jpg
150
200
Mary Meeker
http://ww2020.net/wp-content/uploads/2011/12/ww2020_logo.png
Mary Meeker
2007-12-01 17:47:22
2017-02-05 12:22:00
History of 119-125 West Alder Street, Walla Walla, WA - Garden City Buildings