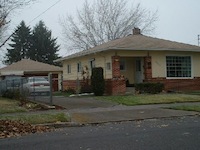 Property Description:
Lot 2, block 14 of Watertown Addition to the City of Walla Walla, according to the official plat thereof of record in the office of the auditor of Walla Walla County, Washington, in volume C of plats at page 30.
Title History:
Walla Walla was originally laid out by surveyor H.H. Chase in 1859, even before its formal incorporation as a city in 1862, as a one quarter-mile square with its eastern side centered on the point where Main Street crossed Mill Creek (at roughly the point where it does now). Main Street originally followed the old Nez Perce Indian Trail. Consequently the streets leading off of it were at right angles to it, and were not in a north-south orientation. This was corrected as the city moved eastward which gave Walla Walla its peculiar street pattern with the three street intersection at Palouse, Boyer and Main Streets. To the original plat, additional parcels were annexed from time to time, usually with the name of the land owner of record at the time the additions were made.
The first entry in title company records to include this property was its sale by C. W. and Nancy J. Bush on January 9, 1878 to Thomas Collins. In 1880 Mr. Collins was the proprietor of the Walla Walla Driving Park on East Alder where he also made his home . The Driving Park was Walla Walla's early day fair grounds and race track. There is a picture of its  grandstand on page 155 of Bennett's local history, Portrait of a Western Town, 1804-1899. On May 10, 1883 Mr. Collins sold approximately 50 acres of land, including this parcel, to Charles and Annie Russell for $13,200.  On February 3, 1886 the Russells sold to the Walla Walla Driving Park and Agricultural Association for $8000. On August 4 of the same year the association sold to the Walla Walla Valley Consolidated Agricultural Society, J. M. Boyd, President, for $10,000. Bennett's book has a birdseye map of Walla Walla in 1889 which shows an oval track in this area (also shown on subsequent plat maps) and it is listed as the fair grounds. By May 28, 1895 there was a Sheriff's Deed given to W. P. Reser, trustee for 16 others in judgment against the Society for $20,790.85. In 1902-03 these 16 partners signed quit claim deeds to the Garden City Land Company, who sold to Joseph and Ella L. McCabe on April 27, 1903 for $17,500. Mr. McCabe had the area platted in November 4, 1903 as Watertown Addition. On September 12, 1905, the McCabes sold nearly 150 parcels to Thomas and Kitty  Mosgrove for the stated amount of $1. Mosgrove was a real estate agent with an office at 3 Jones Building and a home at 104 Park.  He sold lot 2 block 14  on April 10, 1906 to E. P. and Samantha E. Woolcutt for $350. On May 1, 1906 Mosgrove submitted a new plat which eliminated the curve of the old race tract from the street pattern in the adjacent neighborhood. Mr. Woolcutt was listed in the 1907 city directory as a carpenter living in Watertown Addition.  On October 27, 1908 the Woolcutts sold to Oliver C. and Clara E. Gallaher for $1250. Gallahers lived at this address until Oliver's death in 1915 and Clara continued to live here until 1937 when she moved to 512 Third Avenue South and rented out this house to Raymond E. Daniel and later to Theodore Ruff. On August 8, 1941 she sold this property to A. E. and Emma Luders Prestwood for $1150. Albert Prestwood worked as a painter, laborer and gardener. On August 3, 1950 he sold this property to Edward J. Beringer, a single man who ran a machine shop at 25 S. Spokane Street. Mr. Beringer lived at 1204 Olive Street and 1222 Ruth was apparently vacant until August 1, 1958 when he sold it to Frank E. and Irene Buckman for $10. The Buckmans sold on February 17, 1959 to Ted and Isabel Lemke and Kenneth and Anita Mae Lemke for $14,900. On the same date Ted Lemke signed a quit claim deed giving his interest in this property to his wife Isabel. Isabel was a baker-apprentice at Whitman College's Prentiss Hall. She apparently rented rooms at her home as Joseph A. Hoffman and Donald Moulton were listed as also living at this address between 1960-1962. On June 16, 1962 Isabel, Kenneth and Anita Mae Lemke sold this property to William T. and Leta C. Fellows for $12,900. Mr. Fellows was a conductor on the Union Pacific Railroad until he retired in 1979. On April 6, 1981 the Fellows sold this property to Carl J. and Edith L. Pfiffner on a contract for $39,000. The Pfiffners had a contract with Pacific Power and Light for weatherization work in 1982. They lived at 1210 Ruth and rented 1222 Ruth to Steven Rusch, Debbie J. Loiseau, Dwayne and Kelly Fox, Lynn Hewitt, John Bolinger and Ray B. Magallanes. Carl died  on February 4, 1998 and Edith sold the property to David C. and Jane V. Coulter for $72,000.
Construction of the House
It is apparent from the title transfer dates and prices that the first person to buy this individual lot also constructed the house. On April 10,1906 E. P. Woolcutt and his wife purchased the lot for $350 and probably built in that same year since they were listed as living there in the 1907 city directory. There is no 1906 city directory. They sold it for $1250 in 1908. Early building permits were reviewed but the first one was not issued until September 16,1907 after this house was occupied. The only permit issued to an owner of this property was to E. P. Woolcutt in 1908 for the construction of a house on N. 12th near Cherry. The Walla Walla County Assessor's Office records agrees with a building date of 1906. The first fire map to include this area of town was on a page added in January 1923. The house was apparently vacant for most of the 1950s. From its current appearance one could speculate that it was remodeled significantly during that time but there are no records of remodeling loans.
References:
Bennett, Robert A., Walla Walla Portrait of a Western Town 1804-1899, Pioneer Press, Walla Walla, 1980.
Sanborn Fire Maps: 1884-1905 (with updates until 1950).
Walla Walla City Directories: 1880-present (various publishers–not all years).
  Mary E. Meeker Walla Walla 2020 Research Service PO Box 1222, Walla Walla WA 99362 January, 2002
http://ww2020.net/wp-content/uploads/1222_Ruth.jpg
150
200
Mary Meeker
http://ww2020.net/wp-content/uploads/2011/12/ww2020_logo.png
Mary Meeker
2002-01-01 18:31:57
2017-02-05 12:24:04
History of 1222 Ruth Street, Walla Walla, WA