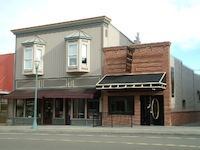 Property Description:
Beginning at the Southwesterly corner of Lot 8 in Block 1 of the Original City of Walla Walla, according to the official plat thereof recorded in Volume A of Plats at page 1, records of Walla Walla County, and running thence North 29º 50' West, along the Easterly line of Second Avenue North (formerly Second Street), a distance of 51 feet and 4 inches; thence North 60º 10' East, a distance of 60.0 feet to a point in the Easterly line of said Lot 8; thence South 29º 50' East, along the Easterly line of said Lot 8, a distance of 51 feet 4 inches to the Southeasterly corner of said Lot 8; thence South 60º 10' West, along the Southerly line of said Lot 8, a distance of 60.0 feet to the point of beginning.
Title History:
Washington Territory was created in 1853. The new legislature created Walla Walla County in 1854 which stretched from the crest of the Cascade Mountains to the crest of the Rocky Mountains in present states of Washington, Idaho and Montana. In 1855 an Indian council was held on the banks of Mill Creek at the present site of Walla Walla to purchase land from the Indians. The Yakimas and Walla Wallas were dissatisfied with the treaties and prepared for war which followed. Missionaries, former French-Canadian employees of the Hudson Bay Company Trading Post at Wallula, and soldiers at Fort Walla Walla were the primary European occupants of the area prior to 1859 when it was opened for settlement. All of the land in this area was acquired from the Cayuse and Walla Walla Indian tribes by the U.S. Government in a treaty signed on June 9, 1855 in Walla Walla, and ratified on March 8, 1859 by President James Buchanan.
Walla Walla was originally laid out by County Surveyor H.H. Case in 1859, even before its formal incorporation as a city in 1862, as a one-quarter mile square with its eastern side centered on the point where Main Street crossed Mill Creek (at roughly the point where it does now). Mr. Case's survey included this property. Apparently I. T. and Martha A. Reese acquired this property prior to their transfer of the property to A. Kyger for $1000 on March 23, 1865. This sale included part of Lot 9 Block 1 (120 feet on Second Street by 36 feet along the alley) plus all that portion of Lots 7 and 8 Block 1 "with warehouse and other improvements thereon."
On March 14, 1866 an Affidavit was recorded stating that A. Kyger "has been owner and in peaceable possession of this property for the prior four years." On April 26, 1868 the City of Walla Walla gave him a warranty deed for $25 for Lot 9, Block 1, 36 feet east then to the alley, plus Lot 7 and 8, Block 1, 120 feet to alley. Kyger and Reese operated one of the oldest businesses in Walla Walla on the northeast corner of Second and Main, across the creek on this block. They received the first $800 in gold from Oro Fino which started the Idaho gold rush in 1861. On July 28, 1868 A. and Lucinda M. Kyger sold the property described in this legal description (51'4" x 60') to J. H. Lasater for a quoted amount of "$10." James Lasater was a large landowner and farmer in the Walla Walla valley.
The City of Walla Walla received a Trustee Town site from the U. S. government which consisted of 80 acres. It was filed on July 20, 1869 by the District Land Office in Vancouver, WT.
James H. Lasater died on August 20, 1896. His heirs included his wife Jane, daughters Alice L. Edgerly and Julia Ann Lasater, sons Harry and James H. Lasater and grandsons Fred and Wiley, sons of deceased Wiley Lasater. Jane and her youngest son (a minor), James H. Lasater, inherited this property. They signed a Contract for Deed on this property to A. K. Dice on January 4, 1899 for $700. Jane Lasater stated that her son would sign a quit claim deed to A. K. Dice as soon as he attained his majority. This was done on October 27, 1899. This was the beginning of 107 years of continuing ownership of this property by the Dice-Harold families.
Amos K. Dice's name first appeared in a Walla Walla city directory in 1892. At that time he was a dentist with an office in the Quinn Building on Main Street between Second and Third Streets. His residence was at 421 Duluth Street. From 1893-98 he had a dental practice in the Paine Building at the corner of Second and Main Streets and lived at 315 Whitman Street. By 1900 he was a notary and insurance agent at 5 South Second Street and had moved to the home still occupied by his family at 524 Catherine Street. In 1902 he partnered with Jackson and Kirkman as financial agents and insurance salesmen. He also had started a long relationship as treasurer of the Walla Walla Lumber Company. His daughters Edith, Mabel and Ruth were listed as students living in the family residence in these years. In 1907 he added the responsibility of Treasurer of the IOOF Cemetery committee (predecessor of part of the present Mountain View Cemetery). In 1909 he became the manager of the Walla Walla Safety Deposit and Trust Company. In 1912 his wife Flora was listed in the directory and A. K. Dice was then the City Commissioner of Finance and Accounting. In 1920 he became the Secretary-Treasurer of the Union Trust Company of Walla Walla. He operated Dice and Allen, Bond Insurance and Investments at 16 1/2 West Main Street between 1921 and 1926. He continued as City Commissioner of Finance through 1936. Amos K. Dice died on June 21, 1937. His wife Flora died on July 28, 1954. In 1965 Ruth Dice Borgstrom sold her undivided 1/2 interest in this property to her sister Edith Dice Harold for $10,000. On March 5, 1968 Edith Dice Harold (widow) gave the City of Walla Walla a 20 year lease for a parking lot to be constructed east of this property. Edith Dice Harold died July 11, 1969. On April 30, 1982 Jane H. Sutherland transferred an undivided 1/3 interest in this property to the Sutherland Family Trust. On March 1, 1994 Jane H. and Burton M. Sutherland for the Sutherland Family Trust signed a quit claim deed for this property to Jennie M. Harold, personal representative for the Estate of Raymond D. Harold.
Occupant History:
This is a most interesting property with a history going back to the earliest settlement of Walla Walla with the last 107 years in the same family. The two-story Dice Building at #14-16 was clearly present on the 1905 fire map but the one-story brick building built over Mill Creek on the south side of this lot was added at a later date. The #12 address was first used in the Dice Building but apparently was transferred to the adjacent building when it was constructed (since #10 was already in use in the building across Mill Creek).
None of A.K. Dice's various business interests appeared to be located on this property. The first occupant of the A. K Dice Building to be found in classified directories was Wilson's Kitchen at #12. Jehu W. and Matilda Wilson operated this restaurant there from 1915 until 1926. Metz Cafe was at #12 starting in 1929 through 1936 with the Metz Rooms upstairs at #12 1/2. This was probably in the Dice Building (#14 today) because that is the building with a second floor where the residences were located. In 1937 it was the Groff's Cafe, followed in 1939 with Eyraud Shoe Repair. In 1946 Eyraud added a sporting goods department and John G Wenzel, manager of Blocks Shoes, lived upstairs. From 1948-50 Pete's Sport Shop was in #12 and Charles Parris lived upstairs. In 1951-53 it was the U.S. Air Force Liaison Office/VAR Squad who rented this space. From 1954 to 1960 the Marigold Cafe occupied #12. The Walla Walla Title Company moved into #12 in 1961. Mr. and Mrs. Parris still lived upstairs and were joined in apt. #2 by Helen Morris in 1954. These people occupied these apartments until 1970 when #2 became vacant. In 1971 Coopers Popcorn Store opened at #12 1/4 until 1976 when it became Ben's Popcorn for 2 years. In 1973 Walla Walla Title Company moved and Maxon-Wagaman Real Estate occupied #12 for one year. Blindhem Sewing Shop was in #12 in 1975, after having been in #14 since 1972. By 1974 Mark J. Anthony and John A. Gallagher lived upstairs. They opened MA and JG Photography at #12 1/2 in 1975. In 1976 Marty Huie joined them and they formed Professional Photography which occupied this space through 1997. John Gallagher still lived upstairs in 1996.
The space at #14 was occupied in 1931 by Sam A. Paul, shoe shiner. He lived upstairs at #12 1/2 in 1931 (he operated his shoe shine business next door at #18 in 1939). Other occupants at #14 were Coad's Typewriter and Music Co.(1933), Model Boot Shop(1936-37), National Farm Loan Association (1939), Cecil Cosper Accounting (1946-59), Wainwright Real Estate Agency (1953-62), G. M. Newbill, surveyor (1957-62), Condon Agency(1960), Rocky Mountain Auto Insurance (1960), Olympic National Life (1962) and Standard Oil of California (1966-70). It was vacant from 1963 to 1965 and in 1971. In 1972 The Blindhem Sewing Shop and B & E Vacuums moved into #14 until 1975 when State Farm Insurance was the occupant of #14 until 1979. It was vacant or missing from the city directories until 1986 when Julianne Fletcher operated Financial Services Association here. In 1987 the Unique Employment Services was at #14 for one year. In 1990 KSMX-AM radio was located here for two years as the last occupant to be listed at #14 through the last available directory in 1997.
Number 16 was occupied by Eggers Studio photography (1931-33). Then Coads Typewriter and Music Company moved from #14 to #16 (1936-39). Henderson Office Supply occupied #16 from 1941-1950. Horace's Newsstand (Horace Croxdale) was at #16 from 1951 to 1956. Reynolds-Malcolm, chiropodists, were here in 1957. Marchant Calculators (Smith Corona) moved into #16 in 1958 and remained through 1969. It was vacant in 1970. Commerce Mortgage Company and Metropolitan Life Insurance occupied #16 from 1971 until 1974. It was vacant in 1975. The Walla Walla Sewing Center was in this space in 1976 until 1984. Tole N' Things was here for 1985-86. Trails East Escrow was in #16 in 1986-88. Network Health moved in during 1991 through 1994. PacifiCare of Washington was here 1994 through the 1997 directory.
Construction of the Building:
The first deed on these properties in 1865 described a "warehouse and other improvements." Because more adjacent property was included in that sale it can't be determined whether the improvements were on this portion of the property. However, it seems likely in part because it was closer to Main Street businesses and because in 1869 a Congregational Church was built on the adjacent lot on the north. The 1884 fire map shows a Chinese Wash House in this location. By 1888 the same apparent building is labeled Laundry. In 1889 it is labeled vacant. In 1890 it is labeled "Chine Laundry" and the same in 1894 (designated #42 at this time). On the 1905 fire map there is the distinctive footprint of a new two-story building with two bays protruding on the street front, labeled 12,14,16. This building was on the north edge of Mill Creek. A dwelling was located on the second floor. A "dyeing & cleaning" business was behind the new building. Since A. K. Dice purchased the property on January 4, 1899 it is reasonable to assume a construction date of circa 1899.
Walla Walla had experienced serious flooding in 1906, 1920 and 1927. Some concrete bulkheads had been added over the years. In 1928 Mill Creek jumped its banks three times so the head of the Engineering Department at Washington State College, Dr. O.L. Waller, was hired to create a plan to eliminate flooding. He recommended more bulk heads and a diversion reservoir. However, his report went largely unheeded until the flood on March 30, 1931. Damage was estimated at $1,000,000. By September over a mile of new bulkhead had been built. Further work was done in the channel by the W.P.A. It wasn't until 1938 that Congress passed legislation for major bulkheads and a diversion reservoir in Mill Creek to be built by the U.S. Army Corps of Engineers.
The one-story brick building to the south of the older building was built over the Mill Creek channel and appeared on the 1930 fire map, along with a carpet cleaning building behind the two buildings that front on Second Street. Mill Creek was still open east of these buildings as well as apparently in the space to the south between it and the Farmers' Exchange Building at Second and Main Streets. Apparently this one-story building withstood several of the Walla Walla floods. A. K. Dice took out a building permit for a stated amount of $700 on February 27, 1917 "to add to building" at #16 North Second Street. It is the only clue found to date this building so until further evidence is discovered a building date of 1917 is a best guess.
References:
Bennett, Robert A., Walla Walla Portrait of a Western Town 1804-1899, Pioneer Press, Walla Walla, 1980.
Bennett, Robert A., Walla Walla A Town Built to be a City 1900-1919, Pioneer Press, Walla Walla, 1982.
Bennett, Robert A., A Nice Place to Raise a Family 1920-1949, Pioneer Press, Walla Walla, 1988
Building Permits: Whitman College Penrose Library Archives.
Gilbert, Frank T.; Historic Sketches of Walla Walla, Whitman and Garfield Counties, Washington Territory, and Umatilla County, Oregon, 1882.
Lyman, Professor W.D., Lyman's History of Old Walla Walla County, Vol. 1-2, 1918.
Lyman, Professor W.D., An Illustrated History of Walla Walla County 1901.
Sanborn Fire Maps: 1884-1905 (with updates until 1950).
Walla Walla City Directories: 1880-1997 (various publishers–not all years).
Whitman College Archives.
Mary E. Meeker Walla Walla 2020 Research Service PO Box 1222, Walla Walla WA 99362 February, 2006
http://ww2020.net/wp-content/uploads/12_N_Second.jpg
150
200
Mary Meeker
http://ww2020.net/wp-content/uploads/2011/12/ww2020_logo.png
Mary Meeker
2006-02-01 18:33:29
2017-02-05 12:22:05
History of 12 North Second Avenue, Walla Walla, WA - A.K. Dice Building