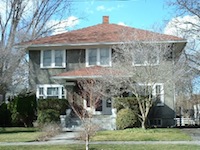 Legal Description
Beginning at a point in the northerly line at Newell Street in the City of Walla Walla, Washington, which point is 149.76 feet easterly, measured along said northerly line of Roberts Addition to the City of Walla Walla, according to the official plat thereof of record in the Office of the Auditor of Walla Walla County, Washington, in Volume A of Plats at Page 21; and running thence north 60 degrees 10´ East, along said northerly line of Newell Street, 60 feet to the property formerly owned by George Ludwigs; thence North 29 degrees 50´ West 120 feet; thence South 60 degrees 10´ west 60 feet; thence South 29 degrees 50´ East 120 feet to the point of beginning.
Title History
The land that comprises the City of Walla Walla was acquired from the Cayuse and Walla Walla Indian tribes by the U.S. Government in a treaty signed on July 9, 1855 in Walla Walla and ratified on March 8, 1859 by President James Buchanan.  Walla Walla was originally laid out by surveyor H.H. Case in 1859, even before its formal incorporation as a city in 1862, as a one quarter mile square oriented N-S, E-W with its eastern side centered on the point where Main Street crossed Mill Creek (at roughly the point where it does now). To this original area additional parcels were annexed from time to time, usually bearing the name of the landowner of record at the time the additions were made.  117 Newell is located on Lot 4 in Block 28 of Roberts Addition, named for A.B. Roberts, who came to Walla Walla from Portland in 1859 and claimed a large section of land south of Main St., where among things, he raised fruit trees, having brought the first grafted fruit trees with him. He established a nursery business which seemed to turn out to be more profitable than his real estate investments.
Roberts' daughter-in-law, Amy A. Roberts, was also involved in the early real estate frenzy.  The first available document for 117 Newell was the sale of an area south of Birch St. and east of First St. to Amy Roberts from A.B. and Martha Roberts on April 16, 1870 for $500.  There was a stipulation that there would not be a right to convey water for irrigating purposes for this property.  In addition to the previous purchase, on July 20, 1871 Lot 4 in Block 28 was sold by A.B. and Martha E. Roberts to Amy A. Roberts for $150. On that same day Amy Roberts and her husband E.M. Roberts sold a larger parcel that included  Lot 4 to Lewis McMorris for $900.  That property description read "commencing at the Southwest corner of Block 28 in A.B. Roberts addition to the city of Walla Walla," a parcel that measured 210´ by 380´.  McMorris was a distinguished early Walla Walla citizen, who established a general store on Main St. to supply troops dealing with the Indians.  Later he was listed as a farmer, who resided at 365 S. First St., a large four square house located in the middle of the long block on the east side of First St.  His involvement with the property ended with his filing of a Quit Claim Deed on August 13, 1913 in favor of Olney B. and Melvia D. Funk; Leonard M. Funk and Emmaline Funk; and William H. Craig and Pauline Craig.  McMorris died in 1915. An unexplained lien on 117 Newell's lot was cleared up by a "quiet title" action on June 5, 1923, by the individuals who are then listed as the sellers of the house.  Several of these individuals lived at the McMorris house, 365 S. First, so it seems likely that they were McMorris relatives. On August 15, 1923, the Funks and the Craigs sold the property for an unstated amount to Rose Lucinger, who appears to have built the house for herself, two sisters and a brother.   Rose and her sister May were the long-time residents of 117 Newell.   Rose Lucinger had a long career as a teacher at Lincoln School and then Jefferson School.  A third Lucinger, Mary, was listed as residing in the house in the 1920's.  Their brother, a locksmith, is known by previous owners to have also lived at the house, but he was not listed in the City Directories.  No occupation was listed for May, who outlived Rose and sold the property on behalf of  Rose's estate and individually on March 2, 1967 to Thomas J. Stockman and Sally A. Stockman for $16,000.  Thomas Stockman was an insurance adjuster at Walla Walla Claim Service.  Sally Stockman is listed as a student at Whitman College. They sold the house to Vernon D. Berg and Esther L. Berg on August 18, 1969 for $17,500. Vernon Berg was an agent for State Farm Insurance in Pendleton. The Bergs sold the house to Joseph R. Lyman and Jerralee A. Lyman for $21,500 on May 11, 1971.  The Lyman sale included an agreement to assume an unpaid mortgage that the Bergs had negotiated.  Joe Lyman was the Manager of Old National Bank of Washington according to 1972 and 1973 City Directories.  On November 26, 1973 the Lymans sold the house to James W. Raney and Ruby L. Raney for $27,000.  James Raney was a switchman for Pacific Northwest Bell.
On March 6, 1987 the Raneys sold 117 Newell to Timothy Kaufman-Osborn and Sharon Kaufman-Osborn for $75,000.  Timothy Kaufman-Osborn is a politics professor at Whitman College and is just completing a term as Interim Dean of the Faculty.  Sharon Kaufman-Osborn is a counselor at Whitman's Counseling Center.
Construction of the House
The Walla Walla County Assessor's Office gives 1913 as the building date for 117 Newell.  This date has proven to be incorrect.  A building permit for 117 Newell was obtained on July 26, 1923 by Rose Lucinger.  The estimated cost was $4950 and the builder was Charles Halter, who at that time had an office and resided at 19 E. Poplar.  Charles Halter was familiar with the Newell St. area as he and his wife Agnes had lived at 124 Whitman in the original house there that was torn down and which he replaced with the current house at that address in 1916.
117 Newell is a four square Prairie style house, a style that was developed by a "creative group of Chicago architects" who were influenced by Frank Lloyd Wright.  This style was spread throughout the country by pattern books published in the Midwest. It is a style that seems to have declined after the 1920's.    The exterior is unpainted gray "spatter dash stucco."  White trim gives the house character.  The overhang is typical of the Prairie style.  The eaves seem wider than most and are boxed.  The good-sized front porch features large square supports which is typical of this style.  The hipped roofs on the house and on the porch have a breadth about them that make the house design very distinctive as well as definitely an example of the Prairie Style.
The interior of the house features wood that has been left dark, very much in keeping with the period in which the house was built.   There are four good-sized bedrooms upstairs which would seem appropriate for the four siblings of the Lucinger family.  The decor of the house is very attractive and appropriate for the style of the house.
Resources for this report:
Bennett, Robert A. Portrait of a Western Town, 1804-1899
McAlester, Virginia and Lee  A Field Guide to American Homes
Penrose Library Northwest Archives for numerous sources
Pioneer Title Company files for this property
Sanborn Fire Maps
Walla Walla Public Library Northwest History Room
Walla Walla County Vault's Grantor/Grantee records
Walla Walla County Assessor's records
A visit to the house
Katherine Weingart Walla Walla 2020 Research Service P.O. Box 1222 Walla Walla WA 99362  July 2007
http://ww2020.net/wp-content/uploads/117_Newell.jpg
150
200
Katherine Weingart
http://ww2020.net/wp-content/uploads/2011/12/ww2020_logo.png
Katherine Weingart
2007-07-01 17:39:28
2017-02-05 12:28:00
History of 117 Newell Street, Walla Walla, WA