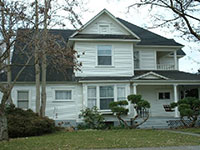 Legal Description:
Beginning at a point of intersection of the Southerly line of Isaacs Avenue with the Westerly line of Madison Street in the City of Walla Walla, Washington, and running thence South 80º  25' West, along said Southerly line of Isaacs Avenue, a distance of 103.01 feet; thence South 3º 47' East, parallel to the West line of Madison Street, a distance of 87.3 feet; thence Easterly in a straight line, a distance  of 102.6 feet to a point in the Westerly line of Madison Street which is 92.0 feet Southerly, measured along said Westerly line of Madison street, from the point of beginning; thence North 3º 47' West, along said Westerly line of Madison Street, a distance of 92.0 feet to the point of beginning.
Title History
Walla Walla was originally laid out by surveyor H.H. Case in 1859, even before its formal incorporation as a city in 1862, as a one quarter mile square oriented N-S, E-W with its eastern side centered on the point where Main Street crossed Mill Creek (at roughly the point where it does now).  To this original area additional parcels were annexed from time to time, often bearing the name of the landowner of record at the time the additions were created.  1142 Isaacs is located in Isaacs Third Addition, so named for Henry P. Isaacs and Lucie Isaacs, who played an important role in this property's history as well as the street name.
The first recorded transaction involving 1142 Isaacs occurred on May 23, 1863 when John Haley sold a "portion of the SW _ of Section 21 in Township No. 7, County of Walla Walla, Washington Territory" consisting of "26 acres more or less."  The buyers were William H. Patten and Elizabeth Patten and the stated amount was "consideration $100."  Shortly thereafter on January 20, 1864 the Pattens sold the parcel to Henry P. Isaacs for $2000 in gold coin.  On April 6, 1866, a larger parcel consisting of half of the quarter section, or 80 acres, including the "26 acres more or less," was sold by the Pattens to the Isaacs for an additional $2000.  This transaction reappears on November 22, 1901 when the heirs of the Pattens and Issacs dealt with an error in the description of the land and a "fatal defect" in the deed which had not been signed by Elizabeth Patten, only by her husband, W.H. Patten.  For $1 the heirs of the Pattens recorded a quit-claim deed to the heirs of the Isaacs.  On April 7, 1868 there is a record of a mortgage of $5000 in favor of Dorsey S. Baker for the 80 acre piece which included this property and Isaacs' Excelsior Flour Mill.  On June 23, 1894, Lucie Isaacs gave a Quit Claim Deed to Henry for her part of the 80 acre plot.
Isaacs was influential in the development of Walla Walla as a wheat growing area. W.D.Lyman in his 1918 History of Old Walla Walla County states that Isaacs "demonstrated to the farmers that wheat could be produced profitably on the hills and uplands which in those early days had been given over to stock-raising."  He built numerous flour mills throughout the Northwest. According to Lyman, Isaacs' "knowledge of the manufacture and handling of flour became proverbial and he was recognized as an authority on all matters pertaining thereto."  He found markets for wheat in the Orient, especially China.  The Isaacs and their son J.C. Isaacs also founded the Walla Walla Water Company, providing Walla Walla with a reservoir, ditches, conduits and the possibility of irrigation for crops.  The right to utilize "subterranean" water pertaining to the properties affected is included in several deeds in the area, including 1142 Isaacs.
H.P. Isaacs died without a will in 1900.  In 1903 the Isaacs heirs, his children, formed the H.P. Isaacs Company. The breaking up of the 80 acre piece resulted in the development of Isaacs Third Addition to the City of Walla Walla. On March 9, 1903 the Isaacs heirs sold "all of Lot 1 in Block 1 of Isaacs Third Addition to Charles E. and Ella Metzger for $600." Charles Metzger is listed as a carpenter, residing at 601 Juniper in the 1900-02 City Directories.  In the 1904 City Directory he is listed as a building contractor with an office at 213 E. Rose and residing at 588 Isaacs. On March 20, 1903 the Metzgers negotiated a $2000 mortgage, probably a sufficient amount for construction of a house at that time.  The 1905 Sanborn Fire Map shows 1422 Isaacs and says "Boarding House" on the drawing. This seems to be the purpose of this house from the time it was constructed in 1903 until 1910. According to City Directories the Metzgers lived at 588 Isaacs; never at 1422 Isaacs.   On October 24, 1905 the Metzgers sold the property for $4300 to A.M. Cation, manager of the Walla Walla Lumber Company.  In 1905 Cation is listed as residing at 547 Washington and in 1909 he is listed as residing at 504 Catherine but in 1908 he is listed as living at 1142 Isaacs for that year only.   The sale from the Metzgers to Cation included a complicating item found in the property's early legal description for this property which stated "excepting the western ten (10) feet of said lot."  On August 9, 1906 the Metzgers sold the "West 10 feet" for $300 to Thomas Stanfield, who owned Lot 2, and the matter was closed.
On December 26, 1907 A.M.Cation and Nannie E. Cation sold the property to Harry Gilbert and Cara Yatta Gilbert for an unstated amount.  On December 5, 1930 the Gilberts deeded the property to their daughter Marjorie Gilbert Gunson, who had contributed "certain monies having been received from the estate of her aunt" toward the original purchase.   An additional deed was conveyed to her for Lot 1 on Oct. 9, 1936 for "love and affection which first parties have and bear for Marjorie Gilbert Gunderson."  Majorie and Selmer Gunson lived next door at 215 N. Madison, a house that is located very close to 1142 Isaacs making it apparent that there was once a family connection between the two properties.  Selmer J. Gunson, was listed in the 1935 City Directory as being a serviceman with Bjorklund and Carson.  Harry Gilbert died February 23, 1938. Cara Gilbert died August 5, 1938.  On May 20, 1938 Cara Gilbert had conveyed a further Quit Claim Deed to Marjorie for the property.
Following the Gilberts' deaths, numerous names of renters appeared in City Directories, especially during WWII for individuals possibly assigned to Walla Walla's military base.  The house was divided into "A" (the main floor living quarters) and "B" (the upstairs apartment).  Remnants of a kitchen upstairs confirms this division.  Home owners didn't live in the house until 1949. On October 20, 1943, Marjorie Gunderson sold the house to W.H. Walker, a bachelor, for an unstated amount. On October 29, 1943 Walker sold the home to two widows:  Viviane Founts and Josepha Elder for an unstated amount.  On August 16, 1944, they sold the property to Robert J. Steller, a carpenter, and Edna D. Steller.  None of these owners lived at 1142 Isaacs.
In 1949, Myron A. Perry, an electrician, and Percy Lee Perry purchased the property from the Stellers, and resided there until 1956 when the home was purchased by Halvor Halvorson, a carpenter, and Lena Halvorson for $6500.  Lena Halvorson was employed as a cook at Whitman, then a maid at the Grand Hotel in according to the 1960 City Directory.  In 1962, Lena Halvorson, a widow, sold the house to Bennie Haken and Rosella Mae Haken for an unstated amount. In city directories Bennie Haken is listed as a janitor at the Walla Walla Union Bulletin and then a route carrier for the UB.  On June 13, 1972, the Hakens sold the home to Allen L. Brock and Delva E. Brock for $16,200.  Allen Brock was a mechanic at the Birdseye plant. On November 17, 1976, the Brocks sold the property to Summer V. Ward and Evelyn A. Ward for $21,500.
On July 26, 1977 the Wards sold the house to George E. Randle, employed at Hanford, and Billie R. Randle for $37,900. The Randles resided in "A," the first floor. On May 30, 1985 Billie R. Randle, widow, sold the property to Richard Lambey and Brenda Lambey for $48,000. Richard Lambey was an engineer for the Corps of Engineers.  The house was converted into a single family dwelling by the Lambeys.  On June 29, 1988, the Lambeys sold the home to Robert A. Fontenot and Maryjo Fontenot for $70,000.  Robert Fontenot is a professor of mathematics at Whitman College.  Maryjo Fontenot is a reading specialist at Green Park School.  The Fontenots have made this a very attractive family home.  Most recently they have remodeled the kitchen and bathrooms.
Construction of the House
Research for 1142 Isaacs proves that it was built in1903.  Building permits were not required in Walla Walla until 1907 so the building date was dependent upon the resources listed below, which show that Charles and Ella Metzger built the home to be used as a boarding house in 1903. It continued to be a rental for many years, divided between the first and second floors.  This lovely home is now a single family dwelling and is 105 years old.
Resources used for this research:
Maryjo Fontenot, owner
Penrose Library Northwest Archives, Whitman College
Pioneeer Title Company documents for this property
Walla Walla County Courthouse Vault resources
Walla Walla County Assessor's Office
Walla Walla Public Library Northwest History Collection
Katherine H. Weingart Walla Walla 2020 Research Service P.O. Box 1222 April, 2008
http://ww2020.net/wp-content/uploads/1142_Isaacs1.jpg
150
200
Site Manager
http://ww2020.net/wp-content/uploads/2011/12/ww2020_logo.png
Site Manager
2008-04-01 18:24:34
2014-01-19 19:38:04
History of 1142 Isaacs Avenue, Walla Walla, WA