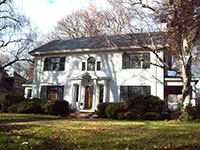 Property Description:
Lot 14 and east half of Lot 13, described as being that part of Lot 13 lying northeasterly of a line midway between the sidelines of said lot, in Block 17 of Green's Park Addition to the City of Walla Walla, Washington, according to the official plat thereof of record in the office of the Auditor of Walla Walla County in Book "C" of Plats at page 28. (36-07-21-51-17-1400)
Title History:
Walla Walla was originally laid out by surveyor H.H. Chase in 1859, even before its formal incorporation as a city in 1862, as a one-quarter mile square oriented N-S, E-W and with its eastern side centered on the point where Main Street crossed Mill Creek (at roughly the point where it does now). To this original area, additional parcels were annexed from time to time, usually named after the land owner of record at the time the additions were made.
All of the land in this area was acquired from the Cayuse and Walla Walla Indian tribes by the U.S. Government in a treaty signed on June 9, 1855 in Walla Walla, and ratified on March 8, 1859 by President James Buchanan. John Haley acquired a large tract of bare land containing this property from the United States Government during the term of President Andrew Johnson by Patent dated July 15, 1865. Haley sold the same lands, together with another parcel, less 26.81 acres of the original parcel, to  William O. Green on October 7, 1867 for the sum of $1500. William Orville Green and his wife Mary Francis crossed the plains and homesteaded in Walla Walla in 1862. He was an associate of Dr. D. S. Baker in the stock business and acquired considerable land in Walla Walla and Franklin Counties. Green died in 1878.  On December 30, 1895. Green's surviving children and their spouses, Clarinda J. and Hugh Roland Smith, Anne B. and W. H. Barnett, Philandra Green and Mary O. Green (daughter Fannie had died) quit claim deeded this land to their mother, Mary Frances Green for the stated consideration of $1.
On July 23, 1903, Mary Frances Green recorded the original plat of Green's Park Addition to the City of Walla Walla. In 1908 Mary F. Green transferred all her property to the Green Investment Company, of which she was president until 1912. Her residence was at 925 Isaacs Avenue starting in 1908. The Green Investment Company amended the Green's Park Addition plat on June 1, 1915 to include Green Lane on the north side of Green Park School.
On October 4, 1916 the Green Investment Company sold lot 14 and half of lot 13 (this property) to Annie E. Green for a stated amount of $10. On January 1, 1917 Annie E. Green and her husband John borrowed money from T. C. Elliott for the construction of the present  house in the amount of $3500. They borrowed $2500 more from Mr. Elliott on September 1, 1922. John Green was president of Green and Jackson Drugs (the successor to Stewart & Holmes Drugs) at 19 W. Main Street from 1900 to 1926. The first directory listing for Annie Green is 1911, at 623 E. Alder. From then until 1917, she and John continued to be listed at the 623 E. Alder address.  There is no city directory for 1917, but John and Annie Green are listed at 1141 Alvarado Terrace in 1918.
On October 7, 1926 John and Annie E. Green sold this property to George B. and Lucy I. Woodward for "$10." On March 4, 1933 the Woodwards took a mortgage in the amount of $12,191.90 which was repaid on October 6, 1934. At this time there was recorded an affidavit to correct the legal description to include the division of lot 13. There was also a "correction  deed" filed by the Green Investment Company, Anna G. Barnett, President. George Woodward was a farmer. The city directories for 1929-30 and 1930-31 both list the Woodwards at this address. However in 1933-35 the house was rented to Samuel J. and Mary J. Miller, and Mrs. Mary (widow of John) Illingworth. Miller was the general agent for the Northern Pacific Railroad. There is no 1936 city directory but in 1937 and 1938 the house was occupied by Otto and Audrey Anderson, who had previously lived at 643 Pearson. In 1939 they moved to 21 Brookside.
On January 2, 1938 the Woodwards sold their home to H. Sherman and Claire Raley Mitchell for "$1." H. Sherman was the managing editor of the Walla Walla Union Bulletin, under Frank Mitchell, general manager. In 1958 H. Sherman became editor of the Union Bulletin and Frank became vice president and publisher. In 1959 H. Sherman and Claire Mitchell moved to 719 Bryant. H. Sherman continued as editor of the newspaper until his retirement in 1967. He and Claire continued to live on Bryant until his death in 1975. Claire lived there through 1985.
Sherman R. Mitchell Jr. moved into 1141 Alvarado in 1959. He was the sports editor at the Union Bulletin as well as director of public information at Whitman College, employee of Scotty Cummins, and owner-manager of Floors Inc. until his early death. In 1972 his widow Mary Ella lived at 1141 Alvarado with her son Mike who was a student at Whitman and then Washington State College, and daughter Becky, a student at Eastern Washington College. In 1979 Michael and his wife Judy returned to Walla Walla where he worked as Deputy Prosecuting Attorney. They lived at 821 Washington in 1980-81.  On November 15, 1981 Claire Mitchell and the estate of H. Sherman Mitchell filed a contract of sale with Michael and Judy Mitchell for $85,000, at which time Michael and Judy moved into 1141 Alvarado. Mary Ella moved to 821 Washington.  At this time Mike went to work at Roach, Votendahl and Monahan. Judy was a teacher at Grove School. On  June 30, 1988 Judith A. Mitchell signed a quit claim deed to Michael S. Mitchell in a dissolution of marriage settlement. On February 2, 1990, Michael Mitchell sold this property to Daniel G. Dunn, shipping supervisor for Nelson Irrigation.
Construction of the House:
On December 28, 1916, J. A. McLean took out a building permit to build a residence at the "cor. Alvarado and Madison" for $4950 so it is reasonable to assume the house was constructed in 1917. There is no city directory for 1917 but John and Annie Green are listed at this address in 1918. The county assessor agrees with a building date of 1917.
References:
Andres, Penny, Walla Walla Her Historic Homes, 1991.
Bennett, Robert A., Walla Walla  Portrait of a Western Town 1804-1899, Pioneer Press,  Walla Walla, 1980.
Bennett, Robert A., Walla Walla  A Town Built to be a City 1900-1919, Pioneer Press,  Walla Walla, 1982.
Building Permits: Whitman College Penrose Library Archives, Larry Dodd, Archivist
Lyman, Professor W.D., An Illustrated History of Walla Walla County  1901.
Sanborn Fire Maps: 1884-1905 (with updates until 1950).
Walla Walla City Directories: 1880-present (various publishers–not all years).
Whitman College Archives, Larry Dodd, archivist
Mary E. Meeker Walla Walla 2020 Research Service PO Box 1222, Walla Walla WA 99362 June, 2003
http://ww2020.net/wp-content/uploads/1141_Alvarado1.jpg
150
200
Mary Meeker
http://ww2020.net/wp-content/uploads/2011/12/ww2020_logo.png
Mary Meeker
2003-06-01 18:22:09
2017-02-05 12:24:00
History of 1141 Alvarado Terrace, Walla Walla, WA