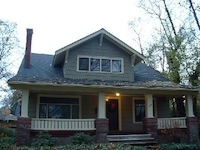 Property Description: abbreviated
Lot 2 of the amended Plat of Block 18 of Green's Park Addition to the City of Walla Walla, Volume D of Plats, Page 79.
Title History:
Walla Walla was originally laid out by surveyor H.H. Chase in 1859, even before its formal incorporation as a city in 1862, as a one-quarter mile square oriented N-S, E-W and with its eastern side centered on the point where Main Street crossed Mill Creek (at roughly the point where it does now). To this original area, additional parcels were annexed from time to time, usually named after the land owner of record at the time the additions were made.
John Haley acquired a large tract of bare land containing this property from the United States Government during the term of President Andrew Johnson by Patent dated July 15, 1865. Haley sold the same lands, together with another parcel, less 26.81 acres of the original parcel, to  William O. Green on October 7, 1867 for the sum of $1500. William Orville Green and his wife Mary Francis crossed the plains and homesteaded in Walla Walla in 1862. He was an associate of Dr. D. S. Baker in the stock business and acquired considerable land in Walla Walla and Franklin Counties. Green died in 1878.  On December 30, 1895. Green's surviving children and their spouses, Clarinda J. and Hugh Roland Smith, Anne B. and W. H. Barnett, Philandra Green and Mary O. Green (daughter Fannie had died) quit claim deeded this land to their mother, Mary Frances Green for the consideration of $1.
On July 23, 1903, Mary Frances Green recorded the original plat of Green's Park Addition to the City of Walla Walla. In 1908 Mary F. Green transferred all her property to the Green Investment Company, of which she was president until 1912. Her residence was at 925 Isaacs Avenue starting in 1908. The Green Investment Company amended the Green's Park Addition plat on June 1, 1915 to include Green Lane on the north side of Green Park School.
On September 18, 1917 the Green Investment Company sold lot 2, block 18 to Walter C. and Natalie Eells for $10 in gold coin. The Eells were listed as living at 1134 Alvarado Terrace in the 1918 city directory. Walter Crosby Eells was a Professor of Mathematics at Whitman College and the grandson of The Reverend Cushing Eells. (Reverend Eells had obtained the charter for Whitman Seminary in 1859.) The house can be seen near the edge of an aerial photograph of the Whitman College campus taken in 1921 by H. Miller Cowling and on display in the Whitman Archives. The footprint of this house and two other houses built on this side of this block sometime prior to 1923 can be seen on the Sanborn Fire Maps on page 61 added in 1923.
The Walter Eells lived in the first house on this lot for a decade, until they sold on September 1, 1927 to Melvin C. and Mabelle H. Jacobs for a stated amount of $10. Melvin C. Jacobs was also a professor at Whitman College from 1928 to 1946. He taught history and art history. He was the William Kirkman Professor of History and the Weyerhauser Professor of Biblical History in addition to being the museum curator from 1944-1949.  Mr. and Mrs. Jacobs lived in the house for over two decades until Melvin Clay Jacobs died on April 16, 1949. (For trivia buffs, Mrs. Jacobs drove a 1941 Studebaker car in 1960.) Mabelle continued to live there until she sold the house on a contract to Ray K. and Ardelle M. Gentry on September 27, 1962 for $11,500. Mabelle Heebner Jacobs died on October 9, 1967.
Ray Gentry was a mechanic at the Walla Walla Mills, Inc. on Melrose Street, owned by J. D. Welch, Jr. From 1964-1969 Mrs. Averilla Lundy also lived with the Gentrys. Mr. and Mrs. Gentry sold the house on November 11, 1970 to Douglas H. and Sally C. Underwood for $21,500. The Underwoods were the longest residents of this property to date, living there almost three decades.  Doug Underwood followed the career of the house's first owner as a Professor of Mathematics at Whitman College.  Sally Underwood taught at the Walla Walla Community College, served on the Walla Walla School District Board of Directors and was instrumental in starting the Explorer Program for gifted students in the Walla Walla schools.  The Underwoods had an Energy Service Contract with PP&L in 1993. They sold the house on April 31, 1999 to Chris Tallackson and Barbara Sidwell for the stated amount of $10.
Construction of the House:
The first people to buy this lot for "$10 in gold coin" were Walter C. and Natalie Eells. They purchased the lot in 1917 and were listed in the 1918 city directory as living at 1134 Alvarado Terrace.  Therefore the best estimate on the origin of this  house is that construction started in 1917 and was completed early in 1918. No building permit could be positively identified.
References:
Andres, Penny, Walla Walla Her Historic Homes, 1991.
Bennett, Robert A., Walla Walla  Portrait of a Western Town 1804-1899, Pioneer Press,  Walla Walla, 1980.
Bennett, Robert A., Walla Walla  A Town Built to be a City 1900-1919, Pioneer Press,  Walla Walla, 1982.
Building Permits: Whitman College Penrose Library Archives, Larry Dodd, Archivist
Lyman, Professor W.D., An Illustrated History of Walla Walla County  1901.
Sanborn Fire Maps: 1884-1905 (with updates until 1950).
Walla Walla City Directories: 1880-present (various publishers–not all years).
Whitman College Archives, Larry Dodd, archivist
  Mary E. Meeker Walla Walla 2020 Research Service PO Box 1222, Walla Walla WA 99362 April, 2002
http://ww2020.net/wp-content/uploads/1134_Alvarado.jpg
150
200
Mary Meeker
http://ww2020.net/wp-content/uploads/2011/12/ww2020_logo.png
Mary Meeker
2002-04-01 18:19:49
2017-02-05 12:24:01
History of 1134 Alvarado Terrace, Walla Walla, WA