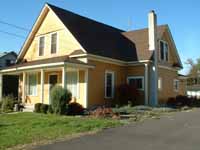 Legal Description:
Lot 6 in Block D of Watertown Addition to the City of Walla Walla, according to the official plat thereof of record in the office of the auditor or Walla Walla County, Washington, in Book C of Plats at page 56.
Title History:
The land that comprises the City of Walla Walla was acquired from the Cayuse and Walla Walla Indian tribes by the U.S. Government in a treaty signed on June 9, 1855 in Walla Walla and ratified on March 8, 1859 by President James Buchanan. Walla Walla was originally laid out by surveyor H.H. Chase in 1859, even before its formal incorporation as a city in 1862, as a one-quarter mile square oriented N-S, E-W with its eastern side centered on the point where Main Street crossed Mill Creek (at roughly the point where it does now). To this original area, additional parcels such as Watertown Addition were annexed from time to time. The first series of transactions involving 1127 Hobson began in 1877 with the sale of a group of properties that included a 44 acre parcel, a 12 acre parcel and a two acre parcel. This combination involved several different owners and the need for numerous mortgages until 1886 when there was a plan to establish a Walla Walla Driving Park evidently financed by the Walla Walla Valley Consolidated Agricultural Society Corporation, a group of men many of whom have had roads and towns named after them such as Reser, Harvey Shaw, Lowden, etc.. No evidence of the development of the Walla Walla Driving Park was found by this researcher. In fact, the purchase by the group of this large parcel required numerous mortgages and eventually resulted in a Sheriff's Sale in 1895 for $20,795.85 in gold coin, a very large sum in those days. The next transaction for the large parcel was a deed to Garden City Land Company, a corporation, probably the reorganization of the Consolidated Agricultural Society Corporation. On April 27, 1903 Joseph McCabe bought the large parcel from the Garden City Land Company for $17,500. In the 1904 City Directory McCabe is listed as Vice-President and General Manager of Washington and Columbia River Railway with a residence at 570 Boyer, now part of the Odd Fellows Home parking lot. On December 3, 1904 Joseph and Ella McCabe sold Lot #6 in Block D to  John R. Fendley and L.A. Fendley, his wife. Fendley's name does not appear in a City Directory until 1907 where the address given is Alice Street (now Hobson) near Green Street (now Roosevelt) and his occupation is listed as "laborer." The 1905 Sanborn Fire Map shows the current house.
On June 8, 1908 Fendley sold the house for $1500 to Charles. D. Freeburn and Jennie Freeburn, his wife. Freeburn is listed as being in real estate with an office in the Quinn Building in the 1911-12 City Directory. There was no City Directory listings for them at 1127 Alice although there was a listing at 1121 Alice St., which is next door to 1127 Alice St. On July 23, 1909, the Freeburns sold the house to R.A. Stockdale and Stella M. Stockdale for $1650. A building permit for a barn and shed was issued to Stockdale on September 30, 1909. Stockdale is listed as a farmer in the 1910-11 City Directory. The Stockdales were evidently unable to keep up with mortgage payments and on July 21, 1914, John Cochran, who had received a mortgage from them in 1911, acquired the house via a Sheriff's sale for $1856.95. The 1915 and 1916-17 City Directories list Elizabeth Cochran, widow of John G.Cochran, as residing at 1127 Alice. On May 16, 1919 the! Cochran family sold the house for $1500 to Fred W. Gohres and Mary Gohres. In the 1920 City Directory Gohres is listed as a cabinet maker at Whitehouse Crawford Co., residing at 16 W. Cherry, and is never listed at 1127 Alice St. Perhaps the Gohres used the house as a rental property.
Fred Gohres filed a Quit Claim Deed for the property to his wife May in November of 1919. On January 20, 1920 the Gohres sold the house back to Charles E. Freeburn and Jennie Freeburn, by a Statutory Warranty Deed. On May 31, 1921, Charles and Jennie Freeburn sold to Arthur N. Cooper and Vicie B. Cooper. There was no stated price given. Arthur Cooper is listed as a farmer and then later a carpenter in City Directories. In 1941 the City Directory indicates that Alice Street was changed to Hobson, running from Merriam St. to Wilbur, as it does today. Various members of the Cooper family lived in the house until 1968 when in the settlement of the Cooper estate, it was sold to Theodore and Anna Beck for $5250. Theodore Beck is listed as retired in the 1968 City Directory. A Quit Claim Deed was filed by Theodore Beck to his daughter, Carol Beck Parkison in 1981. She subsequently filed a Quit Claim Deed for love and affecti! on to Doug Parkison and Carol I. Parkison in November of 1982. Both Parkisons were employed in various health care occupations. Doug and Carol Parkison sold the house on March 21, 2005 to Tracy A. Smith, an unmarried woman, for an unstated amount.
Construction of the house
The Walla Walla County Assessor's office records indicate that 1127 Hobson was built in 1900. This date is not correct. The first property transaction for lot 6 in Block D was in December of 1904 when J.R. Fendley and his wife bought the lot from Joseph McCabe. The 1905 Sanborn Fire Map shows today's house at 1127 Alice now Hobson. No structure appears on the previous existing fire map for 1894. The construction date of 1127 Hobson is definitely 1905, making it one-hundred years old at the time of this report.
Resources for this report:
Metsker County Maps
Pioneer Title Company documents for this property
Penrose Library Northwest Archives, Whitman College
Sanborn Fire Maps
Walla Walla City Directories
Walla Walla County Assessor's files
Katherine Weingart Walla Walla 2020 Research Service P.O. Box 1222 Walla Walla WA 99362 June 2005
http://ww2020.net/wp-content/uploads/1127_Hobson.jpg
150
200
Katherine Weingart
http://ww2020.net/wp-content/uploads/2011/12/ww2020_logo.png
Katherine Weingart
2005-06-01 18:17:52
2017-02-05 12:28:05
History of 1127 Hobson Street, Walla Walla, WA