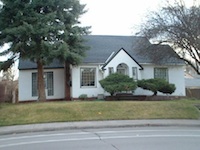 Property Description:
Lot 8 in Block 5 of Watertown Addition to the City of Walla Walla, Washington, according to the Official Plat thereof of record in the Office of the Auditor of said County of Walla Walla in Book "C" of Plats at Page 56.
Title History:
Washington Territory was created in 1853. In 1884 the new legislature created Walla Walla County which stretched from the crest of the Cascade Mountains to the crest of the Rocky Mountains in the present states of Washington, Idaho and Montana. In 1855 Governor Isaac Stevens held a council on the banks of Mill Creek at the present site of Walla Walla with representatives of regional Indian tribes to purchase land from them. The Yakimas, Cayuses and Walla Wallas were dissatisfied with the treaties and war followed. Missionaries, former French-Canadian employees of the Hudson Bay Company trading post at Wallula, and soldiers at the military Fort Walla Walla were the primary European occupants of the area prior to 1859 when it was opened for settlement. All of the land in the Walla Walla area was acquired from the Cayuse and Walla Walla Indian tribes by the U.S. Government in a treaty signed on June 9, 1855 in Walla Walla, and ratified on March 8, 1859 by President James Buchanan.
Walla Walla was originally laid out by County Surveyor H.H. Case in 1859, even before its formal incorporation as a city in 1862, as a one-quarter mile square with its eastern side centered on the point where Main Street crossed Mill Creek (at roughly the point where it does now).  The City of Walla Walla received  a Trustee Townsite from the U. S. government which consisted of 80 acres issued on July 20, 1869 by the Vancouver, W.T. District Land Office.
The first patent holder of this southwest quarter of the southeast quarter of Section 21 , Township 7N, Range 36E was Samuel Phinney. He purchased 160 acres from the U. S. government on April 1, 1865. It was registered in the Vancouver Land Office where additional conveyances would also have been recorded before there was a land office in Walla Walla. The first local entry in the legal title to the larger parcel of land that included this lot was the sale by C. S. and Nancy J. Bush to Thomas Collins on January 9, 1878 for "8000 gold coin dollars." On January 1, 1882 Thomas and Laura Collins gave a lease to James A. Messinger. Collins was the proprietor of the Walla Walla Driving Park in 1880. Messinger was a constable in 1889. On May 11, 1883 Messinger assigned his lease to Charles Russell, who lived "3 mi. se" of the city in 1883. In April 1884 Collins sold the large parcel to Charles Russell for $975. On February 3, 1886 Charles and Annie Russell sold this property for $8000 to the Walla Walla Driving Park and Agricultural Association, a corporation formed under the laws of Washington Territory. On June 12, 1897 William Ellingsworth, Sheriff, signed a Sheriff's Deed selling this property for "$20,795 in gold coin" to W. P. Reser, Trustee, following a settlement against the Walla Walla Valley Consolidated Agricultural Society. After multiple law suits various parties represented by W. P. Reser signed Quit Claim Deeds on 58 acres including this property to the Garden City Land Company. These parties included Harvey and Martha Shaw, Hiram and Sarah A. Nelson, Alex and Gean Cameron, F. M. and Mary Lowden, W. P. and Linda Reser, W. P. Reser, Trustee, and Sarah Aldrich. On April 27, 1903 the Garden City Land Company sold 58 acres to Joseph McCabe for $17,500. John G. Paine was President of the Garden City Land Company. At this time the following signed Quit Claim Deeds naming Joseph McCabe as the new owner: Chris and Annie E. Ennis, Milton and Sarah Aldrich, Walla Walla Valley Consolidated Agricultural Society, Philip and Rachel Yenney, Frances Dooly (widow and residuary devisee of John Dooly, deceased) John G. Paine (unmarried), Clara Louisa Quinn (widow and residuary devisee of Thomas Quinn, deceased), Rose Alheit (widow and residuary devisee of John Alheit, deceased), B. and Caroline Ferrell, W. O'Donnell (unmarried), James and Jennie McInroe, Mike and Julia R. Toner and the City of Walla Walla (by Gilbert Hunt, Mayor).  Joseph McCabe was the Vice President and General Manager of Washington and Columbia River Railway. The offices and depot of the railway were   at Main and Palouse Streets.
In 1903, Joseph and Ella McCabe platted the town of Watertown, including this lot.
On September 12, 1905 Joseph and Ella L. McCabe sold that property to Thomas Mosgrove. Mosgrove lived at 104 Park and worked in real estate. Immediately following this transaction Thomas transferred all his community property interest in Watertown Addition plus part of D. W. Small's amended plat to Robert's Addition to Kittie Mosgrove. On July 1, 1908 this lot was assessed a tax for installing a sewer line in Alder Street between Division and Roosevelt Streets. On September 2, 1930 the Watertown Company, Kittie Mosgrove, President, sold this lot to Jessie M. West and Ruth M. Campbell. The sale was attested to by Arthur A. Campbell, Secretary of Watertown Company. On October 21, 1937 Jessie M. West and her husband George N. West and A. A. and Ruth M. Campbell sold this lot to Carl V. and Dorothy A. Lansing for a stated amount of $10. On May 20, 1938 the Lansings sold it to Densil R. and Neoma B. Oldham for "$10."  On June 9, 1958 the Oldhams sold this property to Robert E. and Margaret B. Long for "$10."  On June 3, 1966 the Longs sold it to Paul R. and Martha E. Cherry for $15,000. Paul Cherry died on September 13, 1966. His widow Martha sold this property on January 24, 1978 to George F. and Phyllis G. Edwards for $37,500. Following a Dissolution of Marriage settlement in August of 1981, George Edwards (as his separate property) sold this property on July 11, 1988 to Troy B. and Deborah L. Smith for $37,500. The Smiths sold to Todd C. and Sara Lightfoot on November 6, 1998 for $85,000.
Occupant History:
The first time 1118 East Alder Street appeared in the Walla Walla City Directory was in 1939 when Densil and Neoma Oldham lived in this house. Oldham was the owner-manager of Oldham Petroleum Company which operated a gas station at 304 Wellington.  He subsequently also owned and operated Beejay Supply Company at 16 South Colville. They lived in this house through 1957 after which they moved to 746 Tietan. Robert E. and Margaret Long lived here starting in 1958. He worked in the construction department of the U. S. Corps of Engineers. In 1966 he was chief of miscellaneous construction section at USCE and Margaret worked at the Walla Walla Public Library. In June of 1967 they moved to 2150 Pleasant Street when Paul and Martha E. Cherry purchased this house. Paul was a technical engineer at USCE who had lived at 620 East Sumach. He died only three months after moving to this house but his widow continued to live here through 1977. In 1978 George and Phyllis Edwards moved into this home. They were retired, and divorced in 1981. Mr. Edwards sold this house as his separate property to Troy and Deborah Smith in July of 1988. Troy and Deborah Smith both worked at Dixie Elementary School. Since the sale of this home in November of 1998 it has been owned and occupied by Todd and Sara Lightfoot.
Construction of the Building:
The extensive legal title on this property gives an interesting view to the history of this neighborhood. The Walla Walla Driving Park was located here in 1880. By 1902 it was called the Walla Walla Fair Grounds and Race Track at the then end of East Alder near the city limits. Watertown was originally platted in 1903 by Joseph and Ella McCabe as a separate town with north-south streets named First Street through Fifth Streets. The 1903 plat showed the curved ends of the earlier race track stretching from First Street (McKinley Street) to a block east of Fifth Street (Sinclair) Street. In 1905 the Fair Grounds and Race Track had moved from this neighborhood to the south end of Chase Avenue, where it is currently located. Following the race track era in this neighborhood the development of housing was led by a veritable Who's Who of Walla Walla at that time. Thomas Mosgrove and his many investors replatted Watertown as an addition to the City of Walla Walla in 1906 and the street names were changed to the present ones. Carl Lansing was a building contractor who lived in College Place in 1937 when  he purchased this lot (from Dr. A. A. Campbell, a local dentist). It is likely that Lansing built this house and that following construction he sold the new home in 1938 to the Oldhams, its first residents. The Walla Walla County Assessor's office lists a construction date of 1937, which is the probable date for the start of construction. The home may be presumed to have been completed that year or in early 1938.
References:
Bennett, Robert A., Walla Walla  Portrait of a Western Town 1804-1899, Pioneer Press,  Walla Walla, 1980.
BLM Land Patent Records
Building Permits: Whitman College Penrose Library Archives.
Lyman, Professor W.I., An Illustrated History of Walla Walla County  1901.
Sanborn Fire Maps: 1884-1905 (with updates until 1950).
U.S. Census records
Walla Walla City Directories: 1880-present (various publishers–not all years).
Walla Walla County Assessor's Office
Walla Walla County Auditor's Office
Whitman College Archives.
  Mary E. Meeker dawame@@bmi.net; Walla Walla 2020 Research Service PO Box 1222, Walla Walla WA 99362 August, 2007
http://ww2020.net/wp-content/uploads/1118_E_Alder.jpg
150
200
Mary Meeker
http://ww2020.net/wp-content/uploads/2011/12/ww2020_logo.png
Mary Meeker
2007-08-01 18:15:15
2017-02-05 12:22:00
History of 1118 East Alder Street, Walla Walla, WA