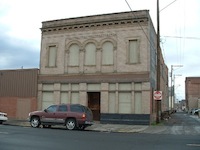 Property Description:
Beginning at the Northeast corner of lot 10, Block 15 of the Original City of Walla Walla, recorded in Book "A" of Plats at page 1, thereof recorded in the office of the Auditor of Walla Walla County, Washington, and run thence South 29º50´00" East, along the East line of said Lot 10, a distance of 40.25 feet to a point in a line parallel to and 79.96 feet North 29º50´00" West, measured along said East line from the Southeast corner thereof; thence South 60º14'34" West, along said parallel line, 119.92 feet to a point in the West line of Lot 9 of said Block 15; thence north 29º50'35" West, along said west line, 40.12 feet to the Northwest corner of said Lot 9; thence North 60º10'51" East, along the North line of aforesaid Lots 9 and  10, a distance of 119.92 feet to the point of beginning.
Title History:
Washington Territory was created in 1853. The new legislature created Walla Walla County in 1854 which stretched from the crest of the Cascade Mountains to the crest of the Rocky Mountains in present states of Washington, Idaho and Montana. In 1855 an Indian council was held on the banks of Mill Creek at the present site of Walla Walla to purchase land from the Indians. The Yakimas and Walla Wallas were dissatisfied with the treaty and prepared for war which followed. Missionaries, former French-Canadian employees of the Hudson Bay Company Trading Post at Wallula, and soldiers at Fort Walla Walla were the primary European occupants of the area prior to 1859 when it was opened for settlement. All of the land in this area was acquired from the Cayuse and Walla Walla Indian tribes by the U.S. Government in a treaty signed on June 9, 1855 in Walla Walla, and ratified on March 8, 1859 by President James Buchanan.
Walla Walla was originally laid out by surveyor H.H. Case in 1859, even before its formal incorporation as a city in 1862, as a one-quarter mile square oriented N-S, E-W and with its eastern side centered on the point where Main Street crossed Mill Creek (at roughly the point where it does now). To this original area, additional parcels were annexed from time to time, usually named after the land owner of record at the time the additions were made.
This parcel is within the boundaries of the Original City of Walla Walla. The first legal transaction on the property recorded locally was a deed of Lots 1,2,9 and 10 of Block 15 from P. B. Standefor and B. Barnstein (agent) to Samuel Linkton in January of 1862 for $500. Mr. Standefor was appointed mayor of Walla Walla by the territorial legislature in January of 1862, to serve until replaced in the first municipal election in April of that year. On March 3, 1866 the City of Walla Walla recorded a warranty deed to this property for Mr. Linkton for $40. On October 23, 1867 Mr. Linkton gave a warranty deed to Henry M. Chase for lots 9 and 10, Block 15 (120' x 120') at Third and Poplar for $500. On July 21, 1877 Henry Chase sold these lots 9 and 10 to Oliver P. Lacy for $2000.
Mr. Lacy was a partner with E. B. Whitman. They were both prominent local figures in early Walla Walla. Mr. Lacy was elected a state representative and the county assessor. Mr. Whitman, a distant cousin of pioneer missionary Marcus Whitman, served as the first elected mayor of Walla Walla. Together they operated "Real Estate Brokers, Insurance, Auction and Commission Merchants. " In 1880 their office was on the south side of Main Street between Second and Third Streets. Mr. Lacy and Mr. Whitman built the hotel at 208-212 West Main about 1879.
On December 30, 1879 O. P. and Mary Lacy signed a warranty deed in favor of Ida E. Andrews for $4500. One year later Ida and J. C. and Ida Andrews deeded the property back to the Lacys for $5500, apparently having used this property as collateral for a loan. On September 14, 1882 O. P. Lacy gave a warranty deed to his wife Mary for $1. In March 1883 the Lacys signed a 2 year lease with J. Simon on a dwelling at 116 South Third on the "southerly parts of lots 9 and 10 on Third" for $55 a month. On May 2, 1905 Mary E. Lacy, widow, sold lots 9 and 10 to Jacob Betz Brewing and Malting Company for $10,500.
Jacob Betz was a German brewer who had come to Walla Walla in 1874. He was known as a very generous and civic-minded man, serving on the city council from 1891-1895. He operated the Star Brewery on Main Street between Third and Fourth Streets. Then he bought the old county court house at Third and Alder Streets for his brewery where he made up to 10,000 barrels a year to supply many of the town's saloons. He remodeled extensively and an article in the Walla Walla Union in 1896 described a "splendid saloon." Above it was a dancing and meeting hall. He apparently resisted having a grand home, living at the brewery in 1880 and moving frequently thereafter. In 1903 he built a three-story stone building at Third and Alder for his brewery.  Jacob died in Tacoma in 1912. When his wife Augusta died their estate was inventoried at $515,990 with extensive real estate in Walla Walla and Columbia Counties.
On December 1, 1928 a lease was signed for the "southerly 80 feet of lots 9 and 10" by Yocum and Peterson Inc. with Shell Oil. On August 5, 1932 the Smith Davis Motor Company signed a lease with James Joyce for the triangle corner of Lot 10 for a service station. On April 5, 1935 Shell Oil signed a release of lease to Yocum and Peterson
The Betz Brewing and Malting Company continued to own this property until July 8, 1946 when they sold to Ashley B. and Alma L. Fernald who had a contract to convey the property to seven members of the Duff family who had been operating a creamery in this building since 1931. In 1949 the Duffs incorporated as Duff's Creamery, Inc. In 1962 Duff's contract was terminated and a warranty deed was given to Arthur E. Lang for $224,455. Hazel Lang and the Estate of Arthur E. Lang sold the property to William R. O'Rourke, Jr. in April 1968 for $39,260. Mr. O'Rourke owned W. R. O'Rourke Co. Inc., a plumbing, heating and sheet metal business. He lived on Route 3. On October 22, 1984 Bernice A. O'Rourke and the Estate of W. R. O'Rourke gave a contract of sale on this property for $50,000 to Bruce A. Buchanan, Jeanie C. Garske, Timothy S. and Laura Copeland, and Robert L and Christine Zagelow d.b.a. Edifice Wrecks. In 1985 Edifice Wrecks sold Lot 10 to Ray and Jeaneva Hallett for $27,500. At this time a Party Wall Agreement was signed establishing the common wall as 18" thick by 120 feet long and 18 feet high. In 1991 the Halletts sold this property to Jack Jacobson, Robert Bergevin and Dirk Nelson for $27,000. On March 27, 1995 Mark and Patricia Anderson purchased this property with plans to renovate the building. The Halletts sold lot 10 to the south of this property to Christian Life Center in 2002.
Occupant History:
In the 1881 and 1883 city directories O. P. Lacy lived at 116 Third. A lease was signed in 1883 with J. Simon for 116 Third. The 1884 fire map shows the Star Brewery on Third and Alder and two dwellings at "17 and 18" Third Street. The 1888 fire map indicates that J. Betz is the proprietor of the Star Brewery. The dwelling at #17 was also designated as 112 and #19 as 116 in 1888. By 1889 Mary E. Lacy (widow of Oliver P.) lived in the dwelling at 112 Third. In 1893 Mary Lacy was renting furnished rooms at 116 Third. On the 1894 fire map the street numbering system had converted to only number 112 and 116 for the two dwellings on this property. In the 1901-1902 city directory Mary Lacy lived in the residence at 116 South Third with no indication of renters.
In 1909 the Betz Brewing and Malting Company was run by John Bachtold, president and George Retzer, secretary/treasurer. In the 1910-1911 city directory the Betz Brewing Company had been renamed Walla Walla Brewing Company and was run by John Bachtold, Adolph Schwarz and George Retzer at this location (108 South Third) with the production plant on South Second Street. This was the joining of the heirs of the John Stahl/Adolph Schwarz brewery at 350 South Second Street with Star/Betz Brewery. By 1916-1917 this building had been rented to the Walla Walla Candy Company (previously located at 207 E. Alder) run by E. E. Martin and J. C. Batchelder. Edwin Martin was president of the Walla Walla Pickling Company with a home at 208 E. Birch. Clifford and Lillian Batchelder lived at 1008 Franklin. By 1920 Mr. Martin was the sole operator of the Candy Company. In 1921-22 it was operated by V. B. Bybee and B. C. Burton. Volney and Pearl Bybee lived at 429 Lincoln. Mr. Burton lived in Pendleton. Their last year of operation in this location was 1925-1926. Thereafter the business was named Bur Bee Candy Company and was moved to 722 W. Main. In 1931 108 South Third was occupied by Duff's Creamery, with Smith-Davis Cars and a service station on the Third and Poplar side of this building. By 1935 Duffs had expanded into the building on the corner of Third and Poplar with Duff's Drive-In retail store. Duffs continued to use both locations until 1968 when this building at 108 South Third was listed as vacant. In 1970 Ernie Jorgenson was the sales manager of Marchant Calculators SMC Corp. in this building. From 1975 to 1980 it was again vacant. In 1981-82 DeDe and Bob McKay opened Bramante Gallery in the front of this building. In 1983 Julianne Fletcher operated Financial Service Association here for three years. The Poplar Street Cinemas opened at 116 South Third in 1986 and this building was vacant after 1987.
Construction of the Building:
The Walla Walla County Auditor's files give a construction date of 1900 for this building. However the building permit files at the Whitman Archives show that on March 1, 1910 Jacob Betz obtained a building permit for a two-story brick building on "Third near Poplar" for $15,000. The Walla Walla Evening Bulletin reported on February 28, 1910 that the construction would be rushed and if the weather did not interfere it would be ready for occupancy within a couple of months. Nick Wierk was the contractor. The front of the main floor was to be the offices of the Betz Brewing Company. The rear of the building was to be a bottling works with storage in the basement and second floor.
References:
Bennett, Robert A., Walla Walla Portrait of a Western Town 1804-1899, Pioneer Press, Walla Walla, 1980.
Bennett, Robert A., Walla Walla A Town Built to be a City 1900-1919, Pioneer Press, Walla Walla, 1982.
Building Permits: Whitman College Penrose Library Archives.
Gilbert, Frank T.; Historic Sketches of Walla Walla, Whitman and Garfield Counties, Washington Territory, and Umatilla County, Oregon, 1882.
Lyman, Professor W.D., An Illustrated History of Walla Walla County 1901.
Sanborn Fire Maps: 1884-1905 (with updates until 1950).
Walla Walla City Directories: 1880-1997 (various publishers–not all years).
The Walla Walla Evening Bulletin, February 28, 1910, P5C3.
Whitman College Archives.
Mary E. Meeker ; Walla Walla 2020 Research Service PO Box 1222, Walla Walla WA 99362 September, 2005
http://ww2020.net/wp-content/uploads/108_S_Third.jpg
150
200
Mary Meeker
http://ww2020.net/wp-content/uploads/2011/12/ww2020_logo.png
Mary Meeker
2005-09-01 17:20:14
2017-02-05 12:22:07
History of 108 South Third Avenue, Walla Walla, WA - Betz Brewing & Malting Company Office Building