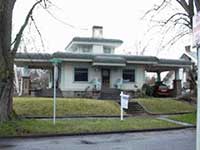 Property Description:
Beginning at the Northwest corner of Lot 1 in Block 13 of Green's Park Addition to the City of Walla Walla, Washington, according to the Official Plat thereof of record in the Office of the Auditor of said County of Walla Walla, and running thence Easterly along the North line of said Lot 1 to the Northeast corner thereof; thence Southerly along the East line thereof to the Southeast corner of said Lot 1; thence Westerly along the South line of Lots 1 and 2 in said Block 13, a distance of 60 feet to a point in the South line of said Lot 2; thence Northerly in a straight line to THE POINT OF BEGINNING.
Title History:
Walla Walla was originally laid out by surveyor H.H. Chase in 1859, even before its formal incorporation as a city in 1862, as a one-quarter mile square oriented N-S, E-W and with its eastern side centered on the point where Main Street crossed Mill Creek (at roughly the point where it does now). To this original area, additional parcels were annexed from time to time, usually named after the land owner of record at the time the additions were made.
John Haley acquired a large tract of bare land containing this property from the United States Government during the term of President Andrew Johnson by Patent dated July 15, 1865. Haley sold the same lands, together with another parcel, less 26.81 acres of the original parcel, to  William O. Green on October 7, 1867 for the sum of $1500. William Orville Green and his wife Mary Francis crossed the plains and homesteaded in Walla Walla in 1862. He was an associate of Dr. Dorsey S. Baker in the stock business and acquired considerable land in Walla Walla and Franklin Counties. Green died in 1878.  On December 30, 1895. Green's surviving children and their spouses, Clarinda J. and Hugh Roland Smith, Anne B. and W. H. Barnett, Philandra Green and Mary O. Green (daughter Fannie had died as a child) quit claim deeded this land to their mother, Mary Frances Green for the consideration of $1.
On July 23, 1903, Mary Frances Green recorded the original plat of Green's Park Addition to the City of Walla Walla. In 1908 Mary F. Green transferred all her property to the Green Investment Company, of which she was president until 1912. Her residence was at 925 Isaacs Avenue starting in 1908. Her daughter Philinda married John W. Langdon, who managed his mother-in-law's business as well as many local financial and civic enterprises. He and Henry Baker developed the Baker-Langon orchards, the "world's largest," in 1909 on 600 acres south of town. He designed the Spanish American War Monument now at Alder and Palouse Streets, plans for the City Park and the entrance gates for Mountain View Cemetery.
On September 24, 1909 The Green Investment Company sold lot 1 of block 13 to Mrs. A. M. Tiderington with a covenant that a house of no less than $2500 value would be built on the lot prior to any other structures. However, two years later following a superior court case, a Sheriff's  Deed under foreclosure of mortgage was given by M. Toner, Sheriff to the Walla Walla Produce Company with a high bid of $1751. On March 9, 1921 the Walla Walla Produce Company, by W. S. Offner and U. H. Berney, sold this property to J. A. McLean for "$25".  James McLean was a prominent local builder who built this unusual home with architectural influences  from Frank Lloyd Wright and Craftsmen styles. McLean took out a building permit for $7000 on August 25, 1921. He died on December 15, 1921. His widow Mamie O. McLean lived in this house until her death on December 12, 1934. Her daughter, Bessie O. Gwaltney lived here with her husband Edwin V. Gwaltney, who was the storekeeper at the Washington State Penitentiary, until 1939. At that time they rented it to Conrad Diettrich, Jr. and his wife Goldie C. Diettrich. The Diettrichs purchased this home on January 19, 1941 for $7500. Conrad's father was a well-known local downtown grocer. Conrad Jr. had purchased the Green Park Grocery on the corner of Clinton and Isaacs in 1935 so he lived only half a block away from his store after buying this home. He was also an expert musician and a charter member of the Walla Walla Symphony in 1907. On August 30, 1951 Conrad and Goldie gave this house to their son Karl Diettrich for "love and affection." Between 1949 and 1990 there were a succession of renters who lived here. The longest tenure of a renter was from 1969-1987 when Jean Benson, administrator of the Walla Walla DSHS office, and her children, Sandra, Carol, Charlotte, Cynthia and Robert, lived here.  Both generations of the Diettrich family moved to Richland where they also operated a grocery store. Karl Diettrich died on April 3, 1986 and  his wife Wanda Diettrich sold this distinctive home, after family ownership for 45 years, to David G. and Susan G. Worth for $65,000 on December 16, 1988. In 1992 their son Kevin, a student at Walla Walla College, also lived here. On October 12, 1993 David Worth signed a Quit Claim Deed giving Susan full title to this property. David was the organist at the First Congregational Church and also worked at Mountain Copy Machines. Susan sold this home to Ron and Ruth Agresti on April 30, 1996 for $105,000. The Agrestis never lived in this house but rented to students. On September 15, 2000 they sold this home to Janet M. Pfafferkorn (Pfefferkorn), a single woman, for $175,000. On November 11, 2004 Janet Pfafferkorn, now married but the sole owner of this property, sold it to Charles Aaron and Kate Bobrow-Strain.
Construction of the House:
The Walla Walla County Tax Assessor's office lists a construction date of 1920 but the building permit in 1921 establishes that as the correct date.
References:
Andres, Penny, Walla Walla Her Historic Homes, Vol. II, 1993.
Bennett, Robert A., Walla Walla  Portrait of a Western Town 1804-1899, Pioneer Press,  Walla Walla, 1980.
Bennett, Robert A., Walla Walla  A Town Built to be a City 1900-1919, Pioneer Press,  Walla Walla, 1982.
Bennett, Robert A., A Nice Place to Raise a Family 1920-1949, Pioneer Press,  Walla Walla, 1988
Building Permits: Whitman College Penrose Library Archives.
Lyman, Professor W.D., An Illustrated History of Walla Walla County  1901.
Sanborn Fire Maps: 1884-1905 (with updates until 1950).
Walla Walla City Directories: 1880-present (various publishers–not all years).
Whitman College Archives
  Mary E. Meeker Walla Walla 2020 Research Service PO Box 1222, Walla Walla WA 99362 November, 2009
http://ww2020.net/wp-content/uploads/1050_Alvarado.jpg
150
200
Mary Meeker
http://ww2020.net/wp-content/uploads/2011/12/ww2020_logo.png
Mary Meeker
2009-11-01 18:02:34
2017-02-05 12:20:45
History of 1050 Alvarado Terrace, Walla Walla, WA