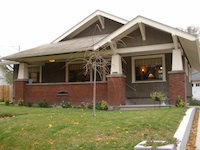 Property Description:
Green's Park Addition, Lot 3, Block 13
Title History:
Washington Territory was created in 1853. The new legislature created Walla Walla County in 1854 which stretched from the crest of the Cascade Mountains to the crest of the Rocky Mountains in the present states of Washington, Idaho and Montana. In 1855 an Indian council was held on the banks of Mill Creek at the present site of Walla Walla to purchase land from the Indians. The Yakimas, Cayuses and Walla Wallas were dissatisfied with the treaties and war followed. Missionaries, former French-Canadian employees of the Hudson Bay Company trading post at Wallula, and soldiers at the military Fort Walla Walla were the primary European occupants of the area prior to 1859 when it was opened for settlement. All of the land in this area was acquired from the Cayuse and Walla Walla Indian tribes by the U.S. Government in a treaty signed on June 9, 1855 in Walla Walla, and ratified on March 8, 1859 by President James Buchanan.
Walla Walla was originally laid out by County Surveyor H. H. Case in 1859, before its formal incorporation as a city in 1862, as a one-quarter mile square with its eastern side centered on the point where Main Street crossed Mill Creek (at roughly the point where it does now).  The City of Walla Walla received  a Trustee Townsite from the U. S. Government which consisted of 80 acres issued on July 20, 1869 by the Vancouver, W.T. District Land Office.   Main Street originally followed the old Nez Perce Indian Trail. Consequently the streets leading off of it were at right angles to it, and were not in a north-south orientation. This was corrected as the city moved eastward which gave Walla Walla its peculiar street pattern with the three street intersection at Palouse, Boyer and Main Streets. To the original plat, additional parcels were annexed from time to time, usually with the name of the land owner of record at the time the additions were made.
This property was acquired by William H. and Elizabeth Ann Patton prior to May 23, 1863. There is no patent listed for them in the government land office records so they must have purchased from a non-government source in that early day. They sold 19.55 acres to John Haley for $100 on May 23, 1863.  Haley sold  26.81 acres to William O. Green on October 7, 1867 for the sum of $1500. William Orville Green and his wife Mary Francis crossed the plains and homesteaded in Walla Walla in 1862. He was an associate of Dr. Dorsey S. Baker in the stock business and acquired considerable land in Walla Walla and Franklin Counties. Green died in 1878. On December 30, 1895. Green's surviving children and their spouses, Clarinda J. and Hugh Roland Smith (builders of Green Gables Bed and Breakfast house in 1909), Anne B. and W. H. Barnett, Philinda Green and Mary O. Green (daughter Fannie had died) quit claim deeded this land to their mother, Mary Frances Green, for the stated consideration of $1 on December 30, 1895. In 1902 Henry C. Baker testified that he knew the Green family and their lands as described in these deeds. On July 23, 1903, Mary Frances Green recorded the original plat of Green's Park Addition to the City of Walla Walla. Mrs. Green boarded at 22 East Birch and 310 Park Street prior to 1908, when she moved to 925 Isaacs with her daughter Philinda and son-in-law John W. Langdon, one of Walla Walla's "founding fathers." In 1908 Mary F. Green transferred all her property to the Green Investment Company, of which she was president until 1912.
On August 2, 1905, Mary F. Green sold this property to Anna M. Aldrich with the stipulation that a dwelling would be built of at least $2500 cost. The deed further stated that no sewer or drain pipe would be allowed to drain into the spring stream on this property. Following Anna Aldrich's death, her daughter, Clara Etta Bailey deeded an undivided one-half interest in this property to her sister, Minnie Gose on March 29. 1909. On May 5, 1916 Minnie S. and John R. Gose sold this property to Elbert and Marjorie C. Smith for a stated amount of $1. On July 27, 1916 the Smiths sold it to Hubert Lewis Bassett, a widower, for "$10." On August 2, 1916 Bassett sold to Alida Stine Robinson. Ms. Robinson and her husband W. T. sold this property to J. Arthur Ingalls for $1 on April 2, 1921. In 1962 Arthur Ingalls, widower, gave this home to his daughter, Velma Jean Ingalls, a single woman, for love and affection. She lived in her childhood home until her death in 2008 at age 78. Her family had been the sole owners of this home for 87 years. Kathleen H. Wright and Colleen M. Merritt, Velma's daughters and executors of her estate, sold this house to its second owners, Barry and Neva Gould, on February 20, 2009.
Occupant History:
This is a home that was built and lived in for 87 years by the Joseph Arthur Ingalls family. Mr. Ingalls was a plumber who worked for G. S. Sutherland Company and W. R. O'Rourke Plumbing and Heating Company. He lived here with his wife Catherine and their daughter Velma Jean, who was born in 1930. In 1956 another retired plumber, Charles Golden, also lived here. In 1957 Velma Ingalls Callahan lived with her parents. Her mother died in 1959. Velma worked in the advertising department at Gardner and Company in 1957, was a counselor with City Youth Division and lived at 111 Delmas Avenue in 1958. In 1959-1960 she was a student at Whitman College. She apparently lived with her father in this house until  his death in 1963. From 1964–1978 Velma rented out rooms to several others until she returned to live here in 1979 until her death in 2008.
Construction of the Building:
The Walla Walla County Assessor's records and family history both give a construction date of 1921, the year this property was purchased by J. Arthur Ingalls. Both are close. However, a more accurate date is March 13, 1922 when a  building permit was issued to Ingalls. The builders were Schriner and Frank.
References:
Building Permits: Whitman College Penrose Library Archives.
Pioneer Title Company records
Sanborn Fire Maps: 1884-1905 (with updates until 1950).
Walla Walla County Assessor's Office records.
Walla Walla City Directories: 1880-present (various publishers–not all years).
Mary E. Meeker ; Walla Walla 2020 Research Service PO Box 1222, Walla Walla WA 99362 May, 2010
http://ww2020.net/wp-content/uploads/1040_Alvarado.jpg
150
200
Mary Meeker
http://ww2020.net/wp-content/uploads/2011/12/ww2020_logo.png
Mary Meeker
2010-05-01 17:55:03
2017-02-05 12:20:44
History of 1040 Alvarado Terrace, Walla Walla, WA