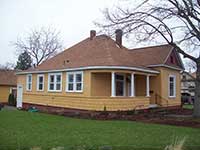 Property Description:
Beginning at the Southeast corner of Block X of the Amended plat of Mrs. Henderson's Addition to the City of Walla Walla, according to the official plat thereof of record in the office of the Auditor of said County of Walla Walla, and running thence West along the South line of said Block X, a distance of 100.0 feet; thence North, parallel to the East line of said block, a distance o 108.0 feet; thence East, parallel to the South line of said Block, a distance of 100.0 feet in the East line thereof; thence South along said East line a distance of 108.0 feet to the point of beginning.
Situated in the City and County of Walla Walla, State of Washington.
Tax Parcel Number 36-07029-68-4202
Title History:
Washington Territory was created in 1853. The new legislature created Walla Walla County in 1854 which stretched from the crest of the Cascade Mountains to the crest of the Rocky Mountains in the present states of Washington, Idaho and Montana. In 1855 a treaty council was held on the banks of Mill Creek at the present site of Walla Walla to purchase land from the Indians. The Yakimas, Cayuses and Walla Wallas were dissatisfied with the treaties and war followed. Missionaries, former French-Canadian employees of the Hudson Bay Company trading post at Wallula, and soldiers at the military Fort Walla Walla were the primary European occupants of the area prior to 1859 when it was opened for settlement. All of the land in this area was acquired from the Cayuse and Walla Walla Indian tribes by the U.S. Government in a treaty signed on June 9, 1855 in Walla Walla, and ratified on March 8, 1859 by President James Buchanan.
Walla Walla was originally laid out by County Surveyor H. H. Case in 1859, before its formal incorporation as a city in 1862, as a one-quarter mile square with its eastern side centered on the point where Main Street crossed Mill Creek (at roughly the point where it does now).  The City of Walla Walla received  a Trustee Townsite from the U. S. Government which consisted of 80 acres issued on July 20, 1869 by the Vancouver, W.T. District Land Office.   Main Street originally followed the old Nez Perce Indian Trail. Consequently the streets leading off of it were at right angles to it, and were not in a north-south orientation. This was corrected as the city moved eastward which gave Walla Walla its peculiar street pattern with the three street intersection at Palouse, Boyer and Main Streets. To the original plat, additional parcels were annexed from time to time, usually bearing the name of the land owner of record at the time the additions were made.
Prior to Walla Walla having a land office property transactions were recorded in  the Land Office in Vancouver, Washington Territory. This was the case for the original purchase from the U. S. Government by Andrew J. Hogg on July 20, 1869 of 160 acres in the Northeast Quarter of the Southwest Quarter of Section 29, Township 7 North, Range 36 East that included this property. 
On December 22, 1903 Mrs. Sarah J. Henderson gave an affidavit stating the she platted the Henderson Addition on  October 29, 1888 comprised of 4 properties. On November 4, 1903 Sarah J. Henderson, widow, sold Lot 9 on Block X to Jacob and Katherine Hardung. On January 26, 1906 Jacob and Katherine Hardung sold a 107 foot by 108 foot lot to George Schmidt for $400. On November 13, 1906 George and Kate Schmidt sold this property to George and Elizabeth Zier, Jr. for $2500. Prior to 1910 Zier sold to George Buterus, as Buterus stated in an affidavit in 1931. On February 17, 1915 G. A. Buterus sold to Carl Engleman for $1800. On April 19, 1919 Carl and Mary Engleman sold to Harry Hamburg for $1830. In 1931 Charles Horst loaned money to George Buterus. Horst subsequently took ownership of this home and property. On March 21, 1952 Charles & Katherine Horst sold this property to Calvin L. and Edith Moblely for a stated amount of $10. On March 28, 1988 Edith Mobley (widow) signed a Quit Claim Deed giving her interest in this property to Edith Mobley, Leonard W. Mobley, Edith Lorene Szabo, Calvin Carl Mobley and Mary Ellen Freund as  joint tenants with right of survivorship. These multiple owners sold to Bradley W. Graham (single) and Marcy J. Purcell Lathrop (single) on April 20, 1995. On March 30, 2005 Marcy Guilland (formerly Purcell-Lathrop) sold to Cari Cooper. On May 10, 2011 Cari Cooper sold to the Olson Family Trust for $110,000.
Occupant History:
A search of city directories for early owners was of little help. In 1898, 1902 and 1905 Mrs. S. J. Henderson was listed as living in Portland, Oregon and being an agent for Max Baumeister, a Walla Walla realtor. In 1902 Jacob Hardung was listed as a laborer living nearby at 225 Malcolm. In 1905 there were no Hardung,  Zier or Schmidt listings. Early addresses frequently were limited to "South Third." In 1908 George Zier was a stoker for the NWG&E and lived at 1122 S. Third. From 1910 through 1914 George Buterus lived at 1122 S. Third, the former street number of this property. In 1915 Carl and Mary Engleman lived at 1122 S. Third. He worked as a carpenter and a printer. In 1921-1930  Henry Hamburg lived at 1122 S. Third. He was a carman for the O-WR&NRy. From 1931 through 1952 Charles and Katherine Horst lived at this address. He was a hostler for the Union Pacific system. When Calvin L. and Edith Mobley moved in to this house in 1953 the numbering system had changed and it was now designated as 1018 South Third. Mr. Mobley was a plumber. He and his family lived here until 1995 when their children sold to Marcy Lathrop. City directories ceased publication in the late 1990s.
Construction of the Building:
The files at the Walla Walla County Tax Assessors' office list a construction date for this house of 1896 but I can find no evidence to support it. In January 1906 Jacob Hardung sold the property for $400, an indication that it was still bare land. On November of 1906 George Schmidt sold it for $2500, presumably with a new house on it. Therefore, 1906 would appear to be the construction year.
References:
Bennett, Robert A., Walla Walla  Portrait of a Western Town 1804-1899, Pioneer Press,  Walla Walla, 1980.
Lyman, Professor W.D., An Illustrated History of Walla Walla County  1901.
Sanborn Fire Maps: 1884-1905 (with updates until 1950).
Walla Walla City Directories: 1880-present (various publishers–not all years).
Walla Walla Public Library.
http://ww2020.net/wp-content/uploads/1018_S_Third.jpg
150
200
Mary Meeker
http://ww2020.net/wp-content/uploads/2011/12/ww2020_logo.png
Mary Meeker
2012-12-01 16:29:31
2014-02-06 12:28:44
History of 1018 South Third Avenue - formerly located at 1122 South Third - Walla Walla, WA