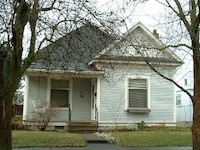 Property Description:
Lot 16 in Block 1 of Green's First Addition to the City of Walla Walla, according to the Official Plat thereof, recorded in Volume C of Plats at page 21.
Title History:
Walla Walla was originally laid out by surveyor H.H. Chase in 1859, even before its formal incorporation as a city in 1862, as a one-quarter mile square oriented N-S, E-W and with its eastern side centered on the point where Main Street crossed Mill Creek (at roughly the point where it does now). To this original area, additional parcels were annexed from time to time, usually named after the land owner of record at the time the additions were made.
All of the land in this area was acquired from the Cayuse and Walla Walla Indian tribes by the U.S. Government in a treaty signed on June 9, 1855 in Walla Walla, and ratified on March 8, 1859 by President James Buchanan. John Haley acquired a large tract of bare land containing this property from the United States Government during the term of President Andrew Johnson by Patent dated July 15, 1865. Haley sold the same lands, together with another parcel, less 26.81 acres of the original parcel, to  William O. Green on October 7, 1867 for the sum of $1500. William Orville Green and his wife Mary Francis crossed the plains and homesteaded in Walla Walla in 1862. He was an associate of Dr. D. S. Baker in the stock business and acquired considerable land in Walla Walla and Franklin Counties. Green died in 1878.  On December 30, 1895. Green's surviving children and their spouses, Clarinda J. and Hugh Roland Smith, Anne B. and W. H. Barnett, Philandra Green and Mary O. Green (daughter Fannie had died) quit claim deeded this land to their mother, Mary Frances Green for the stated consideration of $1.
Mary Green filed a plat for Green's First Addition on April 9, 1901. On March 21, 1903 she sold lots 7, 16 and 17 in block 1 to Harry and Jessie Lasater for $650. The Lasaters resold this lot (#16) on March 28, 1906 to Martha J. Turner, the widow of Thomas B., for $450. Mrs. Turner owned this property  for 10 years but did not live here. Her residence was 427 E. Cherry Street. On May 16, 1916 she sold this property to C. P. Nelson for the stated amount of $1. Charles P. and Mollie Nelson are listed at this address in the 1916-17 city directory. Charles worked as a laborer. On September 5, 1919 Charles and Mollie Nelson sold this property to John S. Jordan for the stated amount of $10. John and Rosa Jordan were listed as living at 112 E. Chestnut in the 1921-1924 city directories. On March 22, 1924 the Jordans sold this property to W. A. and Rosa M. Elliott for $1. The Elliotts lived at 1011 Pomona Street from 1924 until 1936. William A. Elliott died on April 22, 1937. In 1937 W. Walter and Faith Hicks lived in the house. Hicks was a printer at the Bulletin Printing Company. Jobe Clinton lived in the house in 1941.  Rosa M. Elliott Shore sold this property to Harold L. and Cliffie V. White on April 4, 1942 for $2000. The Whites occupied this property for 42 years. Harold was a salesman at Garden City Furniture, State Liquor Control Board, Fleenors Super Duper (grocery store) and a teller at Baker Boyer Bank. He retired in 1968.  Cliffie worked at a saleswoman at the Sassy Shop (women's clothing store). Harold died on May 22, 1969. Cliffie White sold this property on January 9, 1984 to Gary S. and Stephanie A. Ramer. Between 1984 and 1992 this address is designated in the city directory as unlisted. The only listing found for Gary and Stephanie Ramer was in 1982 when they lived at Route 5, Box 317 and he was a student at WSU. In 1994 the city directory listed Joseph A. and Jeanette Regalado as living here.  On November 21, 1994 the Ramers sold this property to Joseph A. and Karene M. Gonzales for $67,500. Joseph was an employee of Doyle Electric and Karene worked in the marketing department of Baker Boyer Bank. On September 15, 2000 Joseph and Karene Gonzales sold this property to Jean Pennington for $83,500. She has resided at 1011 Pomona Street since that time.
Construction of the House:
The Walla Walla County Assessor's office lists 1900 as the building date for this house. That is unlikely. Mrs. Green did not have it platted until 1901. This lot was purchased in 1906 for $450 which surely did not include a house.  Since the first people to be found at this address were Charles P. and Mollie Nelson in the 1916-17 city directory, and they bought the property in 1916, we considered whether the  house was built in 1916 when the Nelsons purchased the property or in 1906 when Martha Turner purchased it. We concluded that this is a classic example of homes built in Walla Walla in the 1900-1908 range, and bears no relationship with  homes built in the 1913-19 range. The most determinative factor is the decorative shingling, which is characteristic of the first decode of the 1900's, and which we haven't observed in any home built in the second decade of the 1900's, particularly in the teens. This together with the siding, the window treatment (including the bulge-out over the upstairs window), and the inside molding including the bullseye corner boxes and fancy side boards, are all common to  homes built in the early and mid-1900's, and uncharacteristic of those built later. Given the construction features, the fact that the building permits seem to be intact from September, 1907 on and show no construction on this site from then through the 1916-17 dates by which we know there was a house on the site, it appears that Martha Turner built this  house in 1906-07. A date of "Circa 1906" should be used.
*It is interesting to note that the name of this street was listed in the 1916 city directory as Pomona (the Roman goddess of fruit trees). In the 1940s it was regularly spelled Pamona. In the 1960s it was back to being spelled Pomona. In the 1980s it again was listed at Pamona. By 1990 the city directory was using the Pomona spelling again. This may be only an artifact of the directory since the original plat listed Pomona Street (as well as Avalon and Rivera Streets). Green's First Addition was bounded by Melrose, College(Penrose), Figueroa and Rivera (Clinton) Streets. However the sidewalk at the corner of Pomona and Figueroa is imprinted with "Pamona." The street sign at the south end of the block is Pomona Street. At the north end of the block it is Pomona Road. The Sanborn Fire Map offers a third alternative of Ramona Street.
References:
Andres, Penny, Walla Walla Her Historic Homes, 1991.
Bennett, Robert A., Walla Walla  Portrait of a Western Town 1804-1899, Pioneer Press,  Walla Walla, 1980.
Bennett, Robert A., Walla Walla  A Town Built to be a City 1900-1919, Pioneer Press,  Walla Walla, 1982.
Building Permits: Whitman College Penrose Library Archives, Larry Dodd, Archivist.
Lyman, Professor W.D., An Illustrated History of Walla Walla County  1901.
Sanborn Fire Maps: 1884-1905 (with updates until 1950).
Walla Walla City Directories: 1880-present (various publishers–not all years).
Mary E. Meeker Walla Walla 2020 Research Service PO Box 1222, Walla Walla WA 99362 August, 2003
http://ww2020.net/wp-content/uploads/1011_Pomona.jpg
150
200
Mary Meeker
http://ww2020.net/wp-content/uploads/2011/12/ww2020_logo.png
Mary Meeker
2003-08-01 17:52:17
2017-02-05 12:23:08
History of 1011 Pomona Street, Walla Walla, WA