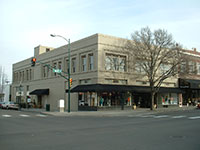 Property Description:
West 60 feet of Lots 6 and 7, Block 1, Cain's Addition to the City of Walla Walla, County of Walla Walla, Washington.
Title History:
Walla Walla was originally laid out by surveyor H.H. Chase in 1859, even before its formal incorporation as a city in 1862, as a one-quarter mile square oriented N-S, E-W and with its eastern side centered on the point where Main Street crossed Mill Creek (at roughly the point where it does now). To this original area, additional parcels were annexed from time to time, usually named after the land owner of record at the time the additions were made.
This property is part of the oldest U.S. Patent in Walla Walla. On September 10, 1861 Andrew J. Cain and Cornelius Kelly filed a patent on 160 acres under the Script Warrant Act of 1855 northeast of the original City of Walla Walla town site. During 1862, A. J. Cain surveyed Cain's Addition to the City (this survey was rerecorded on May 11, 1865, following a disastrous fire which destroyed most of the county's earlier records).
A. J. Cain was an early financier of The Walla Walla Statesman newspaper; in 1868 he was elected on the Democratic ticket as prosecuting attorney of Walla Walla County. He later moved to Dayton and in September 1874 began publication of the Dayton News, a weekly Democratic newspaper. He became known as the "Father of Columbia County" as a result of his leading role in the formation of that county.
The first locally recorded transaction for this property occurred on February 13, 1862 when A. J. Cain and Emma R. Cain obtained a mortgage from A. H. Reynolds of "consideration $1 to secure a note for $1000 for the purchase of Lots 6, 7 and 8 in Block 1 of what became Cain's Addition. Lots 6 and 7 run parallel to Main Street while the rest of lots on this block are perpendicular to the street. Lot 7 fronts on Main Street. Lot 6 is between Lot 7 and the alley. On March 5, 1862  A. J. and Emma Cain sold Lot 6 to Artemus and Fanny Dodge for  $250. On July 4, 1864 Artemus and Fanny Dodge sold Lot 6 to Matilda Frank for $1000. Subsequent documents make reference to the splitting of Lot 7 into north and south pieces, the north  half becoming part of the 109 E. Main property. Although this was not entirely clear, the south half of Lot 7 would probably have been attached to Lot 6 as a parcel. Several transactions occurred which involved Lots 7,8, 9 and 10 in Cain's Addition but did not mention Lot 6.
A. Frank came upon hard times in 1872 and filed for bankruptcy for all of his property in the District Court of the United States for the District of Washington Territory. No details were given for property descriptions or values. But on March 20, 1873 Matilda and A. Frank provided a $250 mortgage to J. B. Thompson for Lot 6 only. In the 1881 City directory J. B. Thompson is listed as Sheriff with his office in the courthouse and residence at 109 E. Alder. The fact that he was sheriff does not seem to have had anything to do with his interest in this  real estate. An addendum was made to this on November 14, 1874 when J. B. Thompson transferred this mortgage to Thomas Quinn. On May 8, 1876 for consideration $1 Charles Bush and E. H. Armstrong, "surviving members of the firm of May, Bush and Co.", filed a quit claim deed to Matilda Frank. The property description reads "the westerly part of Lot 7, fronting 60 feet on the north side of Main Street and 60 feel on the east side of Colville." There was no evidence of structures on Lot 6 until the early 1900s.
On May 15, 1876 Matilda Frank sold property 120' by 60' (Lots 6 and 7) to Martin H. Hauber for $1200. On January 20, 1881 M. H. Hauber gave a lease to T. P. Whelan for a "house and premise" at $25 a month for three years. On October 6, 1898 B. F. and Rebecca Royce gave Phoebe A. Hauber a deed to their interest in this property, plus another 160 acres, for $8000. In 1900 M. H. Hauber lived in Waitsburg.  On March 18, 1903 Martin M. Hauber died and his son Charles A. Hauber was appointed to be the estate administrator. Charles was a physician with an office and a boarding room in the Rees Winans Building at Second and Main Streets in Walla Walla. In 1904 he moved his office and room across Main Street to the Paine Building.  On November 29, 1904 Phoebe A. Hauber (widow of Martin) quit claimed her interest in this property to her sons Henry M. and Charles A. Hauber. Dora B. Hauber died in October, 1904 and Charles was the executor for her estate. In April 1905 Henry M. and Pearl Hauber and Kate Allen all quit claimed their interest in this property to Charles A. Hauber. Dr. Hauber now lived at 20 E. Chestnut Street. On September 22, 1906 Phoebe A. Hauber quit claimed her interest to Charles A. Hauber. It was during this time that the city of Walla Walla was expanding its infrastructure. A mechanics lien on this property in 1904 helped provide for the opening of Spokane Street from East Main to Alder Street. In 1905 this property was assessed for its share of the city improvements (water and sewer lines) in Main Street from First to Palouse Streets. On January 14, 1907 Charles A. and Elletta Hauber sold this property to W. A. Ferguson for $12,400. Mr. Ferguson was the proprietor of The Bee Hive. In 1908 Ferguson sold it to Omer D. Gibson whereupon Omer and Lillian Gibson sold a portion of this property to Ellsworth S. Gibson. Omer was the manager of the Walla Walla Meat and Cold Storage at this time. On April 7, 1909 Ellsworth, Omer and Lillian Gibson sold this property to George and Cynthia Struthers and George and Clara Snell with a party wall agreement for a wall 21 inches thick and up to five stories tall. In 1883 George had purchased a 960 acre farm from Northern Pacific Railroad for $10 an acre in Eureka, in northern Walla Walla County. He and Cynthia had three sons, Gus, Harry and George. The Union newspaper on May 4, 1900 reported that George Struthers had started building his new residence between Park and Newell on Palouse. In 1912 George and Cynthia Struthers lived in their home at 361 South Palouse with their sons Guy and Harry. This residence must have been one that preceded the present house at 361 S. Palouse, build in 1918 for Cynthia Struthers after her husband's death. Mr. Struthers was the City of Walla Walla Commissioner of Streets and Public Improvements, and vice president of The Farmers Savings Bank at 1 East Main Street.
Clara Snell died in 1911, George Struthers died in 1918 and Cynthia Struthers died in 1936. Beginning on September 26, 1936 and continuing until February of 1937 for consideration of  $10 and $1, numerous heirs of Cynthia Struthers filed Quit Claim Deeds to one of the heirs, George Struthers, whose occupation was given as "farmer" in city directories and who lived at 361 S. Palouse. The property description in each of the Quit Claim Deeds was "the Southwest corner of Block One, thence northeasterly along the northern line of E. Main 60 feet, thence 120 feet, and a strip of land vacated by the City of Walla Walla from the alley north to said lands 60 feet by 4.5 feet to Colville and a party wall easement with adjacent easterly property." An additional Quit Claim Deed was filed by Allen Dale Struthers and Eugene Keylor Struthers to George Struthers for consideration of $10 on January 18, 1946.
On July 5, 1946 George and Myrtle B. Struthers signed a 20-year lease on their building with J. C. Penney Co. with numerous conditions protecting both tenant and landlord. Penneys had been located at 6-8 Main Street before moving to 101 E. Main. On March 7, 1947, George and Myrtle negotiated a mortgage of $60,000, no doubt to cover the numerous building alterations necessary for the Penneys store. In May of 1957 the lease was revised to describe the financial arrangements between the Struthers and Penneys. The Struthers would receive 3% of sales up to $500,000 and would be guaranteed $10,000 a year. At the same time a lease was negotiated describing detailed building alterations that Struthers agreed to do to improve the building. A lease amendment was filed on January 21, 1983 that extended the agreement between the Struthers and Penneys, shortening the lease period to five years and increasing the percentage of sales to 4-5% to be paid to Struthers. Another lease amendment was filed on July 17, 1987 in which Penneys listed several items that the landlord needed to attend to in the building. Penneys decided to vacate their Main Street store to move to the Blue Mountain Mall in 1990. On May 9, 1990 Baker Boyer Bank and Allen D. Struthers as personal representatives of George Struthers, now deceased, and Myrtle Struthers and Eugene K. Struthers sold the building to Ralph E. and Cheryl Broetje for $125,000 for their development of The Center for Sharing, a nonprofit organization. On October 16, 1991 the Broetjes filed a Quit Claim Deed  making this property a gift to The Center for Sharing. On February 27, 2004 David W. and Lisa Marie Thompson purchased the building for $450,000.
Occupant History:
In the first city directory in 1880 this location was occupied by Whelan and Merrifield, groceries and provisions. Mr. Whelan lived on the premises. In 1881 Whelan and Applegate operated the grocery store at 103 E. Main. M. C. Whelan lived at 101 E. Main. In 1883 Whelan and Ladd ran the store. The 1884 Sanborn Fire Map shows a dwelling at 101 and a vacant structure at 103 E. Main on this property. In 1889 Whelan and Kelly ran the grocery store at #103. By 1892 the grocery store was gone but Marcus C. Whelan still boarded at Mrs. J. A. Roger's Boarding House at 101 E. Main. In 1898 Mrs. Roger's (a widow) still lived in the dwelling at 101 E. Main. A news story in The Union on May 4, 1900, reported that the building on the corner of East Main and Colville street, formerly used as a lodging house, was considerably damaged by a fire on April 20, and was being reroofed with corrugated iron. Mrs. Melissa Dodd is listed in the 1902 city directory as having "furnished rooms" available at 101 E. Main. The 1905 fire map shows the same two buildings on this property.
The present building was constructed in 1909. The first occupants of the new building included The St. George Hotel at 8 Colville Street, with Thomas Corn, proprietor. In 1910 E. S. Isaacs, grain dealer occupied #101, along with L. C. Barron, real estate. The Farmers Grain Ageny was in the next property at #105 and Youdovitch junk yard at #115. By 1915 the corner of Colville and East Main Streets was occupied by The Hawkins Hotel, managed by John E. Hawkins through at least 1918. In the 1925-26 city directory Hotel Hawkins was listed at 8 N. Colville. By 1920 The Empire Furniture Company, owned by Meyer and Celia Youdovitch, was located on this property and designated #103. They continued to operate the furniture store in this location at least through 1941. The Youdovitchs lived at 1116 Alvarado Terrace. By 1946 the building was vacant until July when George and Myrtle Struthers leased it to J. C. Penney Co. Inc. The manager at that time was W. R. Winn. J. C. Penney continued to operate in this location until they moved to the Blue Mountain Mall in 1990. The Broetjes operated The Center for Sharing in the building with a variety of programs or tenants, including Asia Oriental Store, Women of Worth, Work Readiness and Help Line. Cheryl Broetje was the executive director. Gabe Joseph was the program administrator in 1991. The Thompsons started a significant remodeling of the building after their purchase in 2004.
Construction of the Building:
This is an unusual commercial property which was built by the same family who owned it from its construction in 1909 until 1990. Eighty-one years of ownership included 44 years with one tenant. On May 20, 1909 building permit #496 was issued to Struthers and Snell for a concrete foundation to be built by Nickelson and Tribeau at a cost of $1700. On July 1, 1909 permit #528 was issued to them for the construction of a building by J. A. McLean at an estimated cost of $19,909.
References:
Andres, Penny, Walla Walla, Her Historic Homes, Vol. II, 1993.
Bennett, Robert A., Walla Walla  Portrait of a Western Town 1804-1899, Pioneer Press,  Walla Walla, 1980.
Bennett, Robert A., Walla Walla  A Town Built to be a City 1900-1919, Pioneer Press,  Walla Walla, 1982.
Building Permits: Whitman College Penrose Library Archives
Lyman, Professor W.D., An Illustrated History of Walla Walla County  1901.
Sanborn Fire Maps: 1884-1905 (with updates until 1950).
The Union,  "Local News Briefly Told", May  4, 1900.
Walla Walla City Directories: 1880-present (various publishers–not all years).
Washington's Centennial Farms Yesterday and Today, Washington State Department of Agriculture, 1989.
Mary E. Meeker and Katherine H. Weingart Walla Walla 2020 Research Service PO Box 1222, Walla Walla WA 99362 July, 2004
http://ww2020.net/wp-content/uploads/101_E_Main.jpg
150
200
Mary Meeker
http://ww2020.net/wp-content/uploads/2011/12/ww2020_logo.png
Mary Meeker
2004-07-01 17:07:59
2017-02-05 12:23:06
History of 101-103 East Main Street, Walla Walla, WA - George Struthers Building