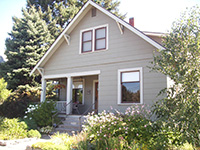 Property Description:
Parcel 360728530713, at 1007 South Howard Street, Bryant's Addition, South Half of Lots 1 and 2, Block 7, as recorded in the office of the Walla Walla County Assessor.
Title History:
Washington Territory was created in 1853. The new legislature created Walla Walla County in 1854 which stretched from the crest of the Cascade Mountains to the crest of the Rocky Mountains in the present states of Washington, Idaho and Montana. In 1855 a treaty council was held on the banks of Mill Creek at the present site of Walla Walla to purchase land from the Indians. The Yakimas, Cayuses and Walla Wallas were dissatisfied with the treaties and war followed. Missionaries, former French-Canadian employees of the Hudson Bay Company trading post at Wallula, and soldiers at the military Fort Walla Walla were the primary European occupants of the area prior to 1859 when it was opened for settlement. All of the land in this area was acquired from the Cayuse and Walla Walla Indian tribes by the U.S. Government in a treaty signed on June 9, 1855 in Walla Walla, and ratified on March 8, 1859 by President James Buchanan.
Walla Walla was originally laid out by County Surveyor H. H. Case in 1859, before its formal incorporation as a city in 1862, as a one-quarter mile square with its eastern side centered on the point where Main Street crossed Mill Creek (at roughly the point where it does now). The City of Walla Walla received  a Trustee Townsite from the U. S. Government which consisted of 80 acres issued on July 20, 1869 by the Vancouver, W.T. District Land Office. Main Street originally followed the old Nez Perce Indian Trail. Consequently the streets leading off of it were at right angles to it, and were not in a north-south orientation. This was corrected as the city moved eastward which gave Walla Walla its peculiar street pattern with the three street intersection at Palouse, Boyer and Main Streets. To the original plat, additional parcels were annexed from time to time, usually bearing the name of the land owner of record at the time the additions were made.
The first entry in the local land records for this area of town was when Bryant's Addition was platted, with this parcel consisting of Lots 1 and 2 of Block 7; the two lots faced Locust Street, and lay parallel to Park Street (later renamed South Howard Street). On March 8, 1881, owners John & Viretta Bryant signed a Deed giving John F. Boyer title to their interest in the Bryant's Addition for the amount of $1,000. On December 12 of the same year, Boyer transferred the Deed back to Viretta Bryant for 1 dollar, indicating that this was apparently a mortgage transaction. On June 25, 1883, John & Viretta Bryant sold these two lots to Mrs. Mary Lucinger (widow of  Jacob J. Lucinger) for $240. On November 5, 1906, Mrs. Lucinger sold this property to Jason W. Hitchcock for $750. On February 10, 1910, Hitchcock sold to William A. Pitcher for $1,300. In October 1910, Pitcher sold to Emmaus German Evangelical Lutheran Church for $1,200. In March 1910, construction began on the church building found next door at 1001 S. Howard with the cornerstone being laid April 9,1910. Between 1914 and 1915, a church parsonage was added next door to the church (on this parcel as it is found today). On April 7, 1953, Emmaus Lutheran Church legally changed their organizational name to Trinity Lutheran Church and began building a new church facility at 109 S. Roosevelt Street (still in use today by Trinity Evangelical Lutheran Church). In late 1953 or early 1954, Trinity Evangelical Lutheran Church split this property into two newly-configured lots: the church, listed as "North Half of Lots 1 & 2, Block 7", and the parsonage house, listed as "South Half of Lots 1 & 2, Block 7″, both facing S. Howard St. On May 20, 1954, Trinity Evangelical Lutheran Church sold the former parsonage to Kenneth I. & Isla Barton for $6,600. The Barton family maintained their ownership of the property for 50 years. On October 6, 2004, the Ken & Isla Barton Trust sold to Patrick M.& Kimberly Fischer for $165,000. On August 31, 2010, the Fischer family sold to Christopher A. & Dianna L. Baird for $264,900.
Occupant History:
The Emmaus German Lutheran Church built this house in 1914 for use as a church parsonage. The pastor of Emmaus, Rev. Peter Schmidt and his family lived in the home starting in 1915 and maintained residency until his retirement in September 1936. According to a 1920 US Federal Census document, the Schmidt household included as many as three adults and nine children living in the home: parents Rev. Peter and Maria (Mary) Schmidt; their children Esther, Lydia, Ruth, Immanuel, Amos, Agnes, Marie, Irma, and Martin, followed by Lillian and Lois in later 1920s/30s; plus boarder Ehrich Schabacker, a teacher at the Emmaus Lutheran Day School attached to the church. Rev. Peter Schmidt retired in 1936 to become Oregon-Washington-Idaho regional Institutional Chaplain.
The next pastor, Rev. James P. Maier, his wife Helen and their children Eunice, Eugene, Lois, and Judith lived in the home until 1946. Replacing the Rev. Maier in 1946 was new pastor Rev. Elmer E Streufert, his wife Olivia, and his son Roy. The final pastor in residence through 1953,prior to the congregation's move to their new S. Roosevelt St. church building, was Rev. Roland A. Langbecker and his wife Caroline. Kenneth and Isla Barton moved into the former parsonage in 1954 and stayed for 50 years, raising four children in the home: Janis, Linda, Nancy, and Randall. Ken Barton was a driver for Young's Dairy and later promoted to and retired as a Route Manager for Carnation Dairy Products. In 2004, the Bartons sold the home to Patrick M. and Kimberly Fischer, with daughter Leila. The Fischers both worked for St. Mary Hospital as administrators. The current occupants, Christopher A. and Dianna L. Baird, with whippets Sadie, Ella, and Digby, bought the home from the Fischers in 2010. Chris Baird is an employee of Cadence Preferred LLC; Dianna Baird works for Banner Bank as a human resources generalist.
Construction of the Building:
The Walla Walla County Tax Assessor lists the construction date for this house as 1920, and the church building next door as 1910. Based on the following records, it is fair to assume the home/dwelling/parsonage was built on the church property in 1914, after issuance of that year's city directory:
Walla Walla City Building Permits list the following permits entered between 1910 and 1914:
March 28, 1910 — permit 983: granted to Emmaus Lutheran Church at corner of Locust& Park for construction of "frame church," with a cost of building $4,000 and permit fee $3.00.
July 25, 1913 — permit 1591: granted to Lutheran Church on corner of Locust & Park for "repair church" with a cost of building $312 and permit fee $0.50.
June 10, 1914 — permit 1786: granted to Lutheran Church at corner of Locust & Park for construction of "dwelling" with a cost of $2,300 and a permit fee $1.50.
September 4, 1919 — permit 2789: granted to Rev. Peter Schmidt, 1007 Howard for construction of "garage" with a cost of $50 and a permit fee $0.50.
The 1915 Walla Walla City Directory lists the occupants of 1007 Park St. (later re-named S. Howard St.) as Rev. Peter and Mary Schmidt. 1913 and 1914 Walla Walla City Directories list the Schmidt residence as 601 Locust, a home in the next block that looks strikingly similar to the 1007 Howard house.
References:
Building Permits: Whitman College Penrose Library Archives.
Walla Walla City Directories: 1880-2006 (various publishers; not all years).
United States Federal Census (1920, 1930): Ancestry.com
http://ww2020.net/wp-content/uploads/1007_S_Howard.jpg
150
200
Chris Baird
http://ww2020.net/wp-content/uploads/2011/12/ww2020_logo.png
Chris Baird
2013-03-02 17:49:31
2014-09-04 11:24:48
History of 1007 South Howard Street, Walla Walla, WA - formerly The Emmaus Evangelical Lutheran Church parsonage