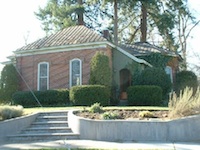 Property Description:
Lennon and Wildwood Addition, Block One in the Southwest quarter of Section 21, Township 7N, Range 36 East, WM located in Walla Walla County 110' south of south line of Boyer and thence 60' west of east line of Bellevue (formerly Clover Street), thence west 120', thence south 83', thence east 120', thence 60' west of east line of Boyer.
Title History:
Washington Territory was created in 1853. The new legislature created Walla Walla County in 1854 which stretched from the crest of the Cascade Mountains to the crest of the Rocky Mountains in the present states of Washington, Idaho and Montana. In 1855 an Indian council was held on the banks of Mill Creek at the present site of Walla Walla to purchase land from the Indians. The Yakimas, Cayuses and Walla Wallas were dissatisfied with the treaties and war followed. Missionaries, former French-Canadian employees of the Hudson Bay Company trading post at Wallula, and soldiers at the military Fort Walla Walla were the primary European occupants of the area prior to 1859 when it was opened for settlement. All of the land in this area was acquired from the Cayuse and Walla Walla Indian tribes by the U.S. Government in a treaty signed on June 9, 1855 in Walla Walla, and ratified on March 8, 1859 by President James Buchanan.
Walla Walla was originally laid out by County Surveyor H. H. Case in 1859, before its formal incorporation as a city in 1862, as a one-quarter mile square with its eastern side centered on the point where Main Street crossed Mill Creek (at roughly the point where it does now). The City of Walla Walla received a Trustee Townsite from the U. S. Government which consisted of 80 acres issued on July 20, 1869 by the Vancouver, W.T. District Land Office. Main Street originally followed the old Nez Perce Indian Trail. Consequently the streets leading off of it were at right angles to it, and were not in a north-south orientation. This was corrected as the city moved eastward which gave Walla Walla its peculiar street pattern with the three street intersection at Palouse, Boyer and Main Streets. To the original plat, additional parcels were annexed from time to time, usually with the name of the land owner of record at the time the additions were made.
This property is a part of a U. S. Patent to Artimas Dodge for 160 acres as a cash sale issued at the Vancouver, WA land office on April 1, 1865. Artimas/Artemus and his wife Fannie both were born in Maine and lived in Walla Walla in 1860 with their three children. By 1870 they had moved to Lebanon in Linn County, Oregon with seven children.
The first legal transaction recorded in the office of the Walla Walla County Auditor on this property was the sale from William Metzger to Eugene Lennon on May 21, 1881. Lennon was born in Ireland in 1850 and lived in Walla Walla in 1880. He listed his occupation as a brick mason on the U. S. Census. Neither party to this deed is present in the Walla Walla Auditor's direct or reverse index and the stated deed number is incorrect. However, Eugene Lennon testified to its accuracy under oath on May 24, 1922. At that same testimony he stated he had been single when he purchased this property in 1881 but married Fannie C. Dixon in 1886. He further testified that Eliza McDonald was the wife of Mordo McDonald. There were several transactions regarding this property between Lennon, W. W. Baker and the Walla Walla Water Company regarding easements and water rights. Lennon seemed to have used this property as a bank account, borrowing and repaying money of varying amounts frequently. These mortgages provide more information about this property than the deeds. Lennon's first recorded mortgage was on August 2, 1881 for $1500 to John H. Stahl and Joseph McDonald (McDonnell?) and satisfied in full on October 4, 1881. This document also stated that Lennon's property included 22.5 acres excepting the 1.93 acres sold to H. P. Isaacs plus a brick kiln and bricks. On July 12, 1900 Lennon signed a lease with G. S. Young for a 15 acre apple orchard on this property. In 1905 Boyer Avenue did not extend beyond the city limit at Division Street. At that time Division had not been built between Alder and Boyer because there was no bridge across Mill Creek there. In 1907 Lennon had this area platted as Lennon Addition. On the plat the area west of Clover (Bellevue) Street where this house sits was designated as Block One and was not divided into individual lots as the balance of the addition was. On October 18, 1907 Lennon and his wife Fannie sold block one (60'x120'x10'x73'x208') to John Henry Lee for $3000. However on August 11, 1908 Lennon gave a deposition to correct some spelling in the 1881 deed and stated that he was now in possession of said property. On October 19, 1908 J. H. and Mary Lee were paid $4000 for this property by Eliza A. McDonald . On October 27, 1916 Ms. McDonald signed a Quit Claim Deed transferring this property to Pasquale Saturno for a stated amount of $50. Mrs. McDonald had loaned money to Joseph Tachi and Pasquale Saturno on October 19, 1908. In 1916, John P. Kent was settling the estate of Joseph Tachi, who had died in 1912. Tachi's estate included a debt of $1000 owed to Saturno. Saturno never lived on this property. He died in 1919 and his estate sold this property to the City of Walla Walla for $2450. The City "enlarged and improved" Wildwood Park, an auto tourist facility, in 1922. In 1932 the City of Walla Walla sold this home to O. D. Keen "as per Resolution No. 1245 passed by the City Commission 7/27/1932." This resolution traded multi-parcels of certain lands. Dorsey M. Hill was mayor at this time. On May 1, 1943 O. D. and Bertha Keen signed an agreement to transfer this property to their son Werde and his wife Claudina M. Keen. On November 24, 1945 O. D. and Bertha Keen signed a warranty deed transferring ownership of this property to Werde R. and Claudina Keen for $10. On November 30, 1995, Baker Boyer Bank, as the personal representative of The Estate of Claudina Keen sold this property to Darrell and Alice Walters. On June 10, 1996 Walters sold to Dirk R. and Kathy M. Nelson for $125,000. On October 21, 1999 Dirk Nelson sold to his sister Kendra L. Nelson for $145,000. On December 16, 2009 the City of Walla Walla signed an agreement with Doug Saturno, the great-grandson of Pasquale Saturno, for an Historic Preservation Special Valuation (historical exemption for 2011 thru 2020 tax years in the amt of $37,~800). On January 4, 2010 Kendra Nelson completed the sale of this property to 10 Bellevue LLC.
Occupant History:
There is no reference to William Metzger or Eugene Lennon in the City Directories between 1880 and 1894. The 1898 directory lists Lennon as a farmer with a residence .5 miles east of city. In 1902 he is listed as a farmer with a residence on south side of Boyer Avenue 2 miles east of city limits. In 1904 he is listed as a contractor with a brick residence at the east end of Boyer Avenue. John Lee is never listed as living here. In 1907, the year this neighborhood was platted, Lennon is listed with a home near Boyer Av. in Lennon's Addition. This was probably this house but by this time Lennon was constructing other houses in the new addition at 1010, 1012 and 1017 Boyer. In 1915 Eliza McDonald (widow) lived at 10 S. Bellevue. Pasquale Saturno never lived here and there was no reverse city directory until 1931 so it is unknown who might have lived here between 1915 and 1930. In 1931-1932 Clarence W. and Clara B. Wood apparently rented this house from the City of Walla Walla. Clarence was a painter with the City street department. Werde R. Keen, a carpenter, and his wife Claudina, a saleswoman at Montgomery Ward, lived here starting in 1933 until her death in 1995, a tenure of 62 years. It was vacant in 1996, Dirk and Kathy Nelson lived here in 1997. Tom Glase lived here in 1998-99. Kendra Nelson lived here in 2000.
Construction of the Building:
This house certainly appears to be quite old, with decorative brickwork and arched windows not characteristic of this area. Penny Andres' book was published in 1998 and pictured the house covered with ivy. The ivy has now been removed and an apparently-old inscription in the brick states "This house contains a bunch of nuts. P. Waters WT." No P. Waters was found in the owners or residents. One further mystery is that the exterior wall at the SE corner does not match the interior wall. There is an area about 4 feet square that has no apparent access. There is an interior bookcase of the right size to conceal a possible old window.
Eugene Lennon, an Irish brick mason, purchased the property in 1881 and married in 1886 so it seems reasonable that he built the house some time prior to first being listed in the city directory in 1898 as living half mile east of the city, probably in this location. The 1905 fire map did not extend east of Division Street. However a page was added to the book of fire maps some time prior to January 1923 which shows the footprint of this house, with some changes to its irregular outline, with no adjacent houses.
From the purchase of the property by Eugene Lennon, a brick mason, on May 21, 1881 including a brick kiln and bricks, the reference to that year as a possible build date by Penny Andres, the use of 1882 in the County Assessor's file, the brick construction and general appearance of the house, as well as the listed reference of Lennon there in later years, while considerable uncertainty exists about the actual date, this research supports a construction date of "Circa 1881" by Eugene Lennon.
References:
Andres, Penny, Walla Walla Her Historic Homes. Vol. III, 1998.
Bennett, Robert A., Walla Walla Portrait of a Western Town 1804-1899, Pioneer Press, Walla Walla, 1980.
Bennett, Robert A., Walla Walla A Town Built to be a City 1900-1919, Pioneer Press, Walla Walla, 1982.
Building Permits: Whitman College Penrose Library Archives.
Lyman, Professor W.D., An Illustrated History of Walla Walla County 1901.
Sanborn Fire Maps: 1884-1905 (with updates until 1950).
Walla Walla City Directories: 1880-present (various publishers–not all years).
Walla Walla County Assessor's Office
Walla Walla County Auditor's Office
Whitman College Archives.
  Mary E. Meeker ; Walla Walla 2020 Research Service PO Box 1222, Walla Walla WA 99362 April, 2010
http://ww2020.net/wp-content/uploads/10_S_Bellevue.jpg
150
200
Mary Meeker
http://ww2020.net/wp-content/uploads/2011/12/ww2020_logo.png
Mary Meeker
2010-04-01 18:30:33
2017-02-05 12:20:44
History of 10 South Bellevue Avenue, Walla Walla, WA